Tours
Tours give you the opportunity to see a lot within a fairly short time.
We highly recommend a walking tour of Bury St Edmunds with the blue badge Bury St Edmunds Tour Guides when visiting the town for the first time. You will find out about the history of Bury St Edmunds, St Edmund himself, the Abbey and see many of the town's key attractions. There are also a wealth of other tours which take you around each of the town's attractions including St Edmundsbury Cathedral, the Cathedral's Millennium Tower, Bury St Edmunds Guildhall, Greene King, and Theatre Royal Bury St Edmunds. If you are looking for something more quirky there the Ghostly and Macabre Walks through the autumn and winter months and the Middle Earth Tour where the Anglo-Saxon origins of The Lord of the Rings story are explored. Bury St Edmunds has some fascinating towns, villages and places on its doorstep and tours of Clare, Lavenham, Sudbury and Gifford's Hall Vineyard allow you to explore outside the town while staying in the town.
Take a look below to book now!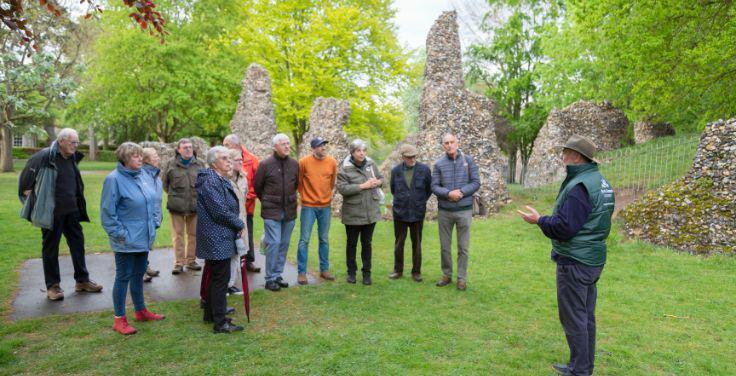 Self Guided Trails and Tours - All Year Round!
There are a number of self guided and audio tours available on the Bury St Edmunds LoyalFree App including the Bury St Edmunds Blue Plaques Trail, the Bury St Edmunds Ale Trail, Theatre Royal Bury St Edmunds Walking Stories and much more!
You can download the LoyalFree app for free at www.loyalfree.co.uk/download or simply search 'LoyalFree' on the iOS and Google Play Store. For more information visit the Our Bury St Edmunds BID website.