Bury St Edmunds Market
There is a vibrant and bustling market in Bury St Edmunds on Wednesdays and Saturdays that attracts thousands of people every week. The market, held in the Buttermarket and Cornhill, dates back to before the days of William the Conqueror.
With more than 80 stalls on Saturdays and 60 on Wednesdays, Bury St Edmunds Market has an excellent food offer including fruit and vegetables, meat, and fish stalls with fresh locally sourced seasonal produce.
Not only is there a wonderful array of foods you can also find everything from authentic Italian shirts, Portuguese pottery, vintage clothes and colourful plants and flowers. Foodies will also love the market with its wonderful selection of food and drink from around the world.
Find Out More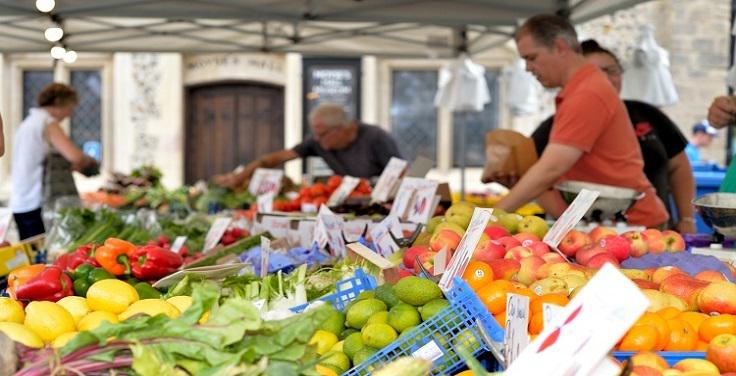 Farmers Markets
Bury St Edmunds also hosts a monthly farmers market. Held on The Traverse on the second Sunday of every month 10am - 3pm, you will find a farmers market with freshly baked local bread, honey, homemade pies and savouries, and delicious cakes and fudge.
Buy Suffolk pork and charcuterie, fresh fruit and vegetables, traditional puddings, vegan and gluten free products, sauces and chutneys and lots more.
Farmers markets are also held nearby outside Lavenham Village Hall from 10am to 1.30pm on the fourth Sunday of every month and at Sudbury on the last Friday of every month both outside on Market Hill and inside St Peter's Church.
In Clare a craft market also takes place at different times during the year.