Clare Town Tours
Learn the secrets of the Clare's 1000 year history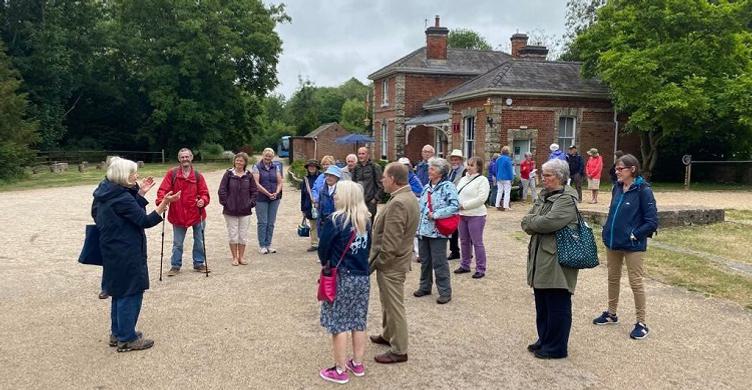 About this Business
Join Clare Tour Guides to learn the secrets of the town's 1000 year history, from Anglo Saxon settlement to the present day. Taking in the castle, Clare Priory, its many listed buildings and railway, the tour brings to life Clare's rich and fascinating heritage.
Tours last 90 minutes and start at the Clare Castle Country Park visitor centre opposite the Park's café. Plentiful parking is available in the Park's car park at the bottom of Malting Lane (postcode CO10 8NW).

We go ahead come rain or shine, so please come ready for whatever the weather may throw at us!

We start the tour at Clare Castle Country Park, where our first stop is the inner bailey of a Norman castle. At this point we have a large Anglo Saxon burial ground beneath our feet, the ruins of the Norman keep on a 60 foot mound in front of us, listed Victorian railway buildings to either side of us and the mother house of the Augustinian friars in England just out of sight. This site encapsulates the rich and fascinating history of our small town, whose heyday was arguably in the 1300s when one of England's most powerful and wealthy families lived at the castle.

Leaving behind the castle and railway, we head into Clare's historic streets, lined with half-timbered houses, each of which tells a story. As we meander around the town we peel back the layers to reveal the social history hidden behind the streets and buildings, before heading to the Priory along the scenic riverside. A place of great history and spirituality and a working church and priory today, the Priory still has its original infirmary and cellarer's house, as well as the ruins of its medieval church and the burial sites of royal princes and princesses.

Bookings can be made on our website above or in person via the visitor centre or Park Office.
Our public tours run from April (or Easter if earlier) until the end of October, but private tours are available by appointment.
Email us at info@clarecastlecountrypark.co.uk or call 01787 277902 to arrange. Private and group tours are also available by arrangement.