A Swinging Christmas
The joyous, jazzy A Swinging Christmas show
Next Event

19th December 7:30pm
Event Finishes

19th December 9:30pm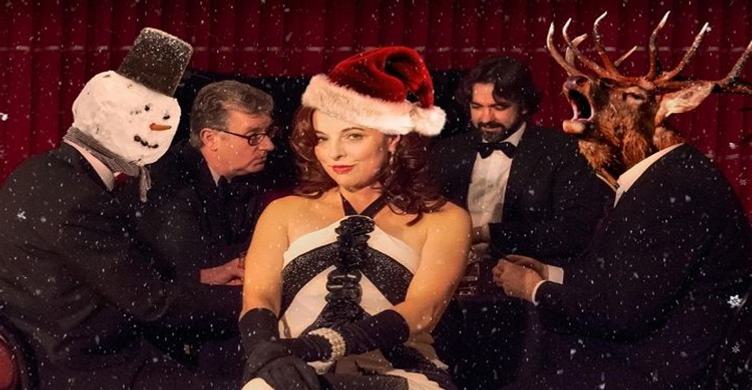 About this event
The return of the joyous, jazzy A Swinging Christmas show with the Chris Ingham Quintet featuring Joanna Eden (aka Jazz at the Movies).
Rated as "sublime seasonal jazz" by BBC Radio, this show is the perfect way to begin the festivities.
An annual sell-out at Ronnie Scott's, Pizza Jazz Club Dean Street, the Elgar Room at the Royal Albert Hall and festive concerts all over the UK, the show's ever-evolving song selection delivers a delightful, stocking-full of 20th century holiday classics and curiosities, a unique blend of irreverence, poignancy and joy.
Featuring pianist/MC Chris Ingham (host of Bury St Edmunds' legendary Jazz at the Hunter Club), acclaimed chanteuse Joanna Eden (longtime teacher/mentor to pop superstar Sam Smith), saxophonist/clarinettist Mark Crooks (world-class woodwind star of the renowned John Wilson Orchestra), bassist Joe Pettitt (musical director of the Len Phillips Big Band) and drummer George Double (Suffolk-based drum hero, crooner and matinee idol).
"One of the finest combos in the country and a seriously talented vocalist" - Jazz Journal
"Sassy vocalist and her swinging quartet deliver the goods…" - Jazz Wise

Starts: 7.30pm
Tickets: £24

About the Venue
The Apex is an award-winning venue, known for its acoustic excellence and home to a diverse programme of live music and events; from classical concerts to pop, rock, jazz, blues, world, country and folk, plus comedy and dance performances.
It also hosts a number of community and corporate events, offering the local community and wider environs a unique and exciting space from which visitors can see a great selection of artists, bands and events.
It has been very well publicised (and we never tire of hearing it!) that, as well as its architectural beauty, The Apex also has the very best acoustics, with many musicians who've played here describing it as the best acoustic in the UK, if not Europe:
"Best new venue in the UK. Absolutely superb" - Funeral For A Friend
"Best acoustic wee had in 40 years of touring" - Fairport Convention
"The best hall we have ever played in" - The Escher String Quartet