Annual Sci-Fi and Film Exhibition
Marking the 40th Anniversary of 'Star Wars: Return of the Jedi' and the 60th Anniversary of Doctor Who
Next Event

6th December 10:00am - 20th October 4:00pm
Following 25 Events

07/12/23 10:00

-

07/12/23 16:00

08/12/23 10:00

-

08/12/23 16:00

09/12/23 10:00

-

09/12/23 16:00

10/12/23 10:00

-

10/12/23 16:00

11/12/23 10:00

-

11/12/23 16:00

12/12/23 10:00

-

12/12/23 16:00

13/12/23 10:00

-

13/12/23 16:00

14/12/23 10:00

-

14/12/23 16:00

15/12/23 10:00

-

15/12/23 16:00

16/12/23 10:00

-

16/12/23 16:00

17/12/23 10:00

-

17/12/23 16:00

18/12/23 10:00

-

18/12/23 16:00

19/12/23 10:00

-

19/12/23 16:00

20/12/23 10:00

-

20/12/23 16:00

21/12/23 10:00

-

21/12/23 16:00

22/12/23 10:00

-

22/12/23 16:00

23/12/23 10:00

-

23/12/23 16:00

02/01/24 10:00

-

02/01/24 16:00

03/01/24 10:00

-

03/01/24 16:00

04/01/24 10:00

-

04/01/24 16:00

05/01/24 10:00

-

05/01/24 16:00

06/01/24 10:00

-

06/01/24 16:00

07/01/24 10:00

-

07/01/24 16:00

08/01/24 10:00

-

08/01/24 16:00

09/01/24 10:00

-

09/01/24 16:00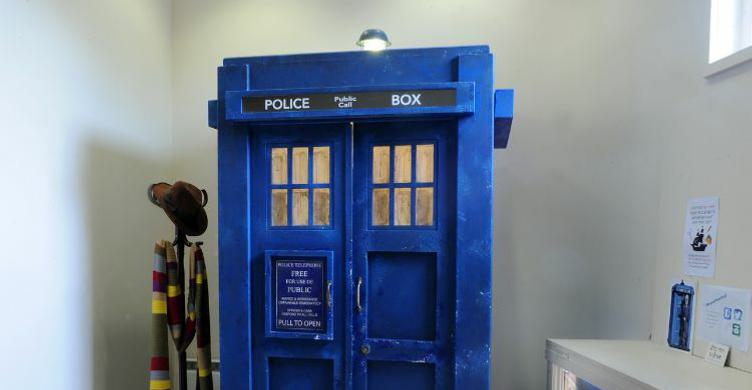 About this event
2023 marks the 40th Anniversary of 'Star Wars: Return of the Jedi' and the 60th Anniversary of Doctor Who, the displays will include screen used and production made props, legacy edition items and much more!
The British Film Museum owner, Warren Reynolds, has put together an amazing Ridley Scott Collection to celebrate our greatest living British movie director. It will include screen used props from the Oscar winning director's films Gladiator, Kingdom of Heaven, Robin Hood, and Black Hawk Down, to name a few.
The exhibition will feature original props from Hollywood blockbusters 'The Mummy' and 'Pirates of the Caribbean'. This is looking to be the biggest display in the 12 years the event has been running with over 100 props on display!
Look out for special events and workshops throughout the exhibition calendar.
Tickets: Adults £6, Children & Students £3. Under 5s' free of charge with no ticket required.
Booking: (Advance booking is highly recommended)
Please use the 'Book Tickets' button to book online or to book by telephone, please call 01284 758000.
Please note: You may stay as long as you wish to enjoy the exhibition (you don't need to be out after an hour).
A limited number of tickets will be available for purchase on the door on the day. Please note, advance online booking closes 5 minutes prior to each time slot, advance online booking must be made more than 5 minutes prior to your chosen time slot.
You won't want to miss this. Our biggest Prop and merchandise display ever!
About the Venue
This beautiful medieval museum in the heart of Bury St Edmunds houses rich and eclectic collections and changing exhibitions, and hosts events ranging from themed craft workshops for all the family to historical talks and lectures.
Steeped in history, Moyse's Hall has looked out over Bury St Edmunds market place for almost 900 years.
The landmark 12th century building rich and varied past has included serving as the town Bridewell, workhouse and police station, first opening as a museum in 1899.
Today the museum offers a fascinating view into the past with collections that document the foundation of the early town - from the creation and dissolution of the Abbey of St Edmund to prison paraphernalia, plus remarkable collections relating to the notorious Red Barn Murder and fascinating insights into local superstitions and witchcraft.
Winner of Suffolk's Family-Friendly Museum of the Year 2017, Horrible Histories creator Terry Deary has helped Moyse's Hall Museum bring Bury St Edmunds' gruesome history to life for children.
The Museum's ground floor not only features six Terrible Tales by Terry Deary, best-selling author and creator of the hugely popular Horrible Histories books, but also some grisly and gruesome interactive displays for children and adults. Step inside a gibbet cage (made for the museum by blacksmiths Kingdom Forge), try on a ball and chain for size, experience the smells of history including the wretched tanner's pits, handle thumbscrews and try on manacles, and pick up a Norman sword. You can even trace the artefacts in The Red Barn Murder including the murder weapon and the disease box where visitors can smell a pus ridden hand is a museum favourite! The Battle of Fornham is told through the eyes of a blacksmith, a nun tending to the body of St Edmund tells of his grisly end. The stories of Mary Tudor, Queen of France (who is buried in St Mary's Church, Bury St Edmunds), the Red Barn Murder, the Nichols Murder, witchcraft and Witchfinder General Matthew Hopkins, all feature. Every story links back to an artefact, bringing the museum's stories to life.
Moyse's Hall Museum is also known as home to a world class collection of exquisite collections of clocks and timepieces including rare items bequeathed by musician and clock collector Frederic Greshom-Parkington and fine art by Sir Peter Lely, Angelica Kauffman, James Tissot, and England's first professional female painter Mary Beale.