Bury St Edmunds Family Christmas Ice Rink
Next Event

14th December - All day
Following 20 Events

15/12/23 00:00

-

15/12/23 00:00

16/12/23 00:00

-

16/12/23 00:00

17/12/23 00:00

-

17/12/23 00:00

18/12/23 00:00

-

18/12/23 00:00

19/12/23 00:00

-

19/12/23 00:00

20/12/23 00:00

-

20/12/23 00:00

21/12/23 00:00

-

21/12/23 00:00

22/12/23 00:00

-

22/12/23 00:00

23/12/23 00:00

-

23/12/23 00:00

24/12/23 00:00

-

24/12/23 00:00

25/12/23 00:00

-

25/12/23 00:00

26/12/23 00:00

-

26/12/23 00:00

27/12/23 00:00

-

27/12/23 00:00

28/12/23 00:00

-

28/12/23 00:00

29/12/23 00:00

-

29/12/23 00:00

30/12/23 00:00

-

30/12/23 00:00

31/12/23 00:00

-

31/12/23 00:00

01/01/24 00:00

-

01/01/24 00:00

02/01/24 00:00

-

02/01/24 00:00

03/01/24 00:00

-

03/01/24 00:00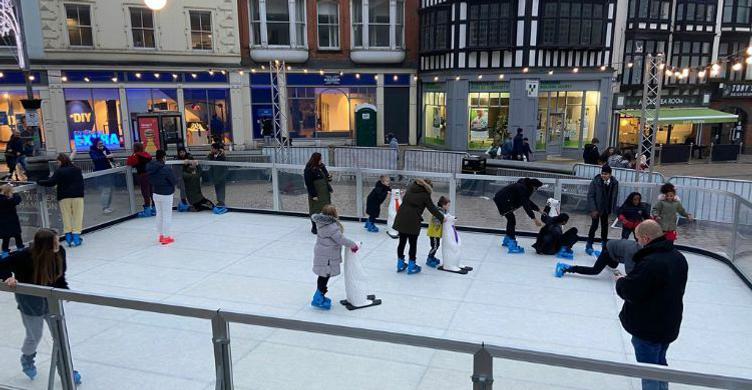 About this event
Our Bury St Edmunds BID, the arc Shopping Centre and Bury St Edmunds Town Council have partnered to bring you a synthetic family-friendly Ice-Skating Rink!

Between the 14 December and 3 January, this synthetic Ice-Skating Rink will be taking centre stage on Charter Square. With a capacity of up to 25 people, this advanced rink will provide icy entertainment no matter the weather!

And it is completely FREE of charge to come and have a go during the published opening hours!

It will be part of the Christmas In Bury St Edmunds Experience from a partnership hosting a variety of events from mid-November and through December.

The synthetic ice rink, provided by Odin Events, will be one of the most advanced available giving the closest possible experience to real ice but without the environmental impact and high energy use of keeping the rink frozen.

Every member of the family can enjoy the rink, even if they have never tried ice-skating before as a number of skate-aids will be available to help beginners. Families can just turn up and skate at the open sessions without having to worry about booking or hiring skates.

The Bury St Edmunds Family Christmas Ice Rink will also be supporting Gatehouse, which operates the town's food bank, as its charity partner.

The rink will officially open on Thursday 14 December at 11am.

For Public Opening Hours visit the Our Bury St Edmunds Website.

* Please note opening hours may change – check the website for details.

** Given the size and capacity of the rink and that it is free of charge, entry will be on a first come first served basis and at times you may need to queue.

The rink is available to hire for free, outside of published operating hours, by schools, community youth groups or those with reduced mobility. It is also available, outside these published operating hours, for private hire by businesses or groups of adults at a charge of £50 per session. All monies raised will be donated to the Gatehouse Charity. If you are interested in having exclusive use of the rink, as outlined above, please contact Mark Cordell for further information at mark.cordell@ourburystedmunds.com.
Visit the Our Bury St Edmunds Website for more details.
About the Venue
The arc Shopping Centre is an ultra modern retail, leisure and residential development providing some 36 shops, cafe's, restaurants, a magnificent multi-purpose cultural venue and high quality residential apartments in the town centre of Bury St Edmunds in Suffolk.
It is focused around two open shopping streets and a public square, and hosts top brand shops and stores like H&M, Next, Hobbs, Crew Clothing, New Look and River Island to name but a few
The Centre is also home to high quality coffee shops and restaurants with Nando's, Wagamamma, Carluccios, Byron Burger, Costa, and Muffin Break heading up some great places to relax during the shopping experience and right through into the evening.
The arc also provides more than 850 parking spaces and the award winning The Apex 500-seat public venue which throughout the year features music, art and other high quality entertainment events.
Link this to the 62 apartments above the shops, and you truly have a vibrant 24/7 venue which is a true gem in the heart of the historic Town Centre.