Christmas Ball at The Apex
Celebrate your 2023 Christmas party with The Apex
Next Event

8th December 7:30pm - 8th December 11:45pm
Following 3 Events

09/12/23 19:30

-

09/12/23 23:45

15/12/23 19:30

-

15/12/23 23:45

16/12/23 19:30

-

16/12/23 23:45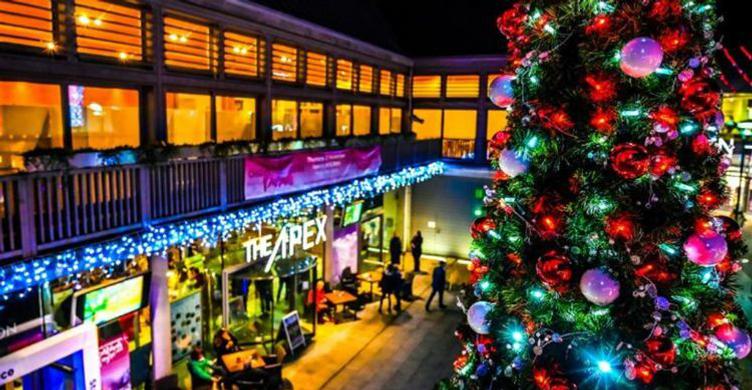 About this event
Celebrate your 2023 Christmas party with us at The Apex.
The evening will begin with a live saxophonist playing while you enjoy your arrival prosecco in our lounge.
Shortly after the welcome drink you will be shown through to our auditorium for our magical Christmas ball. Chef has created an amazing three course meal to suit all tastes which you will enjoy in the stunning space whilst our team serve and delight.
After dessert has finished and that last cracker pulled the saxophonist will do a live set with the DJ to get you all on the dancefloor. The DJ will then go on till late taking those requests and party anthems way into the next morning.
After last year's sell out, book fast as there are only four nights planned for Christmas.
Bookings are required for minimums of 10 guests per table. Multiplies of 10 guests are required.
What's included…
Arrival Prosecco
Three course festive menu
Tea/Coffee Station
Live Saxophonist
DJ
Agenda for the evening
19:30 – Arrival with prosecco – with Saxophonist playing
20:15 – Dinner Served
22:30 – DJ and Saxophonist
00:30 – Bar to close
00:45 – Music to Stop
01:00 – Event to finish
Dates and Prices
Friday 8th December
Saturday 9th December
Friday 15th December
Saturday 16th December
Each night - £54 per person, Plus VAT. Minimum of 10 people.
About the Venue
The Apex is an award-winning venue, known for its acoustic excellence and home to a diverse programme of live music and events; from classical concerts to pop, rock, jazz, blues, world, country and folk, plus comedy and dance performances.
It also hosts a number of community and corporate events, offering the local community and wider environs a unique and exciting space from which visitors can see a great selection of artists, bands and events.
It has been very well publicised (and we never tire of hearing it!) that, as well as its architectural beauty, The Apex also has the very best acoustics, with many musicians who've played here describing it as the best acoustic in the UK, if not Europe:
"Best new venue in the UK. Absolutely superb" - Funeral For A Friend
"Best acoustic wee had in 40 years of touring" - Fairport Convention
"The best hall we have ever played in" - The Escher String Quartet