Ravenwood Hall's Festive Afternoon Tea
Next Event

7th December 3:00pm - 4th December 5:00pm
Following 20 Events

08/12/23 15:00

-

08/12/23 17:00

09/12/23 15:00

-

09/12/23 17:00

11/12/23 15:00

-

11/12/23 17:00

12/12/23 15:00

-

12/12/23 17:00

13/12/23 15:00

-

13/12/23 17:00

14/12/23 15:00

-

14/12/23 17:00

15/12/23 15:00

-

15/12/23 17:00

16/12/23 15:00

-

16/12/23 17:00

18/12/23 15:00

-

18/12/23 17:00

19/12/23 15:00

-

19/12/23 17:00

20/12/23 15:00

-

20/12/23 17:00

21/12/23 15:00

-

21/12/23 17:00

22/12/23 15:00

-

22/12/23 17:00

23/12/23 15:00

-

23/12/23 17:00

25/12/23 15:00

-

25/12/23 17:00

26/12/23 15:00

-

26/12/23 17:00

27/12/23 15:00

-

27/12/23 17:00

28/12/23 15:00

-

28/12/23 17:00

29/12/23 15:00

-

29/12/23 17:00

30/12/23 15:00

-

30/12/23 17:00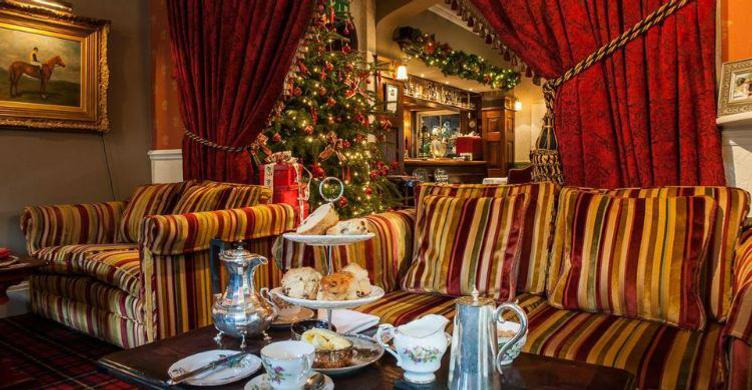 About this event
Ravenwood Hall Hotel's Festive Afternoon Tea is available Monday - Saturday 3pm - 5pm throughout December.
Experience the enchantment of Christmas with our Festive Afternoon Tea.
Step into our cosy tearoom adorned with twinkling lights and the aroma of freshly baked holiday treats filling the air.

Adults £20
Children (12 and under) £10.
Under 3's Free.
Full non-refundable payment is taken on booking.
Book at the link above!
About the Venue
Ravenwood Hall is a historic hotel and restaurant, located just outside of Bury St Edmunds, off junction 45 of the A14.
Situated in the beautiful Suffolk countryside with vast idyllic grounds Ravenwood Hall is perfect for a quaint British 'staycation' with countryside walks, easy access to the town and a swimming pool for you to enjoy!
With an impressive menu and culinary team, why not dine at lunch or dinner in the Ravenwood Hall restaurant? Serving delicious seasonal British cuisine with a modern flare and served by an expert team there's no better experience. The menu can be enjoyed 'Al Fresco' during the summer or next to our roaring fire in the colder months.
Escape to Ravenwood for the perfect Suffolk experience, stay, dine, or drink!
Ravenwood Hall also hosts corporate events, birthday parties, anniversaries, weddings and more just contact the friendly team and they will take care of all your event requirements.