G4: 20th Anniversary Tour
A spectacular anniversary show
Next Event

24th May 2024 7:30pm
Event Finishes

24th May 2024 9:30pm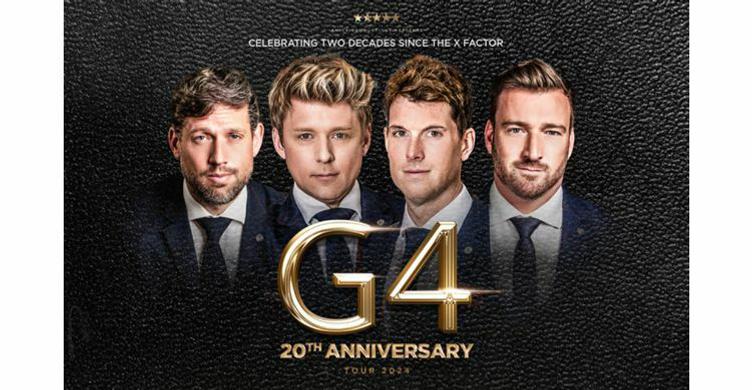 About this event
The UK's No.1 vocal harmony group and original X-Factor stars celebrate a double decade in the limelight with a spectacular anniversary show.
G4 have been wowing audiences with their incredible harmonies and stunning vocals ever since appearing on the first series of the The X-Factor in 2004.
Their unique blend of classical training alongside a pioneering approach to popular classics has seen them hailed as the 'Kings of Popera' and earned them a legion of loyal fans all over the world.
This is their most extensive tour to date, which will see them fondly look back upon their journey, whilst also propel them into the next chapter of their groundbreaking career.
This tour will be the first chance to hear the breathtaking new tracks from their hotly-anticipated 20th Anniversary studio album (due for release in Autumn 2024). It will also feature the most popular G4 hits, such as their exhilarating rendition of 'Bohemian Rhapsody', haunting version of 'Creep' as well as the heart-stopping 'Nessun Dorma'.
The band's incredible vocals, stage presence and infectious energy will undoubtedly leave you wishing the curtain never has to finally fall.
As part of the group's new chapter they are delighted to welcome the exceptionally talented Britain's Got Talent winner, Jai McDowall, into the fold.
Why not treat yourself to a pre-show Meet and Greet where you can enjoy taking a few pictures and collecting autographs, all up-close and personal?...
"Hail the Kings of Popera!" - Daily Mail
VIP tickets include a pre-show meet and greet at 6pm. Further information will be sent to VIP ticket-holders nearer the time.
Starts: 7.30pm
Tickets: VIP Meet and Greet £61.50, Premium £34.50, Standard £29.50

About the Venue
The Apex is an award-winning venue, known for its acoustic excellence and home to a diverse programme of live music and events; from classical concerts to pop, rock, jazz, blues, world, country and folk, plus comedy and dance performances.
It also hosts a number of community and corporate events, offering the local community and wider environs a unique and exciting space from which visitors can see a great selection of artists, bands and events.
It has been very well publicised (and we never tire of hearing it!) that, as well as its architectural beauty, The Apex also has the very best acoustics, with many musicians who've played here describing it as the best acoustic in the UK, if not Europe:
"Best new venue in the UK. Absolutely superb" - Funeral For A Friend
"Best acoustic wee had in 40 years of touring" - Fairport Convention
"The best hall we have ever played in" - The Escher String Quartet