In her own voice: The Art of Lucy Kemp-Welch (1869 - 1958)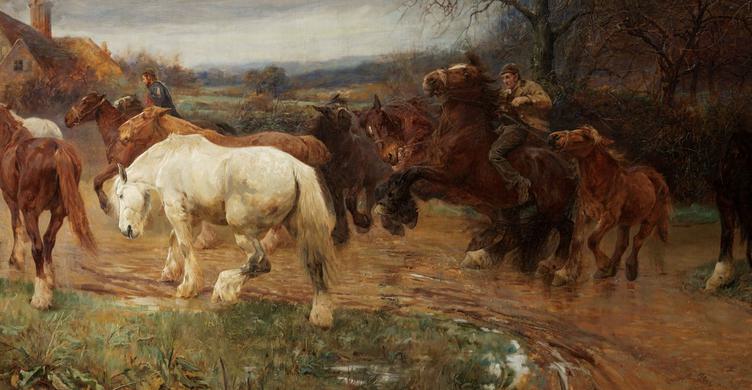 About this event
Lucy Kemp-Welch (1869-1958) is one of Britain's best-known equine, female artists. Over a long and successful career spanning the first half of the 20th century she became a leading painter of horses, famous for her illustrations for Black Beauty and sensitive portrayals of horses at work. Her pictures are informed by her expertise as a horsewoman and love for her equine subjects.
The National Horse Racing Museum has partnered with the Russell-Cotes Art Gallery & Museum to organise the first major retrospective exhibition of works since the artist's death. Curated by art historian David Boyd Haycock, the exhibition will focus on key works and moments in Kemp-Welch's illustrious career and the influence of Hubert von Herkomer's teaching at his school in Bushey.
This exhibition was made possible with a grant from the Weston Loan Programme with Art Fund and will feature works from national and regional museums, including the Imperial War Museum, Bushey Museum and Southampton City Art Gallery. The exhibition will coincide with the launch of David Boyd Haycock's new biography of the artist The Life and Work of Lucy Kemp-Welch, Painter of Horses.
The exhibition has been generously sponsored by the EBM Charitable Trust.
About the Venue
The Palace House Estate is a 5-acre site in the heart of Newmarket. It comprises three complementary attractions; National Horseracing Museum in the Trainer's House and King's Yard Galleries, Packard Galleries of British Sporting Art in Palace House, and a chance to meet former racehorses in the flagship home of Retraining of Racehorses.
They have a fabulous restaurant and gift shop onsite and visits can take from 3 hours to a full day, and sometimes even more…!
However, don't worry if you can't fit it all in in one day – upgrade your ticket to an annual pass for FREE to return as many times as you like for 12 months after purchase.