Lavenham Farmers Market
Winner of `Best Farmers Market in UK'.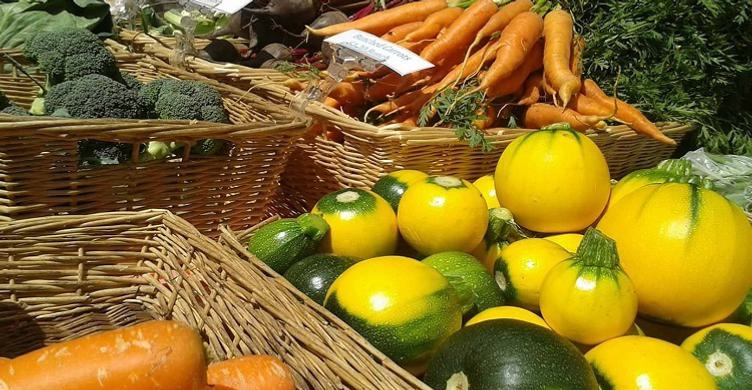 About this event
Winner of `Best Farmers Market in UK' in the Farm Retail Association Awards 2022
Winner of the 2015 Best Food Market in Suffolk: BBC Radio 4 Food & Farming Awards
Named as one of the best food markets in the UK by The Times Newspaper (Sept 2021)
Best Market in Suffolk: East Anglian Daily Times – 2012 food & drink awards.
Lavenham Farmers Market, officially the best farmers markets in the UK, is held on the fourth Sunday of every month outside Lavenham Village Hall and on the adjoining field.
We are proud to showcase over thirty of the highest quality artisan producers from across our the region.
Everything that is sold at the market comes from within a thirty-mile radius with many traders living in Lavenham and others travelling from the neighbouring towns and villages of Boxford, Sudbury and Ipswich.
The range of produce includes locally baked, fresh bread, Suffolk pork, Longhorn beef, lamb and venison, fresh raw Jersey milk and cream, home-baked cakes and pies, home-produced jams and chutneys, local sausages, delicious home-baked pies, pasties and sausage rolls plus Suffolk honey, regional cheeses and fresh, oven-ready game (during the season).
All the food at the market is grown, baked, brewed and butchered by the person who is selling it so that you, the customer can find out everything you want to know before you buy – there are no hidden surprises.
Bring along the family and any four legged friends – we have a fabulous van serving freshly brewed coffee and a selection of teas.
Or why not make a day of it and enjoy lunch, a walk or a drink in one Lavenham's many pubs and immerse yourself in the beauty and history of one of Britain's most historic villages.
Parking in the village is free all day. Dogs are very welcome at the market.
Held on the fourth Sunday of every month
10am – 1.30pm
Free entry & free parking
For more information visit https://www.suffolkmarketevents.co.uk/events/lavenham-farmers-market/