Ministry of Science
Next Event

11th February 2024 1:30pm
Event Finishes

11th February 2024 3:30pm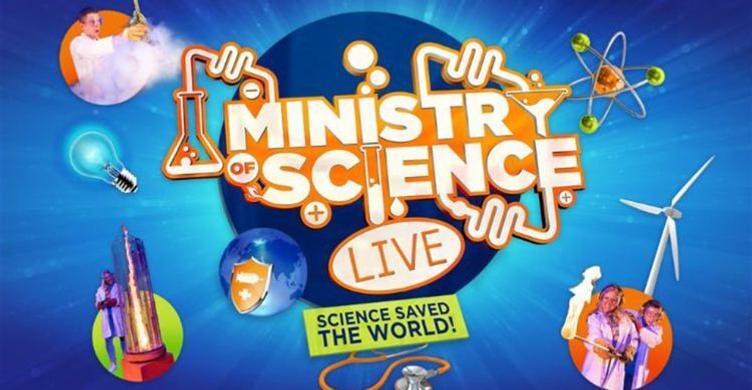 About this event
Ministry of Science Live - Science Saved The World
This year saw Science lead the way in getting our lives back to normal. Now, the UK's favourite science team are back and more explosive than ever!
Join our presenters as they dive deep into the world of science and look at how science shapes the modern world we live in with a few loud bangs along the way!
They'll take an anarchic approach to science communication whilst looking at the scientists, engineers and inventors who have shaped the modern world that we live in whilst proving that each and everyone of you have the ability to change our world for the better!
Expect 20ft liquid nitrogen clouds, exploding oxygen & hydrogen balloons, fire tornados, hydrogen bottle rockets, ignited methane and even a self-built hovercraft!
100% Educational. 200% Entertaining. 300% Explosive. 400% Fun.
Starts: 1.30pm
Tickets: Adult £19.50, Child £15.50, Family Ticket £70 (for 4, max 2 adults)

About the Venue
The Apex is an award-winning venue, known for its acoustic excellence and home to a diverse programme of live music and events; from classical concerts to pop, rock, jazz, blues, world, country and folk, plus comedy and dance performances.
It also hosts a number of community and corporate events, offering the local community and wider environs a unique and exciting space from which visitors can see a great selection of artists, bands and events.
It has been very well publicised (and we never tire of hearing it!) that, as well as its architectural beauty, The Apex also has the very best acoustics, with many musicians who've played here describing it as the best acoustic in the UK, if not Europe:
"Best new venue in the UK. Absolutely superb" - Funeral For A Friend
"Best acoustic wee had in 40 years of touring" - Fairport Convention
"The best hall we have ever played in" - The Escher String Quartet