Staged Splendour at Ickworth this Christmas
Next Event

7th December 11:00am - 2nd December 3:00pm
Following 24 Events

08/12/23 11:00

-

08/12/23 15:00

09/12/23 11:00

-

09/12/23 15:00

10/12/23 11:00

-

10/12/23 15:00

11/12/23 11:00

-

11/12/23 15:00

12/12/23 11:00

-

12/12/23 15:00

13/12/23 11:00

-

13/12/23 15:00

14/12/23 11:00

-

14/12/23 15:00

15/12/23 11:00

-

15/12/23 15:00

16/12/23 11:00

-

16/12/23 15:00

17/12/23 11:00

-

17/12/23 15:00

18/12/23 11:00

-

18/12/23 15:00

19/12/23 11:00

-

19/12/23 15:00

20/12/23 11:00

-

20/12/23 15:00

21/12/23 11:00

-

21/12/23 15:00

22/12/23 11:00

-

22/12/23 15:00

23/12/23 11:00

-

23/12/23 15:00

26/12/23 11:00

-

26/12/23 15:00

27/12/23 11:00

-

27/12/23 15:00

28/12/23 11:00

-

28/12/23 15:00

29/12/23 11:00

-

29/12/23 15:00

30/12/23 11:00

-

30/12/23 15:00

31/12/23 11:00

-

31/12/23 15:00

01/01/24 11:00

-

01/01/24 15:00

02/01/24 11:00

-

02/01/24 15:00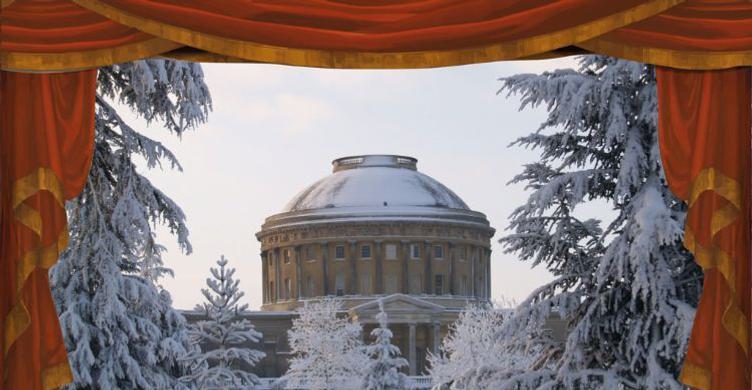 About this event
Join us as we transport Ickworth back to the Georgian period and hold a lavish evening at the theatre.
Step into the Rotunda and revel in the glorious indulgence of festivities that await you, from a lavish dining set to immersive theatrical staging throughout. Be inspired by Georgian traditions and their love for a festive get together!
Explore the great outdoors with our family trail nestled into our woodland.
From Saturday 2 December – Tuesday 2nd January
Open daily, except Christmas Eve and Christmas Day. House open 11am-3pm – last entry 3pm. Outdoor trail and West Wing open 10am-4pm.
About the Venue
A Georgian Italianate palace in an idyllic English landscape.
Ickworth's impressive Rotunda - a magnificent showcase commissioned by the 4th Earl of Bristol to house his priceless treasures collected on tours around Europe in the 18th-century - is an architectural marvel.
For 200 years, the eccentric, and sometimes infamous, Hervey family added to the treasures inside and out, also creating the earliest Italianate garden in England. The exquisite craftmanship of the finest Huguenot silversmiths is breathtaking, and you can follow the family's history through outstanding portraits by Gainsborough, Hogarth and Reynolds.
After walking in the tranquil parkland, experience 1930s domestic service in the restored servants' basement, sharing the real stories and memories of former staff who kept this country estate running.
Ickworth offers a delicious selection of food throughout the year. Whether you're coming just for a meal, or to make a whole day out our West Wing, Squash Court Cafe and Porter Lodge Cafe offer a mouth-watering choice of hot food, snacks and a great cup of coffee.
After a busy day enjoying our special place, make sure you find that special gift or memento of your visit. Browse our West Wing Gift Shop and Plant & Garden Shop, for seasonal and inspirational gifts.
Cycle Hub
Explore Ickworth Estate on two wheels! Our Cycle Hub is open daily throughout the school holidays for cycle hire, 10am to 4pm with last hire at 2pm. Hire starts from just £3 and you can hire for two hours or all day. Visit https://bit.ly/IckworthBikes for more details. Normal admission charges apply, free for National Trust members.