Stowmarket Stories
Stowmarket Stories brings the research, creativity and stories from the project together with the museum's local history…
Next Event

28th November 10:00am - 23rd September 4:00pm
Following 25 Events

29/11/23 10:00

-

29/11/23 16:00

30/11/23 10:00

-

30/11/23 16:00

01/12/23 10:00

-

01/12/23 16:00

02/12/23 10:00

-

02/12/23 16:00

03/12/23 10:00

-

03/12/23 16:00

04/12/23 10:00

-

04/12/23 16:00

05/12/23 10:00

-

05/12/23 16:00

06/12/23 10:00

-

06/12/23 16:00

07/12/23 10:00

-

07/12/23 16:00

08/12/23 10:00

-

08/12/23 16:00

09/12/23 10:00

-

09/12/23 16:00

10/12/23 10:00

-

10/12/23 16:00

11/12/23 10:00

-

11/12/23 16:00

12/12/23 10:00

-

12/12/23 16:00

13/12/23 10:00

-

13/12/23 16:00

14/12/23 10:00

-

14/12/23 16:00

15/12/23 10:00

-

15/12/23 16:00

16/12/23 10:00

-

16/12/23 16:00

17/12/23 10:00

-

17/12/23 16:00

18/12/23 10:00

-

18/12/23 16:00

19/12/23 10:00

-

19/12/23 16:00

20/12/23 10:00

-

20/12/23 16:00

21/12/23 10:00

-

21/12/23 16:00

22/12/23 10:00

-

22/12/23 16:00

23/12/23 10:00

-

23/12/23 16:00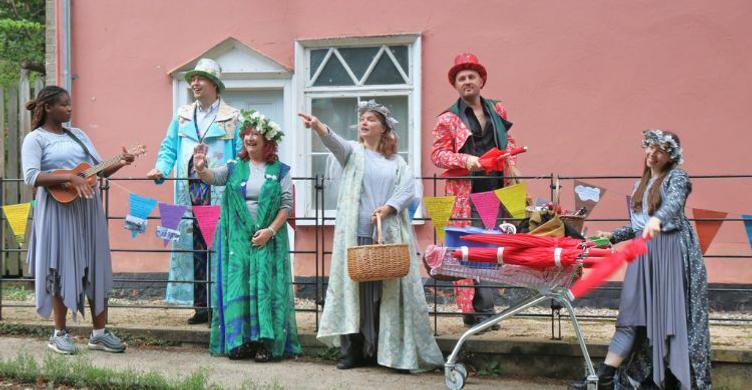 About this event
Discover the stars of Stowmarket! Be it people, places or traditions, Stowmarket Stories brings together local people's stories to tell the tale of this Suffolk market town.
Through interviews, workshops and performances, Footprints Theatre Company has creatively worked with a variety of people to discover the stars of Stowmarket, past and present.
The project gathered historic and modern stories from the people who work and live in Stowmarket, interviewing residents and researching the history of the area. These stories were turned into Stars of Stowmarket, a play which gave audiences a unique journey through the town to meet characters from Stowmarket's past and present.
Stowmarket Stories brings the research, creativity and stories from the project together with the museum's local history collections in one exhibition, allowing you to discover fascinating characters and hidden histories from the local area. Get immersed in the stories, be creative and tell us which stories are important to you!
Find the exhibition on the top floor of Abbots Hall (lift access available). Free with museum entry.
Funded by Historic England as part of their Everyday Heritage Grants. Supported by The Mix, Food Museum, The Library, Stowmarket Council, Storytelling Festival, Local shops, Stowmarket and District Dementia Community Group, Red Gables, Get Suffolk Reading, St Peter's and St Mary's church, URC church, Regal Cinema and Theatre, Medici, local schools and care homes.
About the Venue
The Food Museum, located in Stowmarket, aims to connect people with where their food comes from. We explore themes connected by food – social, historical, technological, industrial, environmental – and give visitors hands-on experiences which bring collections alive, teach skills and create memories.
The museum is set across 75 acres of glorious Suffolk countryside, with 17 fascinating historic buildings to explore and a collection of over 40,000 objects used to tell broad and inclusive stories. See working demonstrations of milling inside mid-18th century Alton Water, visit our demonstration kitchen and sample the day's offerings, or join us on a tour of the Dairy Cottages as part of your visit.
With an annual programme of events, exhibitions and activities, there's plenty for visitors of all ages to enjoy. Take advantage of the museum's annual pass and visit the museum throughout the year, or upgrade to a membership to join in with weekly Toddler Time sessions and access discounts and entry to events.