Sudbury Farmers Market
A Farmers Market at the birthplace of Gainsborough and the heart of Britain's silk industrial heritage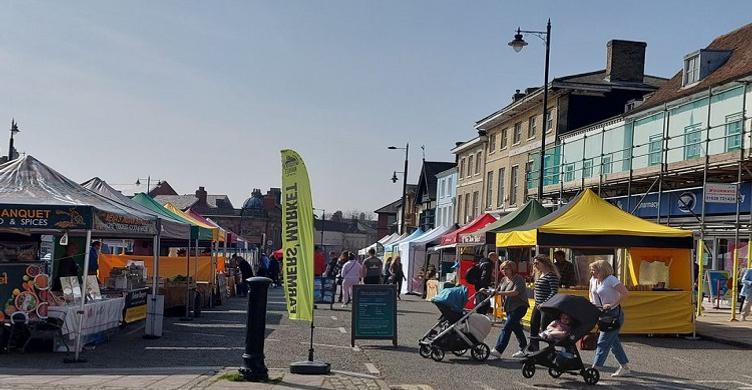 About this event
Right in the centre of one of Suffolk's Hidden Gems – the birthplace of Gainsborough and the heart of Britain's silk industrial heritage.
Sudbury Farmers Market is held entirely outside and spreads all the way along Market Hill with the statue of Thomas Gainsborough looking over us!
Over twenty five stalls join us each month, on the last Friday including Sunshine & Green with fresh organic vegetables, vegan pastries from The Norwegian Bakers, local honey from BeeHouse Honey, homemade pies from Hoskyn's and a selection of regional cheeses. Locally based Alex's Artisan Bakery treats everyone with delicious slices of fresh baked cakes and Tensheds Bakehouse join us every month with sourdoughs and loaves. The Jam Shed bring homemade jams, cordials and chutneys and Mena's Indian Banquet provides some spice with her samosas and paneers. There are gluten free cakes and quiches from The Hopewell Bakery, fruit vinegars and marshmallows from Yaffle House and mushroom growing kits from Myshroom. Look out for tasty sausages and venison from Totham Bangers and Wigborough Meats offer a range of their home reared beef, pork and hogget as well as Sutton Hoo chicken.
Assington based charity The Befriending Scheme bring a range of plants and herbs from their Community Farm and there are a selection of craft beers from Roughacre Brewery and local gin from The Only Way is Gin.
Our top quality craft stalls include Twisted Feather soaps and body creams, homecrafts from Barbara's Crafts as well as handmade candles from Potterswick and bird food and feeders from Maplestead Farm.
Over 25 stalls showcase their products on Market Hill every month so it really is the perfect place to stay local and shop outdoors!
Sudbury farmers market is proudly sponsored by Fisher Jones Greenwood
Held on the last Friday of every month
9.30am – 2pm

Free entry