The Amazing Bubble Man
Art, magic, science and fun of bubbles
Next Event

21st February 2024 2:00pm
Event Finishes

21st February 2024 4:00pm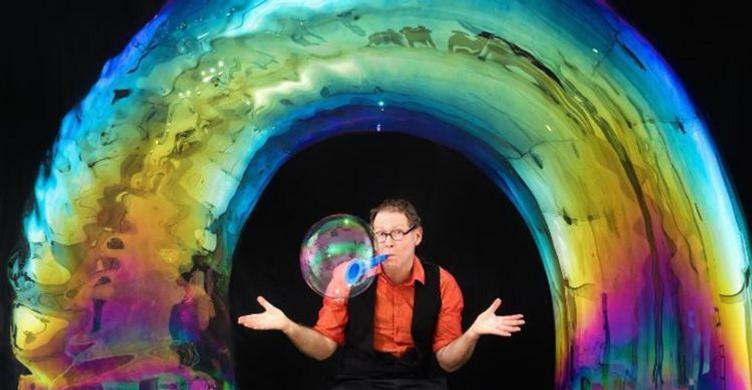 About this event
Louis Pearl has been thrilling audiences around the world for over 30 years with the art, magic, science and fun of bubbles.
He is a favourite at the Edinburgh Fringe Festival, where he has enjoyed twelve years of sell-out success.
Louis explores the breath-taking dynamics of bubbles, combining comedy and artistry with audience participation and enough spellbinding bubble tricks to keep everyone mesmerised. From square bubbles, bubbles inside bubbles, fog-filled bubbles, giant bubbles, bubble volcanoes, tornados and trampolines to people inside bubbles, The Amazing Bubble Man conjures shrieks of laughter and gasps of amazement from all ages.
Visit The Amazing Bubble Man's website
"This show captivated its young audience, and the adults loved it as well. Highly recommended" - British Theatre Guide
"Greatest bubble show on Earth" - SFGate.com
"The show is one giant, joyous caper" - The Wee Review
Please note: Children are not permitted on laps in the balconies for health and safety reasons.
Starts: 2pm
Tickets: Adult £16.50, Child £14.50


About the Venue
The Apex is an award-winning venue, known for its acoustic excellence and home to a diverse programme of live music and events; from classical concerts to pop, rock, jazz, blues, world, country and folk, plus comedy and dance performances.
It also hosts a number of community and corporate events, offering the local community and wider environs a unique and exciting space from which visitors can see a great selection of artists, bands and events.
It has been very well publicised (and we never tire of hearing it!) that, as well as its architectural beauty, The Apex also has the very best acoustics, with many musicians who've played here describing it as the best acoustic in the UK, if not Europe:
"Best new venue in the UK. Absolutely superb" - Funeral For A Friend
"Best acoustic wee had in 40 years of touring" - Fairport Convention
"The best hall we have ever played in" - The Escher String Quartet