The Lock In Christmas Carol
Half gig, half dance show and half panto!
Next Event

12th December 7:30pm
Event Finishes

12th December 9:30pm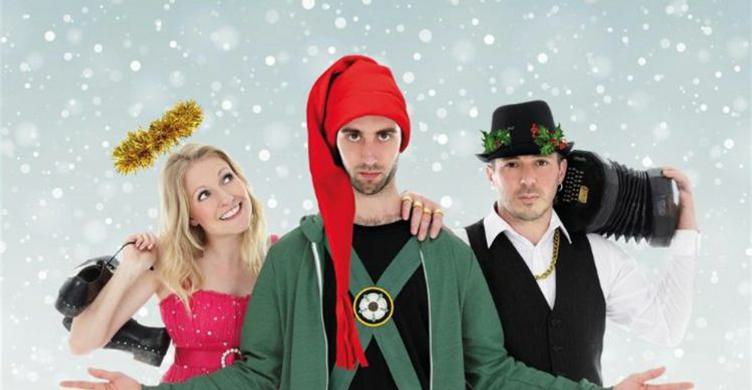 About this event
The Lock In 'Christmas Carol' featuring The Demon Barbers
Half gig, half dance show and half panto! Join the BBC award winning team of musicians and dancers for 150% of the very best festive live music, song and dance!
It's Christmas Eve and the regulars of The Olde Fighting Cocks are excited about the night ahead, it's going to be the Folk and Hip Hop dance party of the year! To their dismay the landlady, Jasmineezer Scrooge, has more profitable ambitions and is preparing to launch her new business, the 'Oompah Techno Bar'! Cheap alco-pops, luminous lighting and mind-numbing bass beats are all in danger of alienating the local community and ruining Christmas! Fortunately, some insightful souls are at hand to lead her back to her senses.
Featuring 'folk powerhouse' The Demon Barbers; artists from Breaking Tradition Dance Company; a new seasonal repertoire and a 'slightly unhinged' approach to their family friendly stage shows, they are "guaranteed to raise weary spirits and send an audience home smiling!" (The Telegraph)
"A full-on show of such blazing energy and joyous ingenuity you scarcely ponder on the apparent madness of trying to marry folk dance and hip hop" - The Independent
5 stars - WhatsOnStage.Com
5 stars - The List (Edinburgh Fringe)
4 stars - The Telegraph
4 stars - The Independent
Starts: 7.30pm
Tickets: £22

About the Venue
The Apex is an award-winning venue, known for its acoustic excellence and home to a diverse programme of live music and events; from classical concerts to pop, rock, jazz, blues, world, country and folk, plus comedy and dance performances.
It also hosts a number of community and corporate events, offering the local community and wider environs a unique and exciting space from which visitors can see a great selection of artists, bands and events.
It has been very well publicised (and we never tire of hearing it!) that, as well as its architectural beauty, The Apex also has the very best acoustics, with many musicians who've played here describing it as the best acoustic in the UK, if not Europe:
"Best new venue in the UK. Absolutely superb" - Funeral For A Friend
"Best acoustic wee had in 40 years of touring" - Fairport Convention
"The best hall we have ever played in" - The Escher String Quartet