The Queen Christmas Laser Spectacular Show
Next Event

8th December 7:30pm
Event Finishes

8th December 9:30pm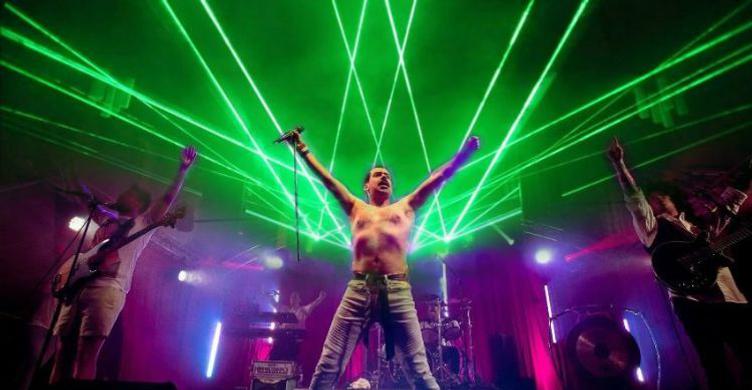 About this event
Come rock the Lavenham Church and be wowed by the stunning laser show in this magnificent setting! Just Not to be missed!
Go back in time to experience the magic and excitement of a live Queen concert with the incredible Supersonic Queen. This 5-Piece Live Queen Tribute Band has honed their show over 10 years to become one of the most authentic sounding and looking Queen Tributes in the UK. Featuring some supremely talented performers, between them they have toured Dubai, Hungary, France & Germany and supported name acts including The Human League, Whitesnake, Suzi Quatro, David Essex & even the Brian May Band! Their energy, enthusiasm and on stage chemistry is mesmerising as they belt out hit after hit – It IS a "Kind of Magic"!
Supersonic Queen's ethos is to recreate the most thrilling live experience possible, with the same dynamic sound and look of Queen in their finest live concerts. 100% Live Performance.
A full 5-Piece Queen Tribute Band, their pro level musicianship allows Supersonic Queen to perform their live show just like Queen did without the need for backing tracks so you get that unmistakable power of a fully live performance.
Supersonic Queen's Freddie has mastered performing the part of Freddie Mercury down to a fine art from an uncanny likeness to the Freddie moves & struts, to his facial expressions, his powerful vocals and his incredibly engaging way with any audience.

"To keep the fire alive in the heart of every Queen fan by creating the most authentic, hard hitting, rock and roll performance possible, Supersonic Queen have made it their duty to meticulously craft a show that will re-capture the beauty of Queen for fans both old and new. Guaranteed to blow your mind!"
This show is Reserved and Unreserved Seating.
Please call the Box Office on 01256 416384.

Friday, 8th December 2023
Show: 7.30PM Doors: 6.45PM
Tickets: Reserved Seats £37.95 / Unreserved Seats £32.45 (inc booking fee)
About the Venue
St Peter and St Paul's Church, Lavenham is a Grade I listed parish church.
It is a notable wool church and regarded as one of the finest examples of Late Perpendicular Gothic architecture in England.
Today, the church is one of the most visited in East Anglia. It was awarded four stars by Simon Jenkins in his 1999 book England's Thousand Best Churches