Back to Blogs
Discover
How a famous ghost writer found the graves of the Abbey's Abbots
---
By Adrian Tindall, Acting Chair, Abbey of St Edmund Heritage Partnership Research Group
Ghost Writer M R James' Lifelong Passion for Researching the Abbey of St Edmund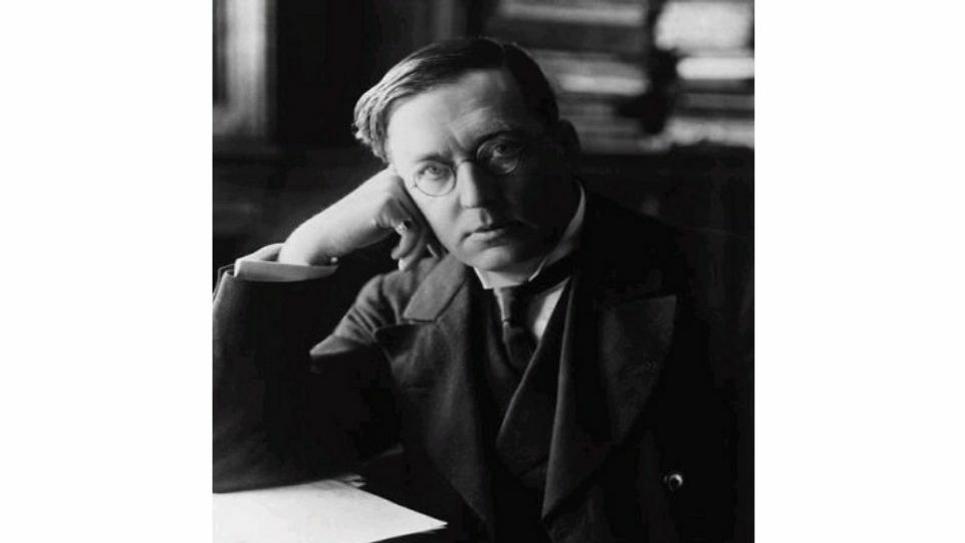 2022 marked the 90th anniversary of M R James' seminal lecture on the Abbey of St Edmund, which was delivered at The Athenaeum on Angel Hill in Bury St Edmunds on Thursday, 21 April 1932.
The handwritten notes of his lecture were found just four years ago in Cambridge University Library by Dr Richard Hoggett while he was preparing a Heritage Assessment on the Abbey. Dr Hoggett transcribed the notes and edited and published them in the Proceedings of the Suffolk Institute of Archaeology and History in 2020.

Where did his lifelong passion for the Abbey start?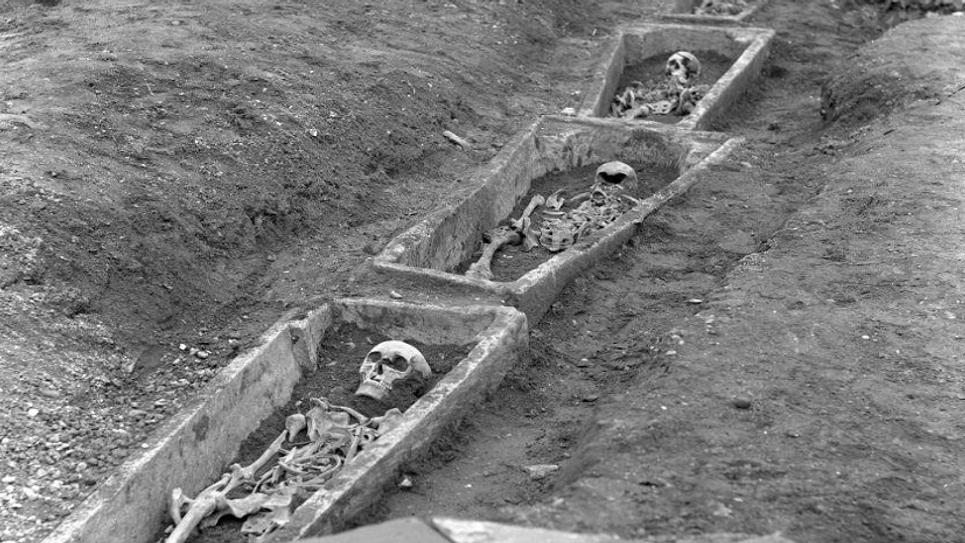 Montague ('Monty') Rhodes James was born at Goodnestone, Kent, on 1 August 1862, the fourth and youngest child of country parson Herbert Rhodes James, and his wife Mary. When Monty was only three, his father moved to Great Livermere Parish Church, beginning Monty's lifelong love of Suffolk.

He followed his father by going to Eton in 1876, where he discovered an interest in early Christianity and medieval manuscripts. He visited local churches and studied the manuscripts in the College Library and, during his vacations, in the Ancient Parish Library in Bury (then housed in the Guildhall).
In 1882 he was awarded a scholarship at King's College, Cambridge, where he gained a double first in Classics. Although his father wanted him to enter the church, he instead chose an academic career, eventually becoming Provost of King's, and Vice Chancellor of the university. In 1886, he was appointed Assistant Director, and later Director, of the Fitzwilliam Museum in Cambridge.
He became a leading authority on biblical Apocrypha, medieval manuscripts and what he called 'Christian archaeology', including important research on the Abbey of St Edmund and its manuscripts.
In 1895 he published a two-part volume On the Abbey of St Edmund at Bury: the first part being a catalogue of the 2,500 manuscripts originally held in the abbey library (including the famous Bury Bible, now in Corpus Christi College), and the second a detailed plan and description of the great abbey church.
It was during this research that he discovered reference in an abbey register in Douai to the burial places of several of the abbots. This led in 1902-3 to excavations in the chapter house revealing the graves of six abbots, five of which can still be seen today.
Heated Public Debate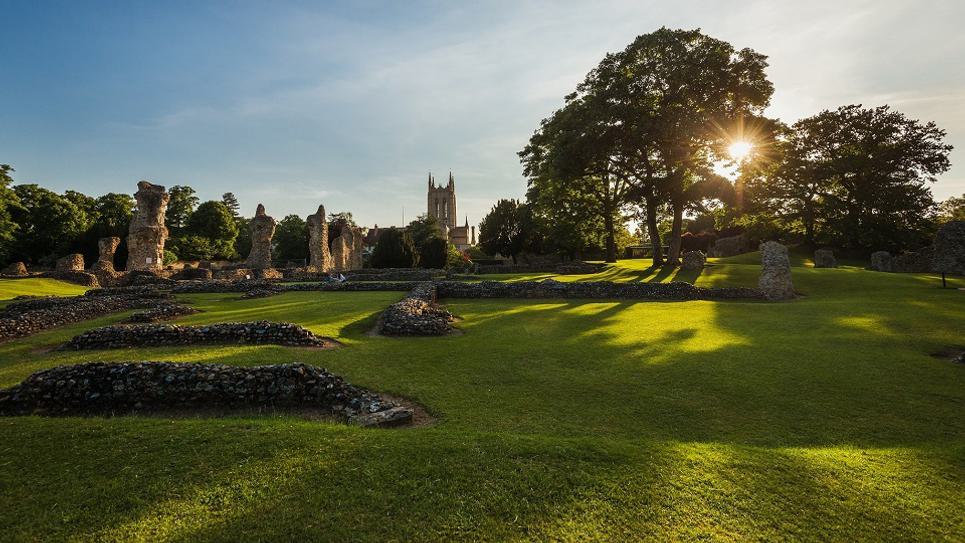 James also became involved in a heated public debate about the authenticity of the 'St Edmund relics', the alleged remains of St Edmund held in Toulouse. He doubted their authenticity, and his view was confirmed by scientific research nearly a century later.

He was deeply religious, and mistrusted maths, science and philosophy, thinking them somehow ungodly. However, he was also an amiable host, well known as a mimic (even in his literary style), and in his rooms at King's would entertain students, colleagues and friends with whisky, pipe tobacco and, of course, ghost stories, often read aloud by candlelight at Christmas.
He was eventually persuaded to publish his stories as Ghost Stories of an Antiquary (1904), More Ghost Stories of an Antiquary (1911), A Thin Ghost (1919) and A Warning to the Curious (1925). He was a pioneer of the modern ghost story; unlike the Gothic novelists, he set his stories in familiar surroundings in the present or near-present day, and his ghosts were tangible and often gruesome. His fans included the Prince of Wales (later George V) and Theodore Roosevelt.
Although many of his ghost stories were set in and around Suffolk, only two The Ash Tree (1904) and Rats (1929), mention Bury St Edmunds by name. Many locations are given pseudonyms, like Burnstow-on-Sea (Felixstowe) and Seaburgh (Aldeburgh).
In 1918 he returned to Eton as its Provost, where he remained hugely popular with both staff and boys. Broadcaster and old Etonian Brian Johnson recalls him as 'a friendly genial man' who would entertain the boys by reading P G Woodhouse out loud 'until tears of laughter ran down his cheeks'.
In later life he became something of a national treasure, receiving honorary doctorates from both Oxford and Cambridge, and the Order of Merit from George V in 1930.
Monty James died on 12 June 1936, probably of renal failure, and was buried in the parish churchyard in Eton. A memorial plaque to him was unveiled in Great Livermere Parish Church in 1998, and he was commemorated as a Briton of Distinction on a Royal Mail stamp in 2012 to mark the 150th anniversary of his birth.
Four years before his death, on 21 April 1932, he gave his public lecture On the Abbey Church at Bury at The Athenaeum, summarising his lifetime's research in an imaginary tour of the abbey church in its heyday.

References
James, M R., 2017. Compete Ghost Stories, Macmillan.
Hoggett, R, 2020. 'M R James on The Abbey Church at Bury'; the text of a lecture given at the Athenaeum, Bury St Edmunds, 21 April 1932', Proceedings of the Suffolk Institute of Archaeology and History 44, 4, 637-57.
Pfaff, R W, 2004. 'James, Montague Rhodes (1862-1936)', Oxford Dictionary of National Biography.
As part of the Abbey 1000 celebrations, Robert Lloyd Parry, performance storyteller of M R James' ghost stories, recreated this famous lecture at The Athenaeum