Back to Blogs
Discover
Town's Dog Friendly Scheme Celebrates 5th Anniversary
The anniversary has been marked with a revamped Dog Friendly window sticker for businesses and the addition of blue branded dog bowls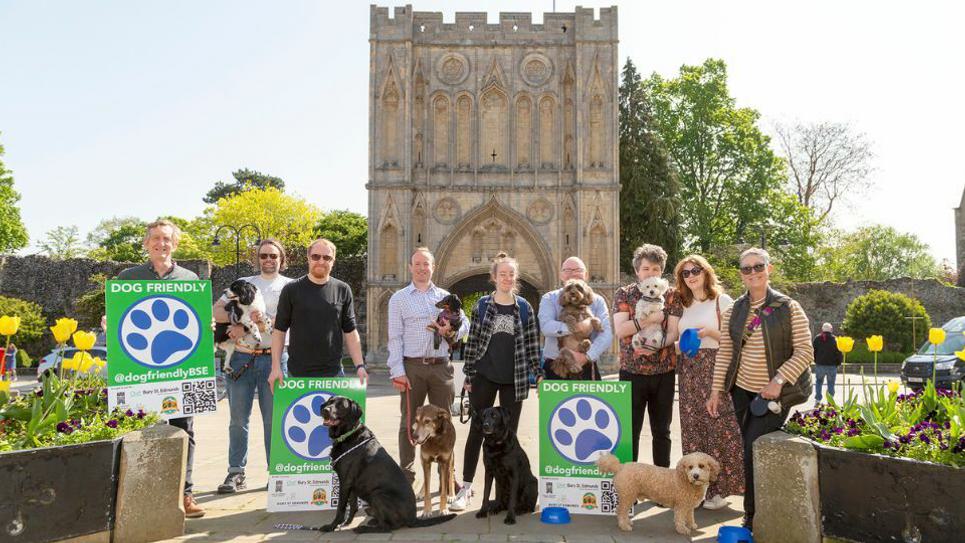 Photo: Phil Morley
A scheme which enables residents and visitors to easily identify which shops, eateries, businesses, and attractions are Dog Friendly in Bury St Edmunds has celebrated its 5th Birthday.
Dog Friendly Bury St Edmunds was formed with a partnership between Bury St Edmunds Town Council, Camp Tails Doggy Daycare, Our Bury St Edmunds Business Improvement District (BID) and the tourism brand Bury St Edmunds and Beyond 5 years ago.
Every shop, eaterie, and attraction that is dog friendly in Bury St Edmunds displays a window sticker and branded dog bowl for use by their four-legged visitors. A list of all dog friendly businesses who have signed up to the scheme, now 140 and growing, can be found at www.dogfriendlybse.co.uk.
The anniversary has been marked with a revamped Dog Friendly window sticker for businesses and the addition of blue branded dog bowls, supported with a £500 donation from the locality budget of former Bury St Edmunds Town Councillor Richard Rout, £500 from Our Bury St Edmunds BID and £500 from Camp Tails Doggy Daycare.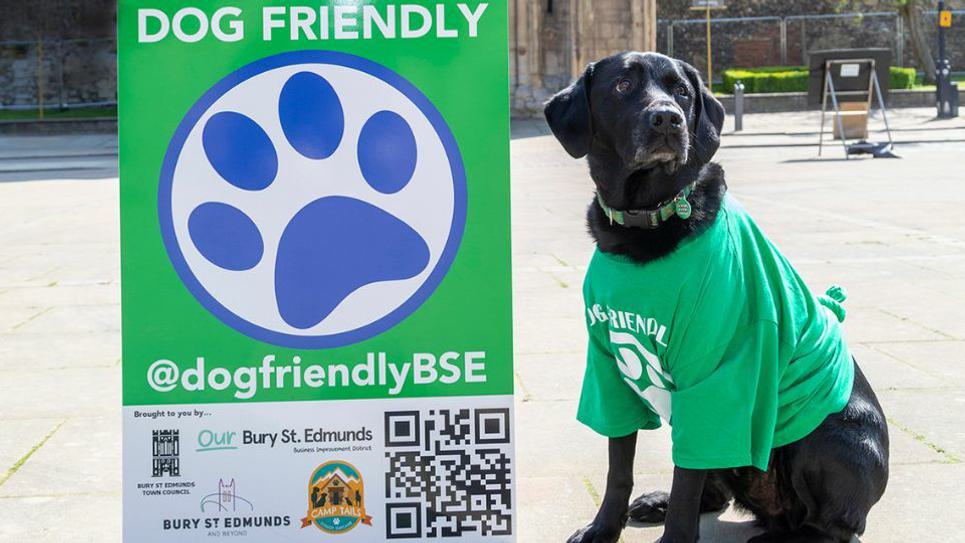 Photo: Phil Morley
Cllr Richard Rout, who is a councillor for West Suffolk and Suffolk County Councils, said: "As the owner of five dogs, it's fantastic to live in West Suffolk where our towns and villages are so welcoming of canine guests. Dog Friendly BSE is a fine example of this. For the last 5 years, businesses that allow well behaved dogs have been able stand out from the crowd with window stickers and much needed water bowls, which are particularly useful on those warmer days. It's a pleasure to support this brilliant initiative and my congratulations to all those who have made it such a success, I'm sure it will continue to bring dog owners flocking to the town."
Owner of Camp Tails Doggy Daycare, who championed the scheme from the beginning, has just recently opened Bury St Edmunds first Hotel for Dogs - a boutique luxury offering to care for dogs - at his premises in Eastern Way.
Jon said: "Bury St Edmunds is now one of the most dog friendly towns in the country. It helps assist dogs gain valuable socialisation and desensitisation skills whilst at the same time supports and promotes local businesses. There are now so many places that you can take well-behaved dogs when you visit."
Mike Kirkham, Business Support Manager for Our Bury St Edmunds BID, said: "Bury St Edmunds is a great place to shop, eat and relax. We want as many people as possible to enjoy their visit to our historic town, so we are really pleased that so many businesses invite customers to do this alongside their canine companions."
For more information about Bury St Edmunds Dog Friendly Scheme visit www.dogfriendlybse.co.uk