Back to Blogs
Discover
An Art Lovers Guide to Bury St Edmunds
Spend a day exploring art in Bury St Edmunds
For the art lovers amongst us, the beautiful market town of Bury St Edmunds is the perfect place to while away the hours. With so much to see and do, it's worth spending a couple of days exploring the many works of art found here. But if time is against you, then there's still plenty of art you can experience in one day. We've put together a few suggestions for a great day out exploring the wonderful artistic side to Bury St Edmunds.
We've broken your day down and provided this handy itinerary so that you can be sure you don't miss any of the highlights of the artistic wonders of this beautiful town.
Before we get started, it's worth understanding a little bit about the history of Bury St Edmunds itself, so you can fully appreciate the inspiration behind many of the works of art found here.
Bury St Edmunds takes its name from Saint Edmund, who is widely believed to be buried in the market town. Very little is known about the saint, but his shrine in Bury St Edmunds and the legendary story of his life have inspired plenty of artworks in the town. It's believed that Saint Edmund was shot with multiple arrows before being decapitated. His body was found, but his head was missing. Legend tells us that Saint Edmund's supporters heard a lone wolf's cry which led them to find the wolf guarding his severed head. This legend inspires much of the artwork found around the town.
8:30–9.30 – Breakfast
Bury St Edmunds is filled to the rafters with friendly cafés, all offering delicious foods. We're going to recommend starting your day at Pilgrim's Kitchen. Nestled inside the cathedral, you'll be able to soak up the history whilst enjoying a delicious home-cooked breakfast.
9:30–10.30 – Abbey Gardens
A visit to Bury St Edmunds wouldn't be complete without a visit to the famous statue of Saint Edmund. Following on from your hearty breakfast, it's a mere few steps out into the cathedral grounds and Abbey Gardens.
The statue can be found in the Great Churchyard alongside the cathedral and is closely guarded by a lone wolf companion. The statue of St Edmund was created by Dame Elisabeth Frink, an English sculptor best known for her bronze outdoor sculptures. You will also find a stunning oak book carved by Den Humphrey within the cathedral grounds. The book depicts the legend of St Edmund and the wolf and is a stunning piece of carving.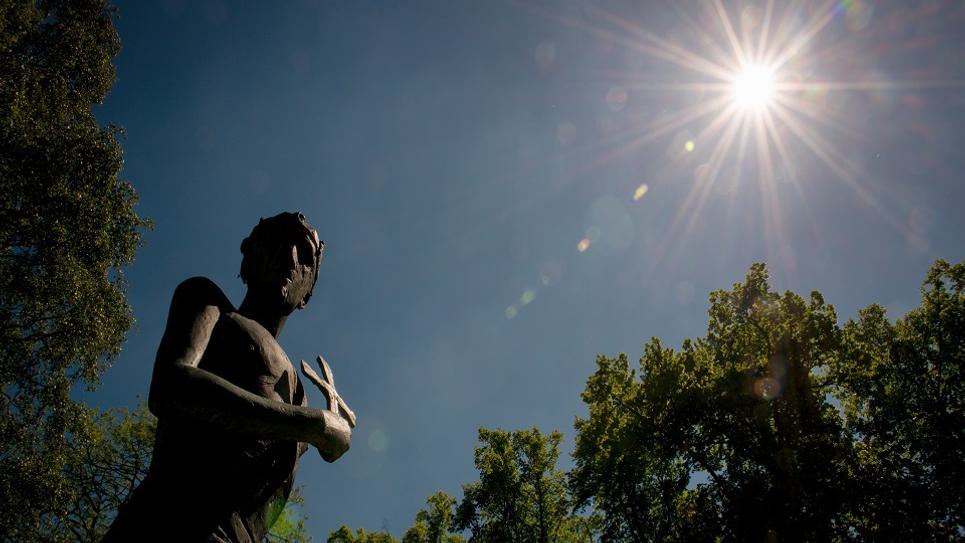 St Edmund by Dame Elisabeth Frink. Photo: Tom Soper
10:30–12:00 – Roundabout Art
One of the most famous things about Bury St Edmunds is that almost every major road junction contains something artistic.
We're allocating plenty of time for this because there is simply so much to see and appreciate.
The initiative was led by Bury in Bloom, and there are some absolute gems amongst them.
One of the most famous pieces of artwork and a must see is the Flight of Peace sculpture. Situated on the Lady Miriam Way roundabout, this sculpture commemorates the arrival of the US Air Force at Rougham Airfield in 1943. As you can imagine, this particular sculpture attracts both artists and historians in equal measure.
Another piece of roundabout art with significant historical meaning is the Grain sculpture. This can be found at the King's Road roundabout and is a constant reminder of the many corn windmills that were once situated close by.
At the Southgate Green roundabout, the legend of Saint Edmund is depicted once again with the wooden carving of the wolf, sitting howling in front of the severed head of Saint Edmund.
Each junction and roundabout brings something new, so take your time exploring each piece of magnificent art as you travel around the town.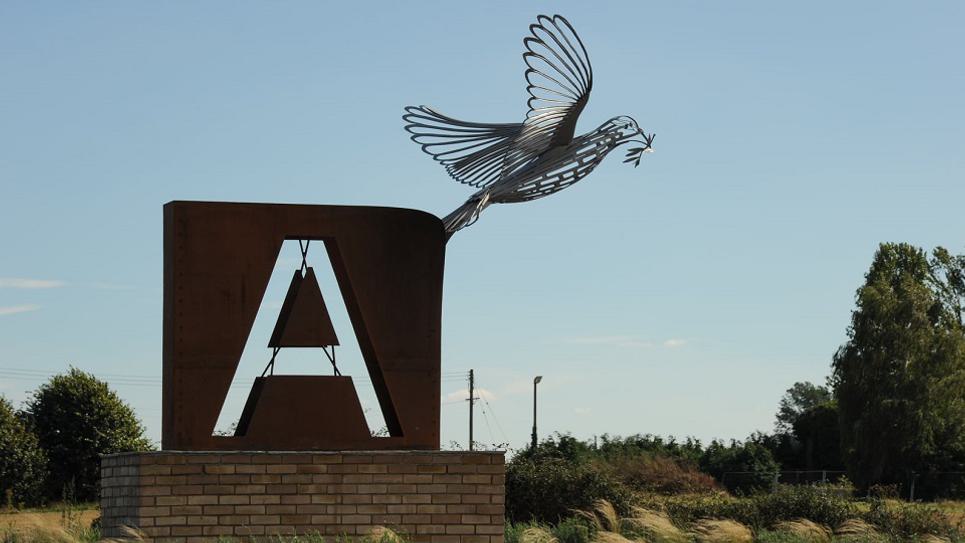 12:00–13:00 – Lunch
You'll be spoilt for choice when it comes to finding somewhere to enjoy a delicious meal. With plenty of cafés and local pubs serving home-cooked food, you'll be able to spend an hour recharging your batteries before heading out to continue your exploration of the artistic side of Bury St Edmunds.
13:00–17:00 – Art Galleries
The afternoon is dedicated to the many glorious galleries to be found in Bury St Edmunds. You can take your time exploring each of these – every one has something different to offer.
ReallyVeryNice Gallery
Open from 10am until 4pm Tuesday to Saturday, the ReallyVeryNice Gallery is a must see for any art lovers exploring Bury St Edmunds. They pride themselves on displaying exquisite yet affordable pieces of art in their gallery and shop.
Chelmer Fine Art
Chelmer Fine Art is the gallery to visit for those who love to appreciate the work of contemporary artists. Here you'll find work from artists such as Alexander Millar, Caroline Shotton and John Myatt.
Apex Gallery
The Apex Gallery in the arc shopping centre is well known for its contemporary paintings and sculptures. Situated in a beautiful part of the town, you'll be able to enjoy a relaxing drink whilst exploring the stunning works of art on display and appreciating the incredible architecture of the building.
The Hunter Gallery
The Hunter Gallery on Angel Hill is the place to visit to see sculptures and paintings lovingly created by local artists. The gallery regularly changes its exhibitions, so you can be sure that you'll always see something new, no matter how many times you visit.
Handmade Shop and Gallery
If handcrafted, lovingly made art is your thing, then you must visit the Handmade Shop and Gallery in St John's Street during your visit to Bury St Edmunds. This wonderful gallery displays a huge range of original handmade work by a variety of artists. Here you'll find unique pieces of artwork, including prints, textiles, glass work, paintings and jewellery. This is the perfect place to pick up a souvenir or a gift for a loved one.
Moyse's Hall Museum

In Moyse's Hall Museum, you can find fine art by renowned local artists Mary Beale (England's first professional female painter) and Sybil Andrews. Another of Sybil Andrew's famous works is the The Banner of St Edmund which hangs in St Edmundsbury Cathedral today.

Bury St Edmunds Guildhall
At the Bury St Edmunds Guildhall discover some of the prominent figures in Bury St Edmunds' history in a beautiful collection of paintings on display, including a unique painting of Kings James I commissioned in 1610 to commemorate the two charters passed by the King to effectively create Bury St Edmunds first form of local givernment.
As you can see, there is plenty for the art lover to explore and appreciate in Bury St Edmunds. If you can, it's worth dedicating an entire weekend to the town. If you're limited to one day, then our itinerary will ensure that you don't miss any of the amazing pieces of artwork in this wonderful market town.