Back to Blogs
Discover
Say 'I Do' in Bury St Edmunds & Beyond
---
If you're dreaming of a wedding in the stunning Suffolk countryside, look no further than Bury St Edmunds & Beyond!
Say I Do in Bury St Edmunds!
Bury St Edmunds, Long Melford, Clare and Lavenham are simply overflowing with charm, history and beautiful architecture, surrounded by picturesque villages and magnificent landscapes.
Full of romantic literary links, with authors such as Dickens, Defoe and even William Shakespeare himself -all inspired by these wonderful locations.
You'll be following in the footsteps of Celebrities Michelle Keegan and Mark Wright who held their wedding at St Mary's Church in Bury St Edmunds and the reception at nearby Hengrave Hall, while guests stayed at the historic Angel Hotel.
Peruse the stylish and unique venues on offer and start planning your dream wedding from the comfort of your own home!

Bury St Edmunds Guildhall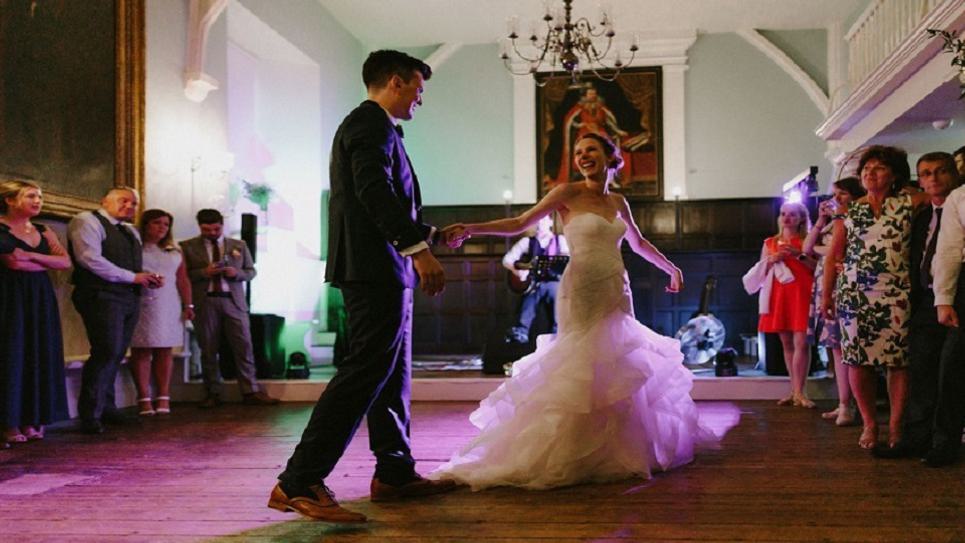 Bury St Edmunds Guildhall sits in the heart of the charming and historic Suffolk town of Bury St Edmunds. This beautiful and fully licensed venue is the ideal setting for an intimate and relaxed ceremony and reception.
Whether you choose the Regency Banqueting Hall, panelled Georgian Court Room or walled gardens, making your vows in England's most ancient civic building makes the Guildhall a truly unique and stunning venue for your big day.
Their experienced team will be on hand throughout the planning process and on the day itself to ensure that every detail is perfect, leaving you to celebrate the special occasion with friends and family.
For more information visit The Bury St Edmunds Guildhall website.

The Athenaeum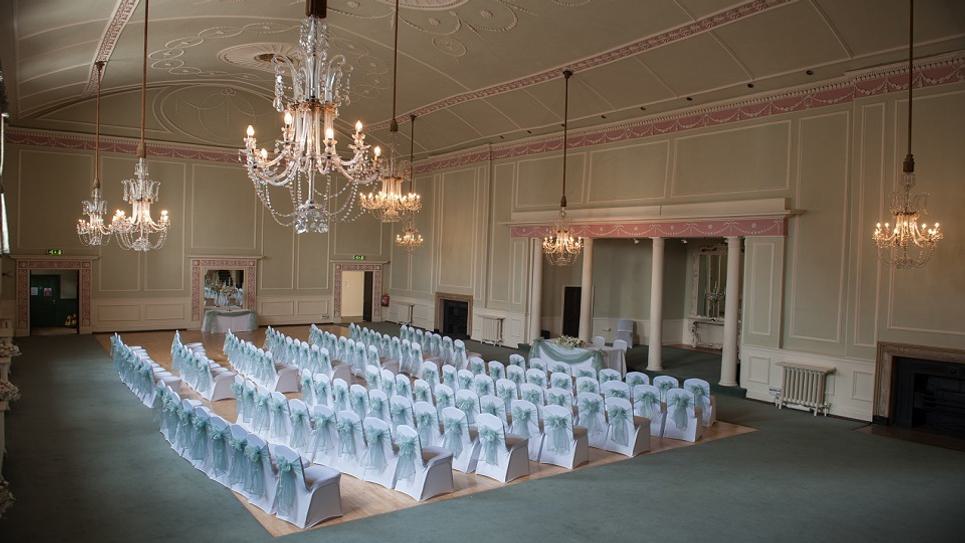 The Athenaeum is a venue that your wedding guests will always remember, standing opposite the famous Abbey Gardens, it has been at the heart of the town of Bury St Edmunds since the early 1700's.
You'll be drawn in by this Grade I listed Georgian masterpiece with its white pillars, high ceilings and best of all, a stunning ballroom complete with ornate chandelier. If you're looking to go all out, the venue can host wedding parties of up to 180 guests, but can also cater for smaller gatherings in the first-floor lounge and cosy reading room, and is licenced for ceremonies in the stylish Library or Old Billiard Room.
The experienced staff are on hand to help ensure your big day is exactly as you have always imagined it, and the wedding breakfast is catered by chefs who also provide hospitality for RHS Chelsea Flower Show, Royal Ascot and Henley Regatta. If you choose a spring or summer wedding you can enjoy celebratory fizz outside in the water garden and can even head over to the Abbey Gardens, opposite, for photos against the breath-taking ruins of the Benedictine Abbey.
For more information visit the The Athenaeum website.

Bury St Edmunds Farmers Club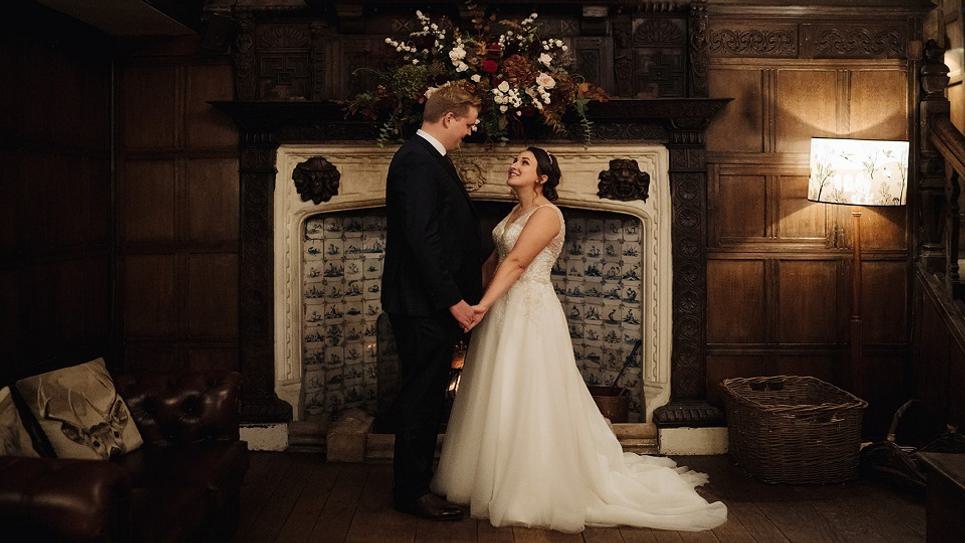 At Bury St Edmunds and Farmers Club there is a choice of beautiful and historic rooms, for small weddings seating from 5 to 50.
The Club can host whatever type of wedding reception takes your fancy: from a light buffet for a few friends to a formal sit-down meal for 50 or more, all in their beautiful building dating back to the 1350s.
By far and away the most popular choices are the Northgate Suite or Lower Lounge for the wedding ceremony itself; with the Regency Room and other ground floor rooms for the reception.

For more information visit the Bury St Edmunds and Farmers Club website

Best Western Priory Hotel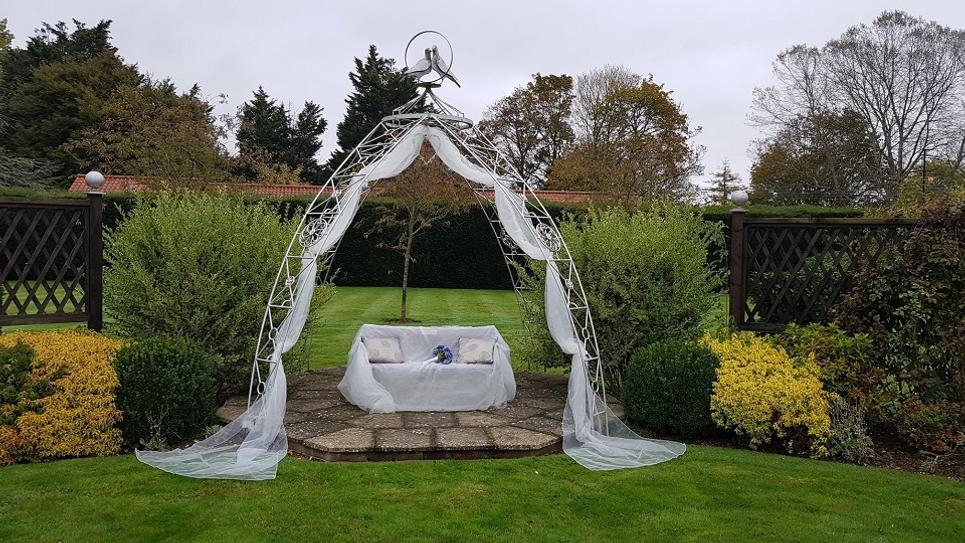 This calm and peaceful hotel has an historic past; originally home to Franciscan Friars and is now a truly elegant venue for your happy day. The recently refurbished Priory Hotel is privately owned and run and provides you and your guests with a warm welcome and an oasis of calm in which to celebrate your nuptials.
The delightful garden rooms have direct access to the large lawn and secret gardens- perfect for a Champagne reception, and the old priory walls add an atmospheric element to the event. With their AA rosette awarded food and excellent banqueting facilities you know you'll be well looked after at this special venue.
For more information visit The Priory Hotel website.

The Ickworth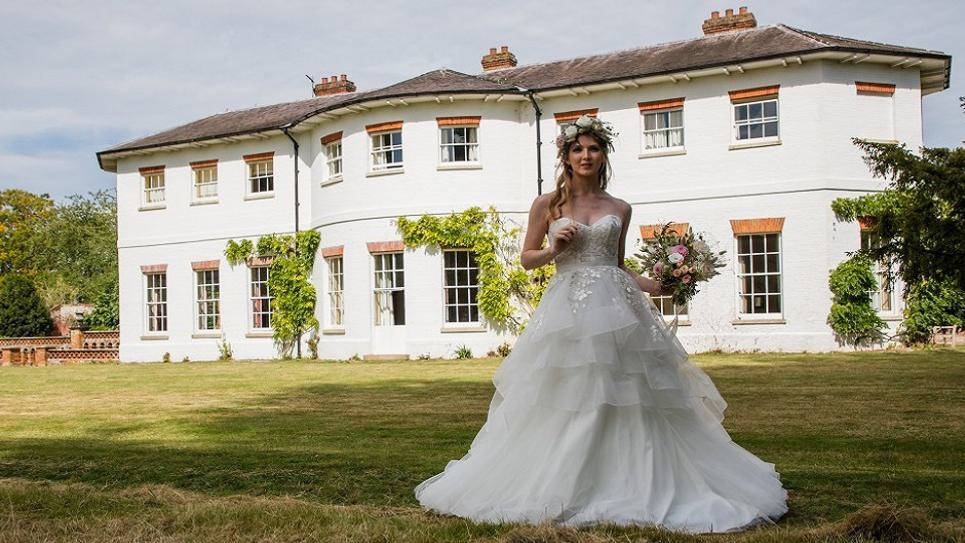 At The Ickworth, they take a personal approach to weddings – it's your big day, after all. Choose from a selection of stately rooms for your ceremony and wedding breakfast or hire the whole hotel for a truly magical experience!
Their Events Coordinator will be on hand to ensure your perfect day runs smoothly from start to finish, with help from their experienced events team, and their Head Chef will prepare a delicious bespoke menu just for you and your guests and mouth-watering canapes.
From intimate receptions to an elopement wedding, the splendour of The Ickworth creates the perfect backdrop.
For more information visit the Ickworth Hotel website.

All Saints Hotel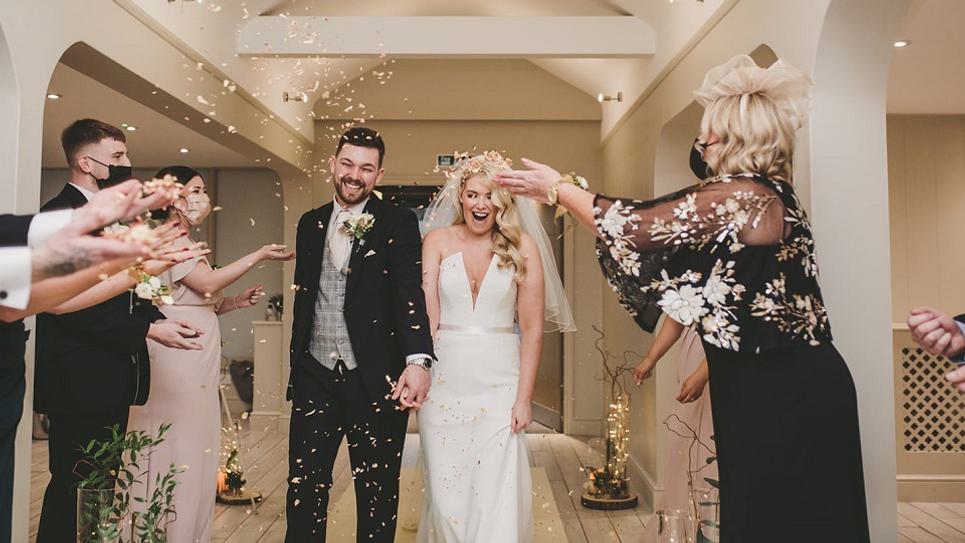 Located on the outskirts of Bury St Edmunds, the luxurious All Saints Hotel has everything you need for a wedding day to remember. The hotel has forty-one bedrooms, many of which have a panoramic view of the 18-hole golf course and guests can enjoy complimentary access to the Health Hub- a fully equipped gym, heated indoor pool, sauna, Jacuzzi and steam room.
This venue is an absolutely idyllic choice for your big day, giving you exclusive private access to the gallery- with views over the sumptuously planted garden, as well as the courtyard and landscape suite, where you can boogie all night on the starlit dancefloor.
Licenced for civil ceremonies of up to 170 guests, the hotel even has a team of expert planners to help make sure that every little detail is taken care of, as well as an award-winning brigade of chefs to create your delicious wedding breakfast.
For more information visit the All Saints Hotel website.

Ravenwood Hall Hotel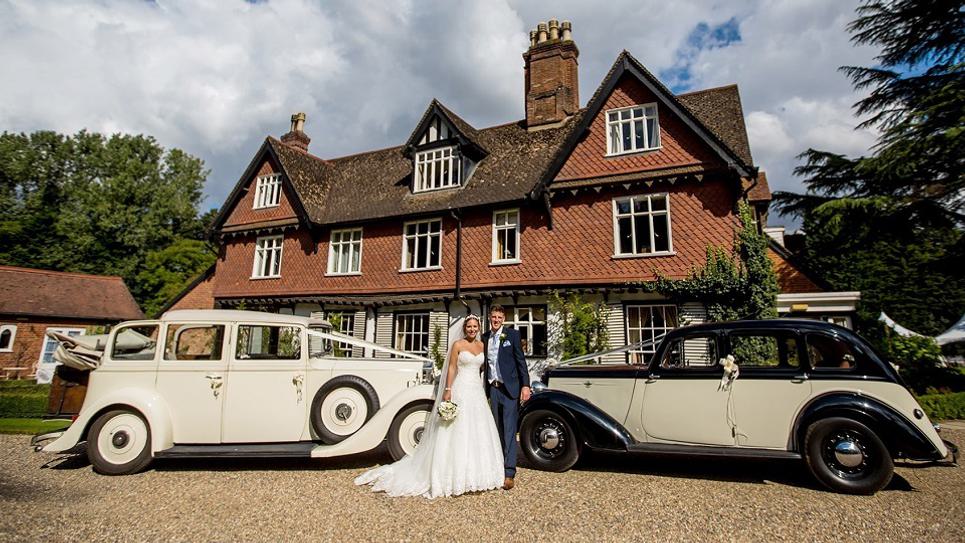 Ravenwood Hall Hotel is a magical location for a country wedding. Steeped in history and set in seven acres of lovely grounds and gardens, it is a venue with endless charm and many romantic photo opportunities.
Inside, the whole hall reverberates with opulence and elegance and the rooms boast grand four poster beds with sumptuous furnishings.
The expert staff at the venue are on hand to assist with bringing your wedding dreams to fruition, from the flowers, food and styling to the smaller touches and details that make the day extra special for you and your guests.
Choose from several settings for your big day; from the secluded Edwardian Pavilion to the romantic summerhouse, Tudor room with fireplace and original beams or even a grand pagoda marquee on the well-kept lawns.
For more information visit the Ravenwood Hall Hotel website.

Kentwell Hall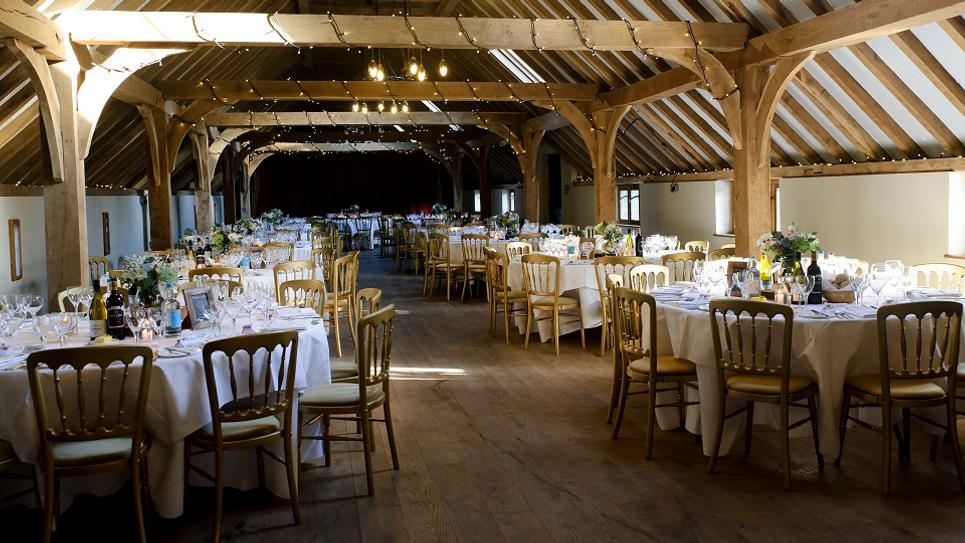 Kentwell is set in over 30 acres of its own gardens and parkland offering you a distinctive atmosphere for your wedding day.
Kentwell Hall offers an exclusive location and can be hired for the ceremony or reception only, or as part of a full wedding day. The Drawing Room is a beautiful, intimate setting for a traditional ceremony, with a drinks reception and photographs afterwards in the Garden. The Overcroft is a stunning first floor barn-style room - oak floored and timber-framed - in the nearby Old Stableyard within an easy walking distance from the House. It has an outdoor terrace, overlooking the farm paddocks. The Barnsward is nestled on the Kentwell Hall Estate and offers a romantic and rustic setting; perfect for less formal weddings and festival-style celebrations.
For more information visit the Kentwell Hall website.

Bedford Lodge Hotel and Spa
Originally a Georgian hunting lodge, today the stately Bedford Lodge Hotel and Spa combines the charm and character of a country house with the very best in modern luxury and comfort and is the perfect backdrop for your wedding, whatever theme and style you choose.
With help from a dedicated wedding co-ordinator, you can choose from a variety of packages tailored to suit your individual needs. The venue is licenced for civil ceremonies, which can take place in the elegant and historic 'Stucco building' at the heart of the fragrant rose gardens; a wonderful photo opportunity.
The banqueting suites can accommodate 10 to 150 guests for the reception and the personalised wedding packages on offer allow you to customise all elements to create your dream day. Guests can stay at the hotel for a discounted rate and you can even add a luxury bridal spa package for some pre-wedding indulgence.

For more information visit the Bedford Lodge Hotel & Spa website.

The Swan at Lavenham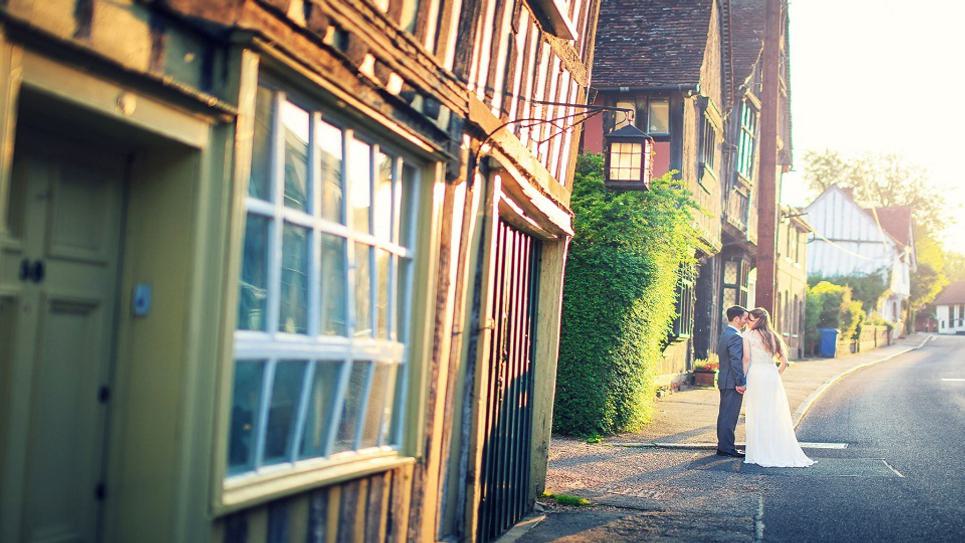 Surrounded by beautiful rolling Suffolk countryside and ancient timber buildings, The Swan at Lavenham offers guests the opportunity to celebrate their love story in the heart of an atmospheric Medieval town. The sloping original beams, leaded windows and medieval wall hangings combine to create a unique ambience and enchanted location for your wedding.

The Swan offers a range of packages, all of which can be tailored to your specific needs, and will work closely with you to design your ideal day. Choose the 'exclusively yours' package and have access to the whole of the hotel, including all 45 ensuite rooms for your cherished guests and the many interesting locations in the venue, including the lounges, airman's bar, gallery, courtyard and cottage garden. This package also includes access to the spa, a three course wedding breakfast, evening buffet and even a delicious full English the morning after the celebrations.
The 'intimately yours' package caters for 4-40 guests and offers you the choice of several evocative rooms in which to hold your celebration. The Swan also has a special package for winter weddings, where you can set your special day against the backdrop of a roaring open fire and crisp winter festivities.
For more information visit The Swan at Lavenham Hotel & Spa website.

Receptions
There are also some fantastic venues that are not licensed for weddings but can provide a fantastic wedding breakfast or reception for you afterwards.
They can also provide some stunning backdrops for your photos of the big day! Take a look at our key highlights ...
The Angel Hotel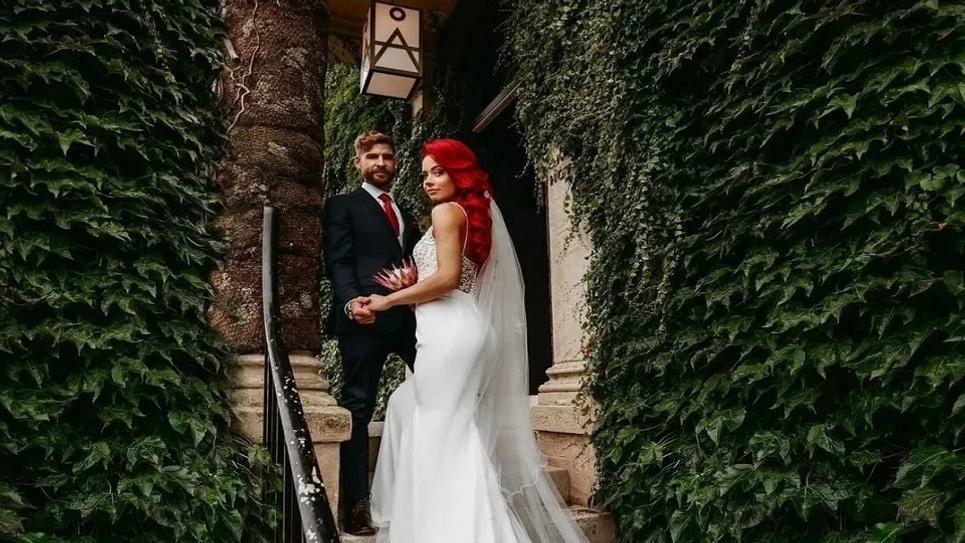 This charming Georgian boutique hotel is draped in dramatic ivy and steeped in history. Inside The Angel, the décor delights with a modern twist of urban chic and stylish flourishes everywhere. Located at the heart of the city, your guests will find that they are conveniently located just a stone's throw from local landmarks and shops.
This is the perfect venue for an intimate reception with a selection of your closest friends and family. Enjoy the seclusion and privacy offered by the exclusive 'Green room' where up to sixteen guests can dine together and celebrate your union in elegance and style, enjoying a feast from the chef's at the well-loved Angel Eatery.
Fore more information visit The Angel website.

The Constitutional Club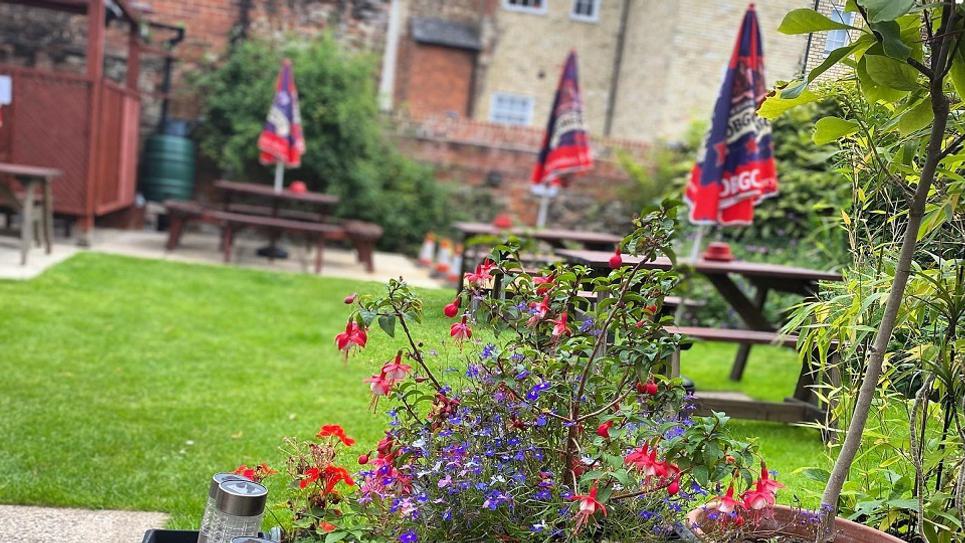 Situated in Guildhall Street, the Constitutional Club's function room offers a versatile space for private parties including wedding receptions.
They can hold a consultation to work with you and ensure you have the package you need to host a relaxed, fun and stress free private party with a private bar with a range of options to allow you to enjoy a private event in comfort. The room is available to hire from 5pm to 11:30pm with disco equipment and a Public Address System for hire.
Visit The Constitutional Club website for more information.

There is a wide range of places to stay for wedding guests in Bury St Edmunds and the surrounding area. From boutique hotels, national chains, to pubs, cosy B&Bs, and pretty Suffolk cottages surrounded by stunning countryside. Our Places to Stay Guide will help your guests plan their trip!