Back to Blogs
Discover
Afternoon & Cream Tea Guide
---
Check out these purveyors of Afternoon and Cream Teas for a spot of refined indulgence!
Afternoon tea is a British tradition that has been fashionable for centuries.
The custom is appropriate for special occasions or just because… So, whether you're meeting the girls, fancy 'Lording it up' or want to treat your mum or gran to an afternoon out and a bit of indulgent bite to eat while being pampered, we've put together this list of places where you can enjoy a great afternoon tea in impeccable surroundings with friendly, welcoming service and fantastic food and drink...

Harriet's Cafe Tea Rooms
Harriets Cafe Tea Rooms have adopted "remembering the old days'" as a mantra to live by. They have recreated the vintage era so stylishly that the business has seen them open not one but three Harriet's – in Bury St Edmunds, Cambridge and Norwich.

The tearoom in Bury St Edmunds was opened in 2001 and has become a must visit café for both the locals and tourists alike. It is situated within one of the grand Cornhill buildings, originally built around 1900 which is adorned with a grand entrance, high ceilings spilling down beautifully ornate chandeliers and you may be fortunate enough to be serenaded by a pianist who regularly plays on selected afternoons.
Afternoon tea is something of an occasion at Harriets. They like to make their guests feel comfortable, relaxed and unhurried so they can enjoy their afternoon tea. There are options of Afternoon Tea to select from – Cream Tea, Miniature Afternoon Tea and Classic Afternoon Tea and if that wasn't enough choice; you'll find many teas on offer to choose from. These include special blends, Gunpowder Green, Lapsang Souchong and Russian Caravan among many others. All are made using loose leaves to ensure that maximum flavours are captured.
To find out more and book visit Harriets website.

Procopio's Pantry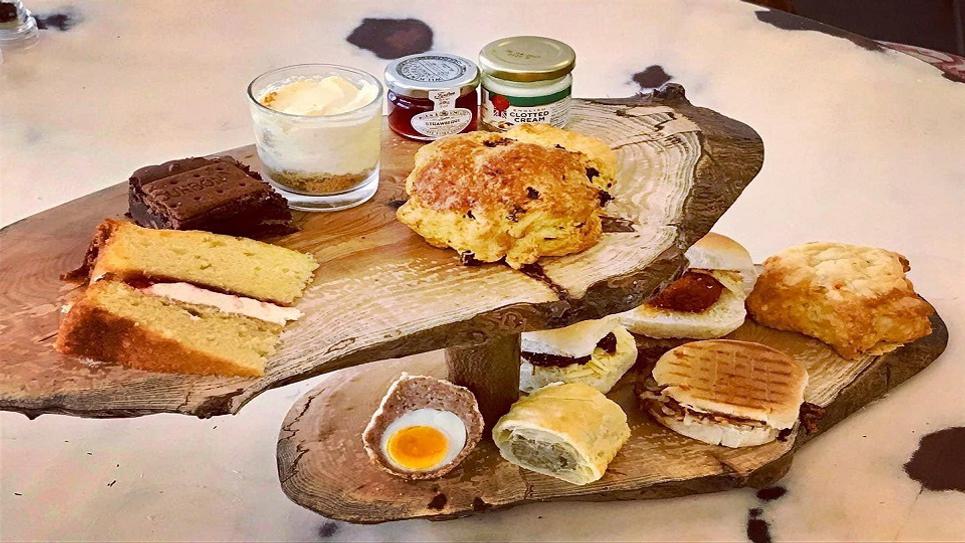 Procopio's Pantry Gentleman's Afternoon Tea has been created for the more savoury inclined.
The menu includes 5 Savouries consisting of: a meatball slider, a pulled pork slider, cheese and chutney, sausage roll, and 1/2 a scotch egg. Followed by: cheese and chilli scone with butter, a fruit scone with clotted cream and jam. Plus three sweets - cheesecake, victoria sponge and a brownie.
The Gentleman's Tea is £25 per person and a minimum of 2 needed to be ordered. Give them a call to get yours booked in!
The Homemade Cafe at The Market Cross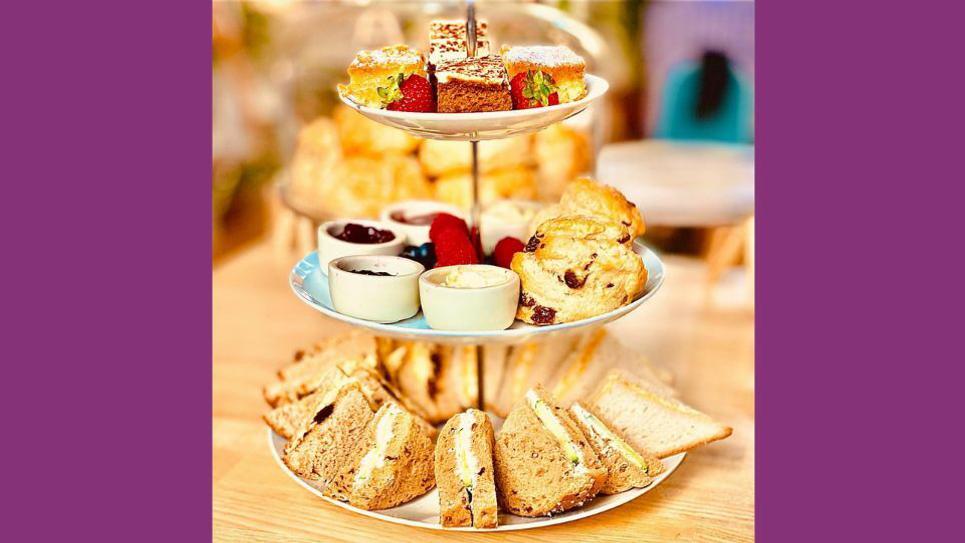 Afternoon Tea at The Homemade Cafe at The Market Cross comes with home made fruit scones baked daily on the premises, Cornish clotted cream and freshly made sandwiches…and a touch of fresh berries.
Cappuccino and blueberry lemon drizzle cakes with Birchall English breakfast tea using their filtered tea earn.
To find out more and book visit The Market Cross website.
Lotties Artisan Waffles and Coffee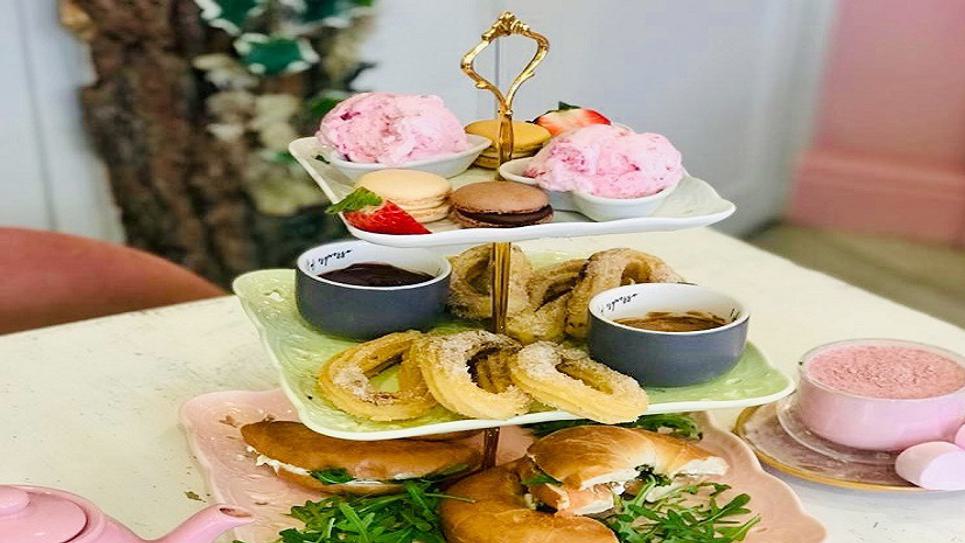 Afternoon tea, not as you know it! Lotties' afternoon tea is fresh, delicious and totally gram worthy!!
Consisting of fresh bagels, churros with dipping sauce, gelato, French macaroons and your choice of hot drink from their wide selection available, including their beautiful pink hot chocolate or biscoff latte.
To find out more visit Lotties Waffles website.

Baileys 2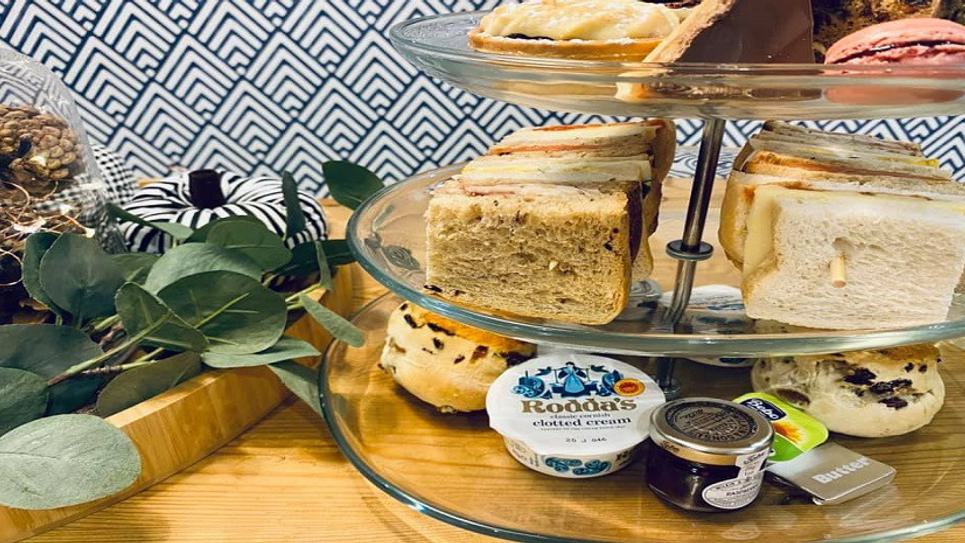 Tucked away in Whiting Street, you will find Baileys 2,a traditional cafe serving a wide range of homemade tasty treats.
They offer a Baileys 2 Cream Tea, Baileys 2 Afternoon Tea and, if you've left the car at home, a Baileys 2 Prosecco Afternoon Tea!
Baileys 2 Cream Day includes a warm homemade fruit scone with raspberry jam and clotted cream served with a pot of English Breakfast loose tea or Baileys 2 own blend cafetiere coffee.
The Baileys 2 Full Afternoon Tea includes a selection of homemade sandwiches and cakes served with a choice of a warm homemade fruit scone with raspberry jam and clotted cream or a warm cheddar cheese and wholegrain mustard scone with cream cheese served with a pot of English Breakfast loose tea or Baileys 2 own blend cafetiere coffee. The decadent Baileys 2 Prosecco Full Afternoon Tea includes everything in the Baileys 2 Full Afternoon Tea with the addition of a chilled glass of prosecco.
Baileys 2 Cream Tea is £4.95, Baileys 2 Full Afternoon Tea is £14.95, and Baileys 2 Prosecco Full Afternoon Tea is £19.95.
To find out more visit Baileys 2 website.

Really Rather Good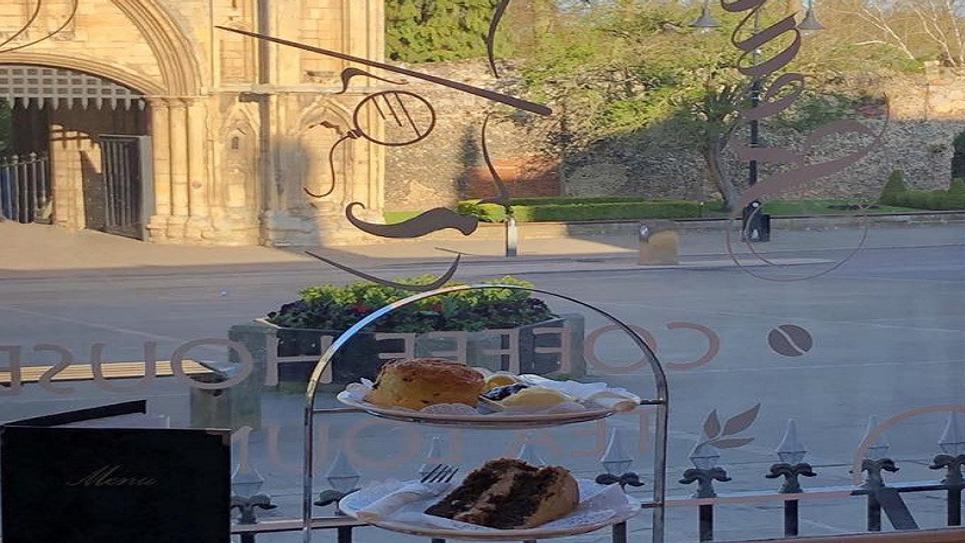 Really Rather Good is exactly that. An independent tea lounge and coffee house sat on the famous Angel Hill, perfectly placed opposite Bury St Edmund's historic Abbey Gardens.
They serve breakfast, lunch and afternoon tea seven days a week. You can enjoy afternoon tea either outside on sunny days with the view of the gardens directly in front of you or settle down inside the light and airy interior with its welcoming buzzy atmosphere.

The staff are friendly and knowledgeable about the teas available (there is even a 'Sniff Box' of teas if you can't make your mind up!)

The menu promises handmade food created with quality ingredients and that is exactly what you will get; light scones with jam and clotted cream escorted by a wide choice of teas, from earl grey, blue lady or English breakfast tea to name a few!
To find out more visit the Really Rather Good website.

The Angel Hotel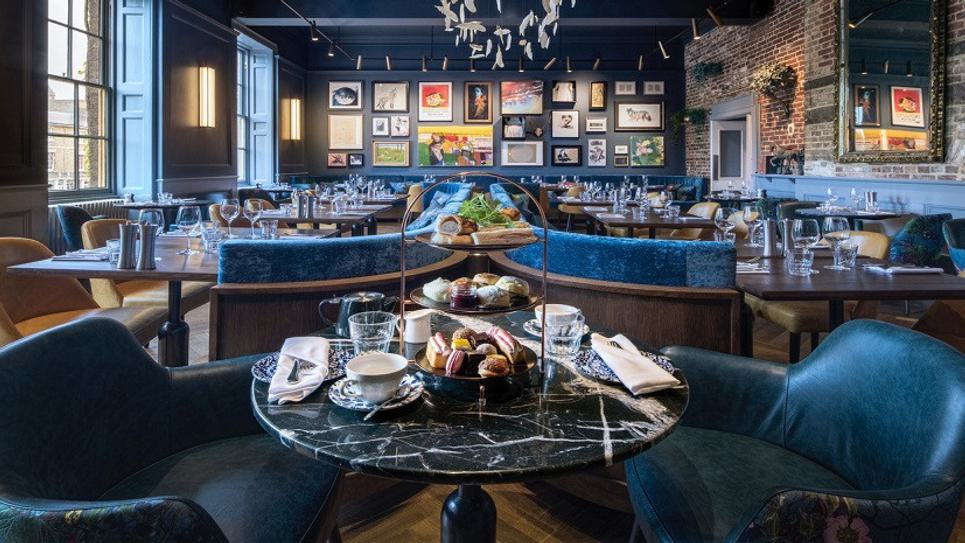 The Angel Hotel, a striking Georgian ivy-clad boutique hotel can be found in the very centre of Bury St Edmunds and offers daily Afternoon Tea "in glorious fashion" best described as an experience one can enjoy surrounded by stylish decoration and furnishings.
You can partake within the lounge - seated in front of the large open fire or settle in the Angel's contemporary Eaterie Restaurant. The afternoon tea menu is carefully thought out and you will find freshly made fare which might include super savoury options, including homemade sausage roll, Smoked salmon sandwiches, feta and roasted pepper tart, Suffolk ham and mustard sandwiches accompanied by delicate pastries, sweets, fruit scones with fresh jersey cream and strawberry preserve.
The cake menu is extensive and diverse and includes dark chocolate and cherry cake, lemon meringue pie macaron, strawberry pavlovs and chocolate eclairs. Teas include luxury and world speciality, beautifully presented with choices to please every palate or appreciation and if you are looking to really unwind and treat yourself, why not plump for the optional glass of fizz that comes with the luxury afternoon tea.
Cream Tea at £8.50 per person, Traditional Afternoon Tea at £21 per person, Luxury Afternoon Tea at £30 per person, Children Afternoon Tea at £10 per child.
To find out more and book visit The Angel website.

The Swan at Lavenham Hotel & Spa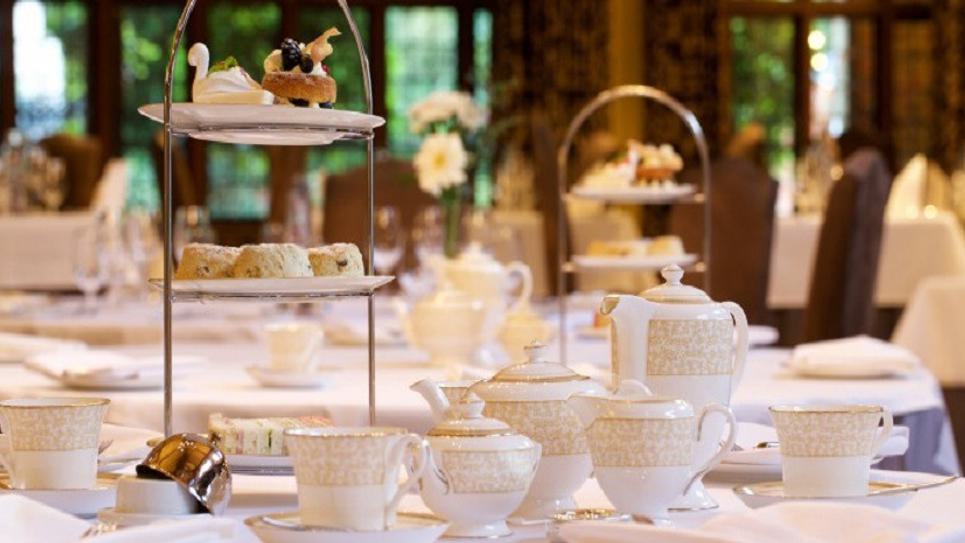 While away your afternoon with Afternoon Tea in The Swan at Lavenham Hotel & Spa's grand Gallery Restaurant in the heart of one of the best preserved Medieval villages in England, just 20 minutes from Bury St Edmunds.

There are two afternoon teas to choose from here - a Traditional and Gentleman's.
Each of the afternoon teas are traditionally served stage-by-stage with sandwiches or main dishes first, followed by delicious scones and cakes and can be paired with a bottle of Champagne should you wish to celebrate. All are presented on fine Royal Worcester Crockery specifically created for The Swan by Walpole of Stoke-on-Trent, whose prestigious special commissions are found in many of Britain's Royal palaces – the perfect crockery then upon which to savour their delicious treats.
While Champagne adds an opulent touch, for the traditionalists The Swan has a range of over 20 specialist Newby teas will ensure there is a brew to suit all tastes.

Costs are £25 per person or £36.50 per person including a glass of Champagne.
To find out more and book visit The Swan at Lavenham Hotel & Spa website.

Ravenwood Hall Hotel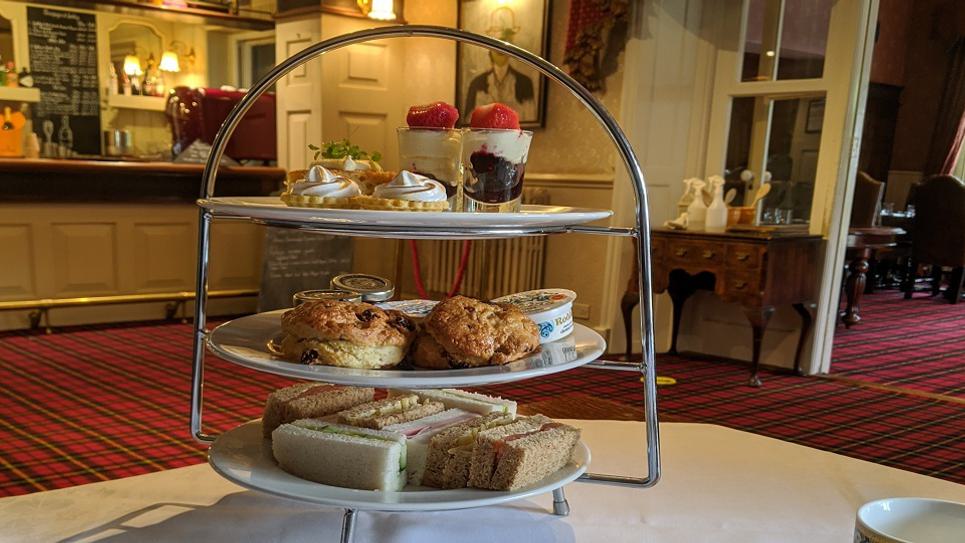 Situated in Rougham just a few miles outside of Bury St Edmunds, Ravenwood Hall Hotel is set within 7 acres of gardens. In the colder months, you can enjoy your tea whilst sat next to a roaring fire, or in spring and summer, opt for one of the garden tables on the patio which overlooks the outdoor pool.

Afternoon tea is served between 3pm and 5pm and includes Suffolk Cream Tea with your choice of freshly brewed tea or coffee,a traditional baked fruit scone and strawberry jam and Cornish clotted cream or Traditional Afternoon Tea which includes your choice of freshly brewed tea or coffee with a traditional baked fruit scone, strawberry jam and Cornish clotted cream with a selection of freshlymade finger sandwiches and homemade cakes.
Costs are £10.95 for Suffolk Cream Tea or £18.95 for Traditional Afternoon Tea (bookable in advance). Indulge a little further with a glass of Champagne; a glass of Gobillard Reserva Brut Champagne By the Glass 125 ml £9.50 or Gobillard Reserva Brut Champagne By the Bottle 75cl £49.50.
To find out more and book visit Ravenwood Hall Hotel's website.

The Ickworth Hotel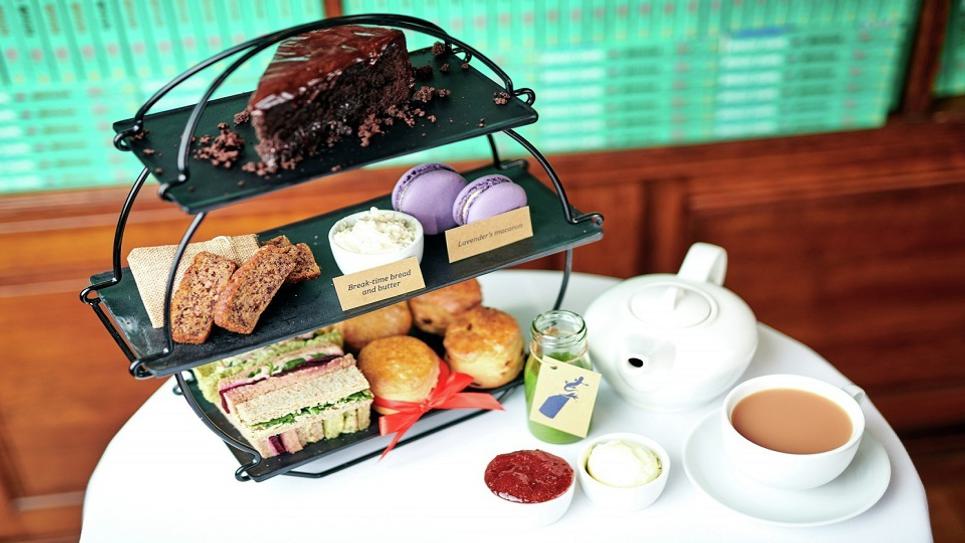 The Ickworth hotel's changing themed afternoon teas, currently Matilda, are not to be missed though and you will be in the fine company of the many previous 'English gentry' who have consumed the same in bygone years at the estate.
With a passion for food, their afternoon tea experience has been lovingly crafted to celebrate the magical foodie moments from the Matilda story, allowing you to share in all the surprise and delight of the tale together and create wonderful family memories. Not to spoil the surprise, but they guarantee that their "Brucie chocolate cake" will be one to remember.
You're welcome to book a table online or to speak with a member of the team telephone us on 01284 735350 or email info@ickworthhotel.co.uk
Afternoon Tea for Dogs at The Ickworth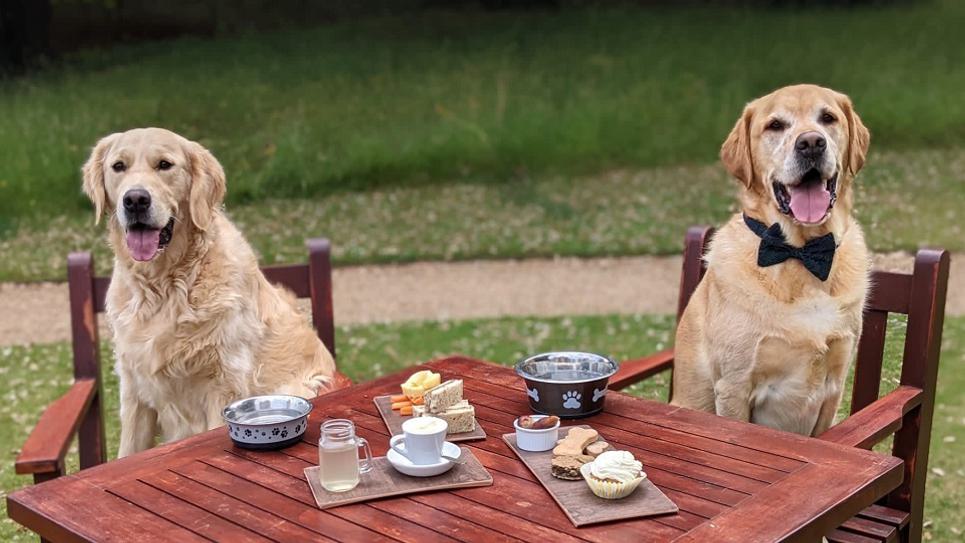 That's right, your canine companions can now join in on the fun with their very own dedicated Afternoon Tea at The Ickworth Hotel, near Bury St Edmunds!
Their Waggy Tails Tea Time include treats such as:
🐾 Paw-dit-ites: crunchy carrots, apple & cheese
🐾 Dingley Dell Daschund sausage
🐾 Lick-a-licious liver cake
🐾 Pawnut butter biscuits
🐾 Canine carrot cake with pawsome frosting
🐾 Served with a puppacino and a delicious bowl of H2O
Owners, that means no more sharing or saving that last bite because your doggo will be spoilt for choice. The hardest part to decide will be...where will they start first! To book this pawsome treat for your furry friend, then call the hotel directly on 01284 735350.
For more Dog Friendly places to eat and drink visit our Dog Friendly Cafes, Pubs and Restaurants In and Around Bury St Edmunds Guide.
All Saints Hotel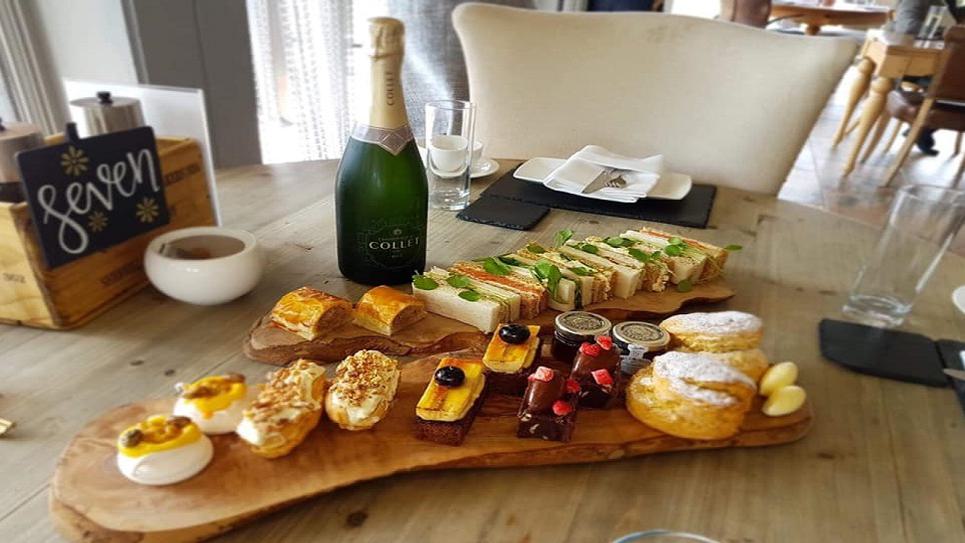 Enjoy an Afternoon Tea, Cream Tea or Sparkling Afternoon Tea at All Saints Hotel's The View Restaurant in Fornham All Saints, just outside Bury St Edmunds.

Their relaxed, modern restaurant with an open kitchen and bistro dishes is the perfect spot for all occasions.

Cream Tea is £10, Afternoon Tea is £22 per person (£12 for children), Sparkling Afternoon Tea £29. Family Afternoon Tea is £65 (2 adults and 2 children).
To find out more and book visit the All Saints Hotel website.

Bedford Lodge Hotel & Spa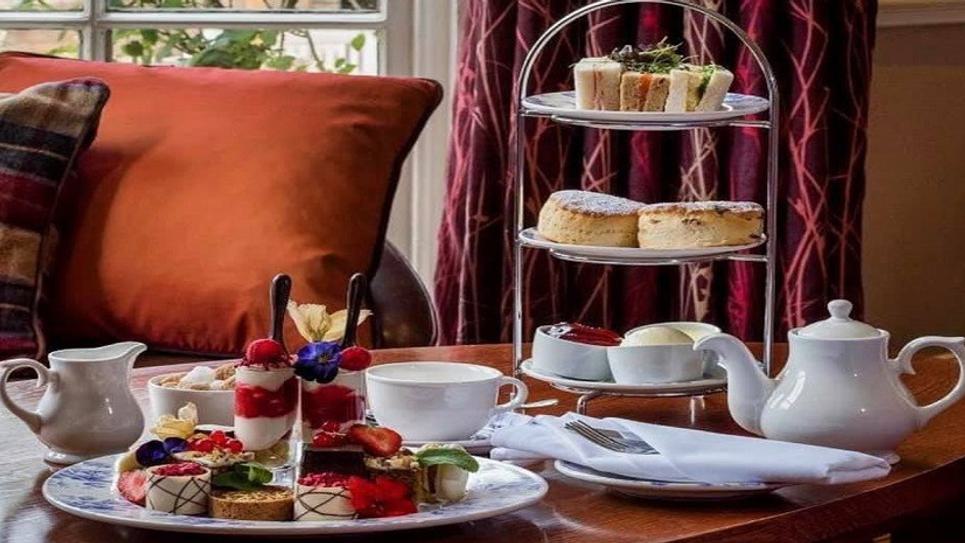 Afternoon Tea at Bedford Lodge Hotel & Spa in Newmarket can be taken in Squires restaurant, Roxana Bar, or on the sun terrace overlooking the stunning lawns and rose gardens at the hotel – the choice is yours.
They offer a delicious selection of finger sandwiches including, Local Smoked Salmon on Horseradish Whole wheat Bread, Cucumber & Dill Cream Cheese on White Bread, Roast Chicken Grain Mustard Mayonnaise Tarragon Bread and Egg Mayonnaise & Pea shoot cress on Tomato Bread
Served with buttermilk scones with jam and clotted cream, a variety of cakes & pastries. All food is freshly prepared and served with a pot of tea/coffee.
To find out more and book visit the Bedford Lodge Hotel & Spa website.

Looking for More Dining Options?