Back to Blogs
Discover
Dog Friendly Attractions in Bury St Edmunds and Beyond
---
With beautiful parks and countryside to explore, there are a wealth of places to take well behaved dogs in Bury St Edmunds and Beyond!
Abbey Gardens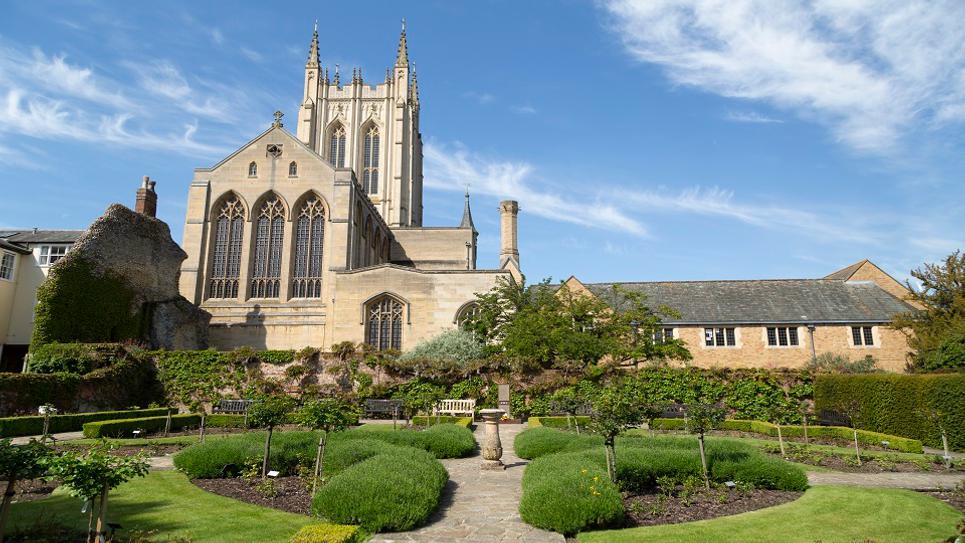 Dogs are welcome to join you on a lead as you explore the famous Abbey Gardens in the heart of Bury St Edmunds. Created in 1831 by Nathaniel Hodson, the Abbey Gardens was originally a botanic garden laid out in the same style as the Royal Botanic Gardens in Brussels. In 1936 the concentric circles were replaced by the sixty-four island beds which, together with illuminations, formed part of the Coronation celebrations for George VI in 1937.
Today, approximately 20,000 plants are bedded out in the spring for the summer display plus 12,000 plants and 20,000 bulbs in the autumn for the spring display so it's a sight for the eyes and the senses.
Stop by the Grounds Cafe - Abbey Gardens for a pot of tea and a slice of cake - there's even ice cream for dogs served here! Then wander through the different gardens which include the Appleby Rose Garden, Pilgrim's Herb Garden, Sensory Garden, the Garden of Reflection, the Water Garden and the Aviary.
Nowton Park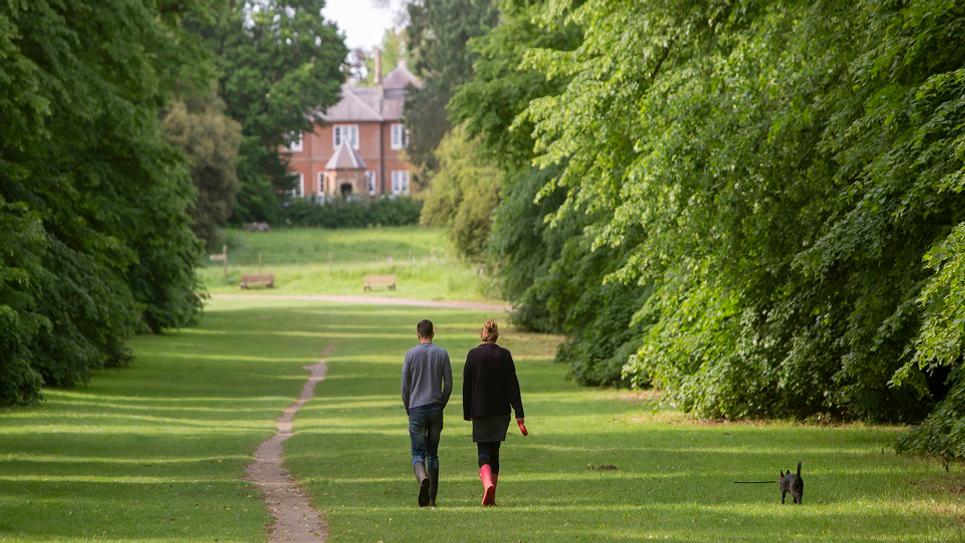 Explore the 200 acres of landscaped gardens at Nowton Park; where dogs are welcome.
Within the park, you will find a maze in the shape of an oak tree, an arboretum which is home to trees from around the world including eucalyptus, paperbark maple and Kentucky coffee trees. There's a fabulous cafe within the park too, where you will find an area inside and out for dogs and their owners.
Dogs are welcome but must be under control at all times, and in some areas on a lead.
For more information visit https://www.whatsonwestsuffolk.co.uk/parks/nowton-park/index.cfm
Hardwick Heath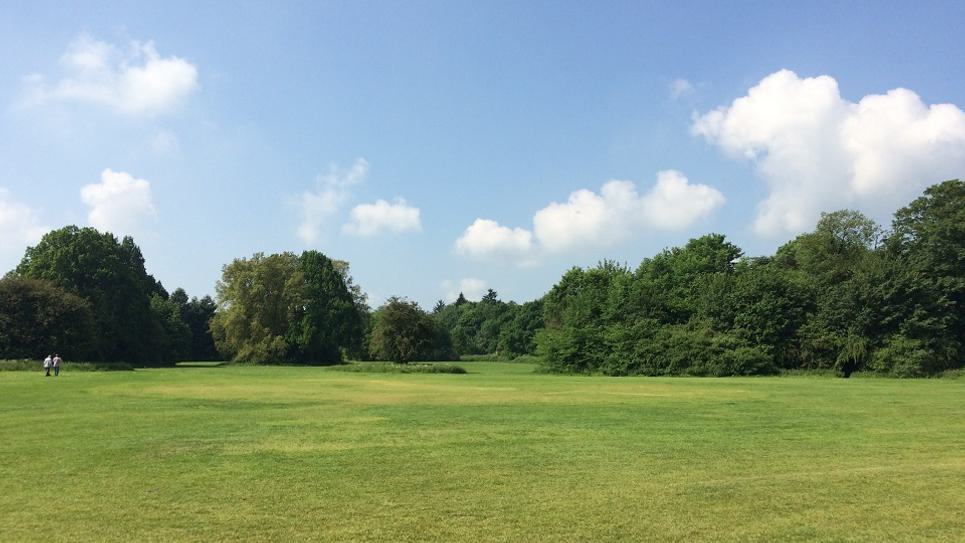 A favourite spot amongst dog walkers and their four-legged friends, Hardwick Heath is a 55-acre park featuring a play area, football pitches, a picnic area and a fishing pond.
Dogs are allowed off-lead, but under control at all times, so make the most of the wide open spaces with a game of fetch and a long walk around the Heath.
https://www.westsuffolk.gov.uk/leisure/Parks/hardwick-heath.cfm
National Trust Ickworth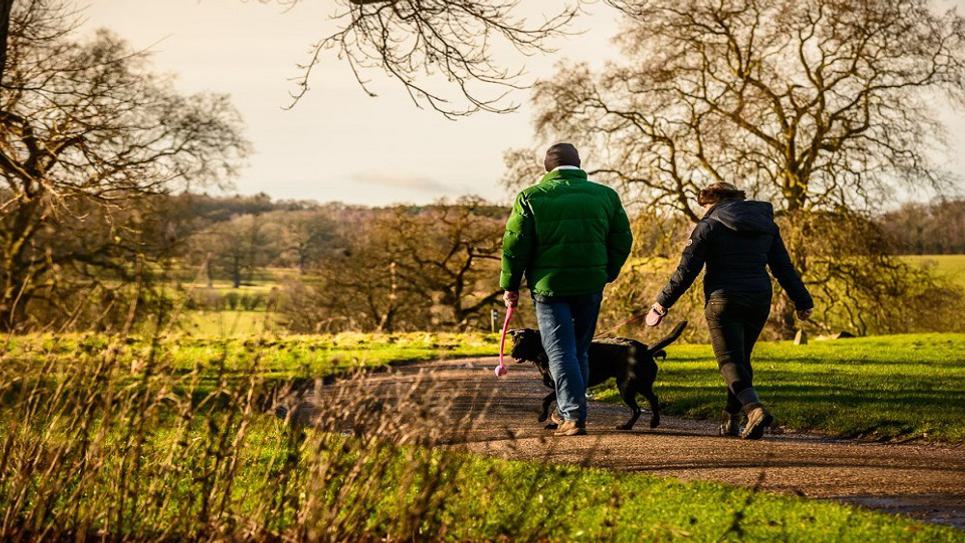 National Trust Ickworth is great place for dogs and their owners - they've a wide range of walks for you to enjoy and a dog friendly café too.
Dogs are welcome in the parkland, woodland walks, Porter's Lodge café and the Welcome Hub.
Porter's Lodge café is the perfect place to end your dog walk at Ickworth (or perhaps start!). There are tasty treats (including Marshfield Farm's Scoop's Ice Cream for Dogs), plenty of hot and cold drinks, and of course, water bowls with lots of shade for your furry friend. Porter's Lodge café is open everyday, from 10am – 4pm.
The National Trust's pawprint rating system gives all the places in their care a rating. Ickworth is a three pawprint rated place. Three pawprints shows the very best places you can visit for a day with your dog. You'll be able to take your dog to most areas, including indoors for a cup of tea and a treat. There'll be clearly signed dog zones and dog-friendly experiences.
There are water bowls at the welcome hub and plant centre as well as the Porter's Lodge café, dog beds and blankets available at Porter's Lodge, you'll find water taps across the estate where you can fill up your portable dog bowls and there are eight dog bins on site; the five key locations can be found on Ickworth's map, with the remaining bins located around the parkland.
More information can be found at Visiting Ickworth With Your Dog.
West Stow Country Park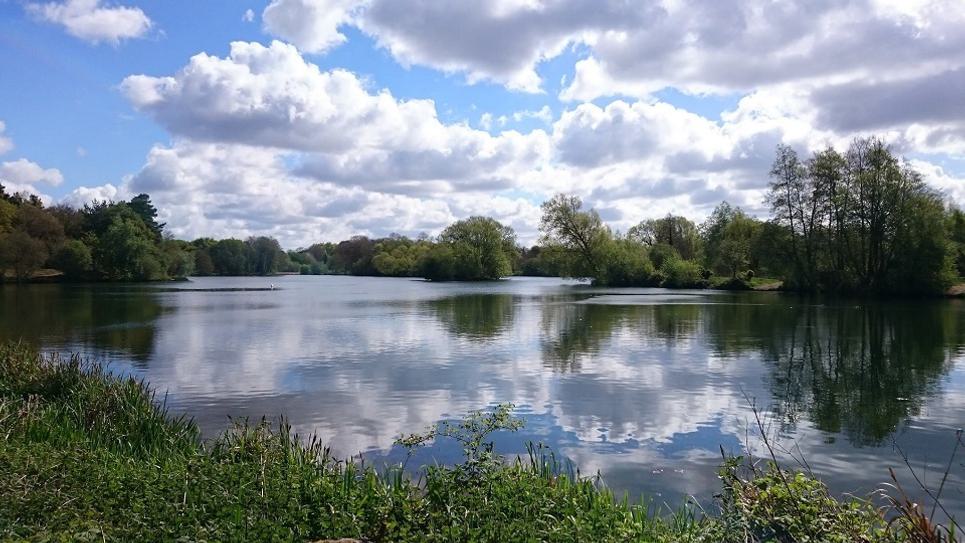 You and your dog will love exploring the 125 acres of unspoilt countryside at West Stow Country Park which surrounds West Stow Anglo Saxon Village.
With trails, heaths and woodland walks, there's an abundance of wildlife and birdlife!
Dogs are welcome in the country park, provided they are kept on a lead. All dogs must be kept on a short and fixed lead at West Stow Country Park from 1 March until 31 July. This is to protect ground nesting birds and the wildlife within the park.
Please be aware that dogs are not allowed next door in the Anglo-Saxon village, Museum or visitor centre, with the exception of assistance dogs, due to the presence of livestock and the archaeological nature of the site.
For more information visit https://www.weststow.org/Country-Park/
Clare Castle Country Park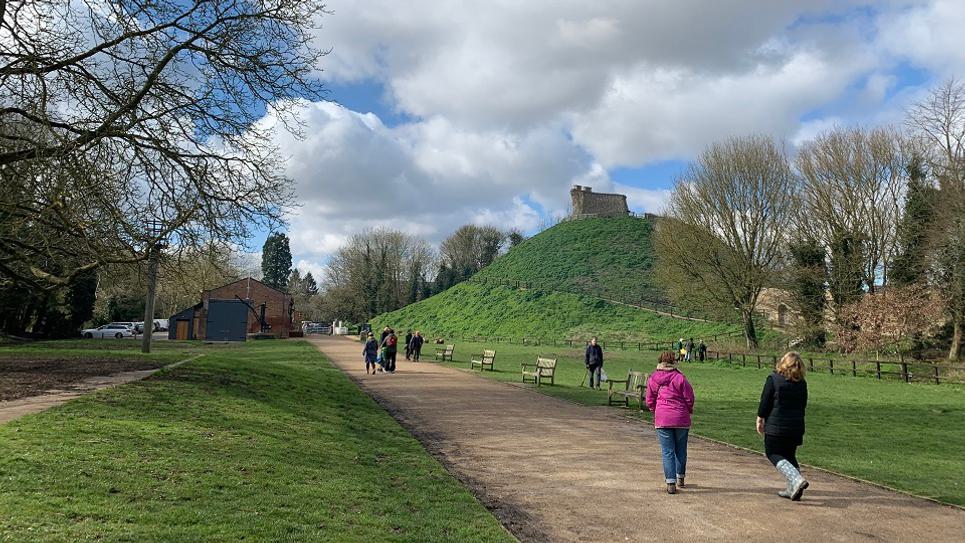 Clare Castle Country Park, just 20 minutes from Bury St Edmunds, has 36 acres to explore with your four-legged friend.
Whether you are interested in history, railways, ecology, just want to have some time in a peaceful rural setting, or, as a child want to explore or play, there is something for you.
There are the remains of a castle, Victorian railway buildings (Grade II listed), two large ponds, a river, a stream, grassland, woodland, paths (many of the latter being suitable for wheelchairs) and the park's dog-friendly café Platform One.
Dogs can be let off the lead in the Park but must be kept under control at all times.
Melford Hall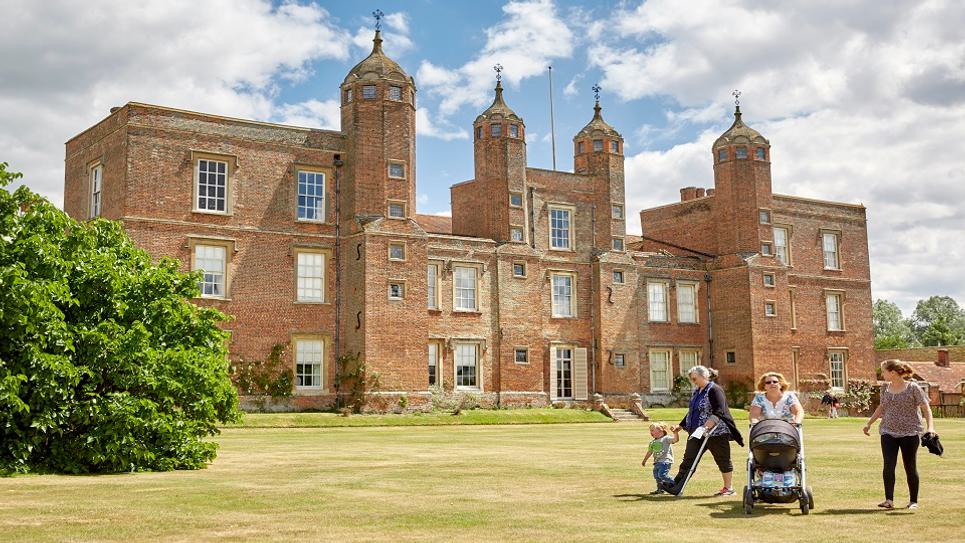 Photo: National Trust Images/Arnhel de Serra
Take in the Suffolk countryside with hidden gems, dappled shade in the woodland, open fields and the spectacular views at Melford Hall in Long Melford.

Take in the splendour of the ancient park of National Trust Melford Hall, the family home of the Hyde Parker family since the 1780s, and the impressive 15th-century Holy Trinity church.

Dogs are welcome on leads in the park.