Back to Blogs
Discover
Harry Potter Fans Will Enjoy the Magic of Bury St Edmunds and Beyond!
---
Bury St Edmunds and surrounding area has magic, myth and legends galore.
Lavenham is the Big Screen Birthplace of Harry Potter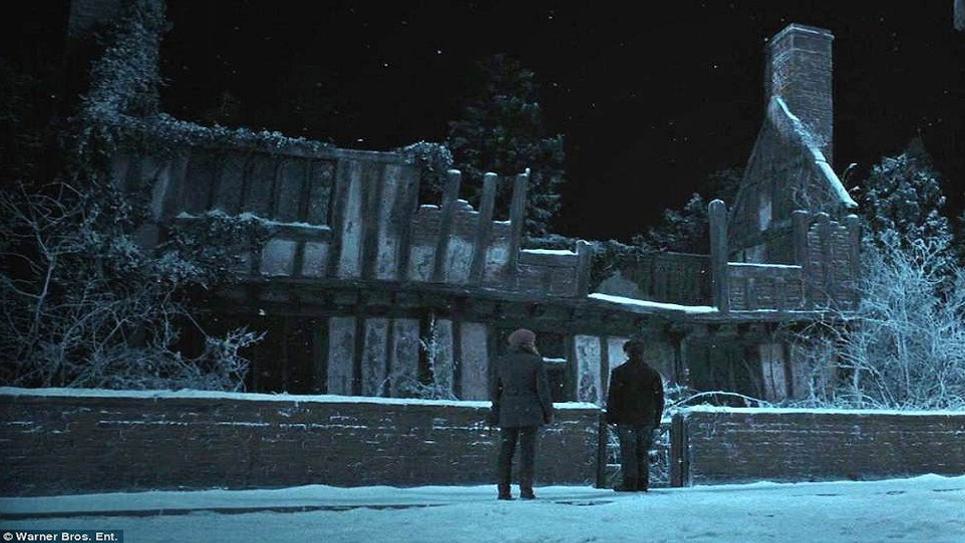 With its Tudor houses, crooked, half-timbered cottages, it's easy to understand why the streets of Lavenham, just 20 minutes from Bury St Edmunds, were used as Harry Potter's birthplace on the big screen!

The streets of Lavenham were used as a background for the scenes in the village of Godric's Hollow in the film Harry Potter and the Deathly Hallows Part 1.

Sadly the actors shot separately in a studio and were then superimposed onto the background where the Lavenham buildings had their appearance altered using CGI (Computer-Generated Imagery).
Harry Potter and the Deathly Hallows Part 1 is the film version of the first part of J. K. Rowling's seventh and final Harry Potter novel, and filming in Lavenham took place in secret in January 2010.

De Vere House and Lavenham Guildhall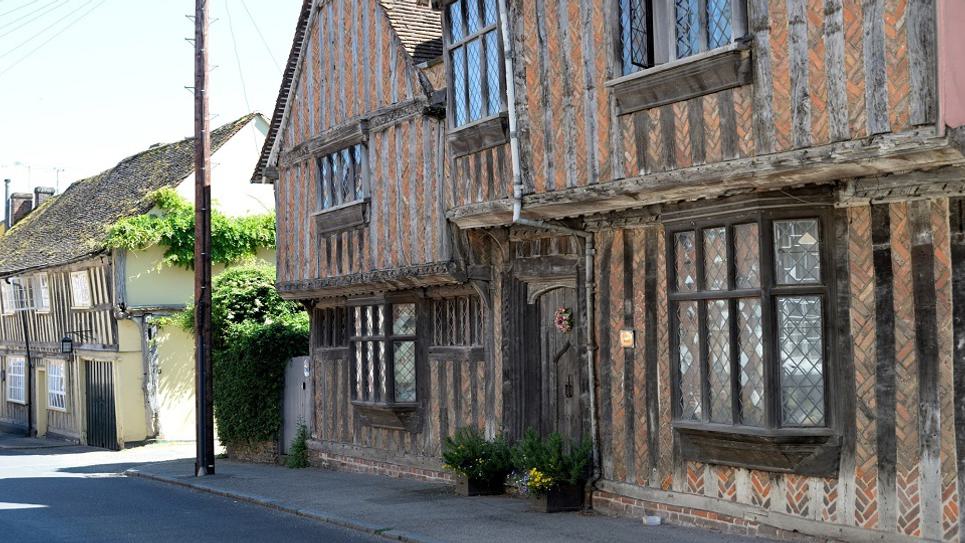 De Vere House
De Vere House in Water Street was transformed into Harry Potter's parents' derelict house and in the film, Harry visits his parents' graves and their house in Godric's Hollow.
There was a plan to introduce fake snow but luckily for the filmmakers, they didn't need to bother faking it, as it snowed anyway!
Shots of Lavenham Guildhall were also used to create Godric's Hollow.
When it's not appearing in the movies, Lavenham Guildhall, which is owned by the National Trust, and open to the public. Discover some wonderful stories from their character connections and fascinating facts on your journey through the Guildhall's history.
As with most films, different edits are released for the cinema, Blu-ray, DVD and television and the house can be seen most prominently in the cinema release.
Although Daniel Radcliffe, Rupert Grint and Emma Watson did not visit Lavenham during filming, but Ralph Fiennes, who played Lord Voldemort, was born in Suffolk.
Lavenham and particularly the Guildhall, have appeared in a number of films over the years. Coincidentally, the 1968 film "The Witchfinder General" had a gruesome witch burning scene in Lavenham Market Place, directly in front of the Guildhall!
The Lavenham Tour Guides can show you which buildings were used in the filming.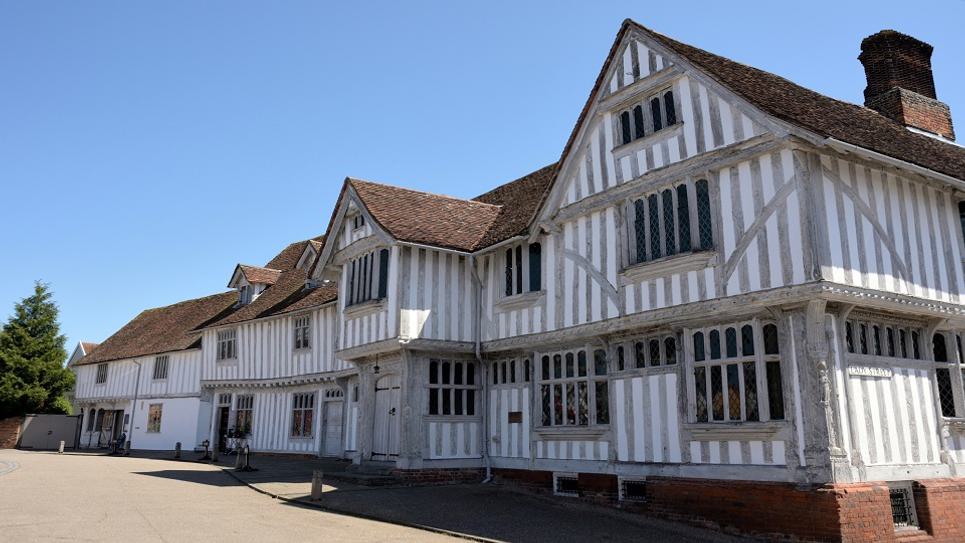 Lavenham Guildhall
See a Real Elder Wand at Moyse's Hall Museum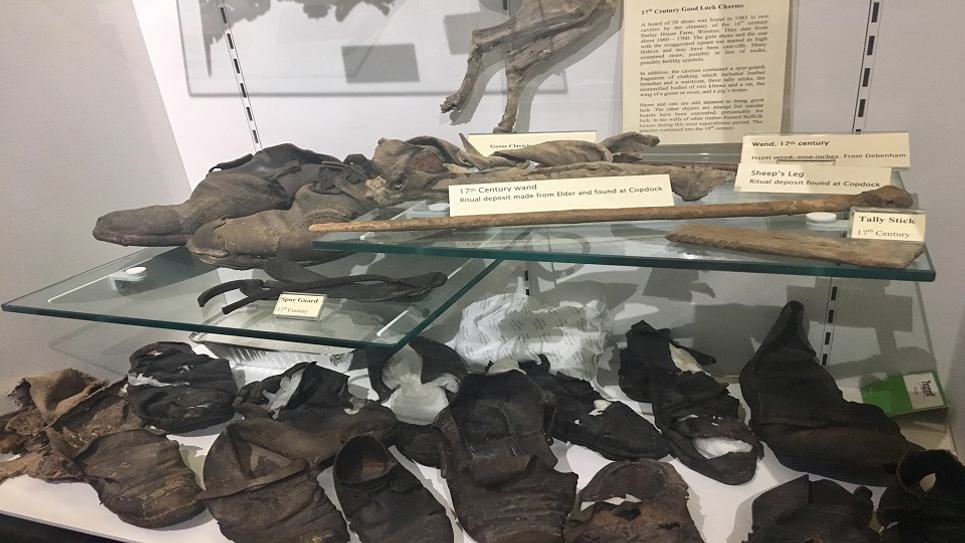 Wands on display at Moyse's Hall Museum
Want to see real Elder Wand?
Then Moyse's Hall Museum in Bury St Edmunds is the place to go. The museum owns a collection of witchcraft artefacts which includes a rare 17th century Elder Wand which in the Harry Potter books was considered the most powerful wand of all and one of three objects that make up the fabled Deathly Hallows.
It is said to be able to perform feats of magic that would normally be impossible even for the most skilled wizards, such as mending another wand damaged beyond normal magical repair.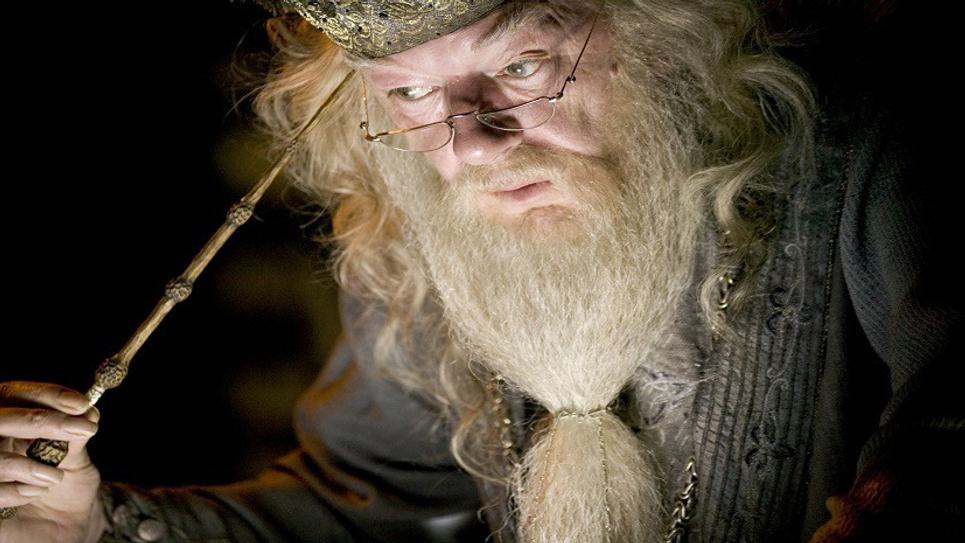 Dumbledore and his elder wand
There's also a witch's puppet, along with mummified cats, child and adult shoes, which were bricked up in the walls of Suffolk properties to keep witches away! Gruesome!
If you enjoy gruesome tales then Moyse's Hall Museum is a must with its 'Terrible Tales' theme and stories written by Horrible Histories Author Terry Deary.
Terry brings to life some of Bury St Edmunds more gruesome tales, especially for children. plus there are some great hands on exhibits. Step into a gibbet cage, hold a real Norman sword and try out a ball and chain for size!

Dragons at West Stow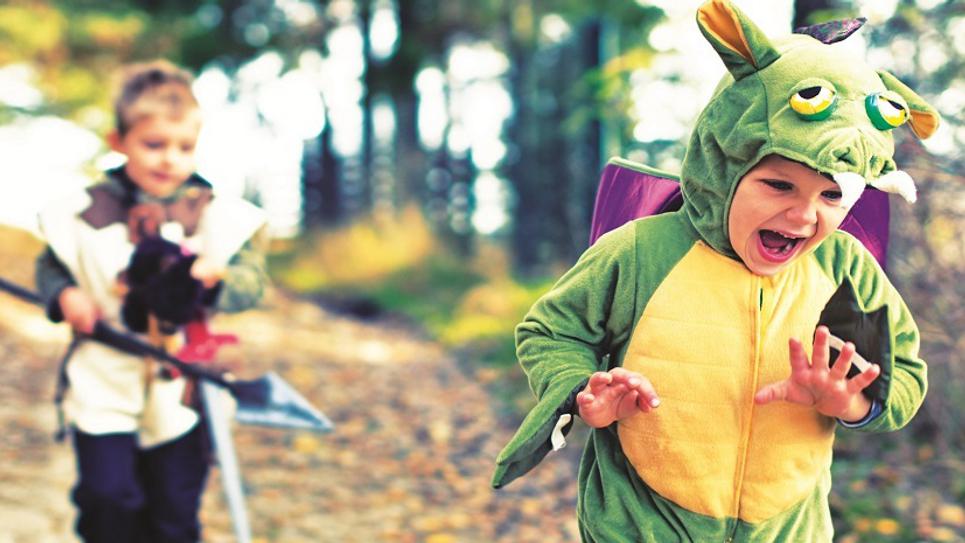 Dragon Fest at West Stow
If you love dragons you'll love the annual Dragon Festival.
For one weekend every year in June, West Stow Anglo Saxon Village celebrates all things dragons at the annual Dragon Fest!
This popular family event has an array of Dragon themed performances and activities including walk about characters, puppet theatre, combat skill training, music and crafts to entertain the crowds.

All year round, you can visit West Stow Country Park, next to West Stow Anglo Saxon Village. A magical park surrounded by woodland. There you will find the Beowulf and Grendel adventure trail.
Beowulf is the oldest surviving long poem and one of the most important works of Old English literature.
The trail is based on the poem and features six sculptures inspired by the ancient Anglo-Saxon saga as well as the unique area of British countryside, The Brecks, in which it is set.
To find out more about West Stow Country Park and the Dragon Festival visit West Stow Anglo Saxon Village website.