Back to Blogs
Discover
Top 'Must Dos' in Lavenham
---
With its Tudor houses, crooked, half-timbered cottages and 15th Century Wool church, it's easy to understand why the streets of Lavenham have been used as background for TV and films including Lovejoy and Harry Potter and the Deathly Hallows Part 1.
See where Harry Potter was born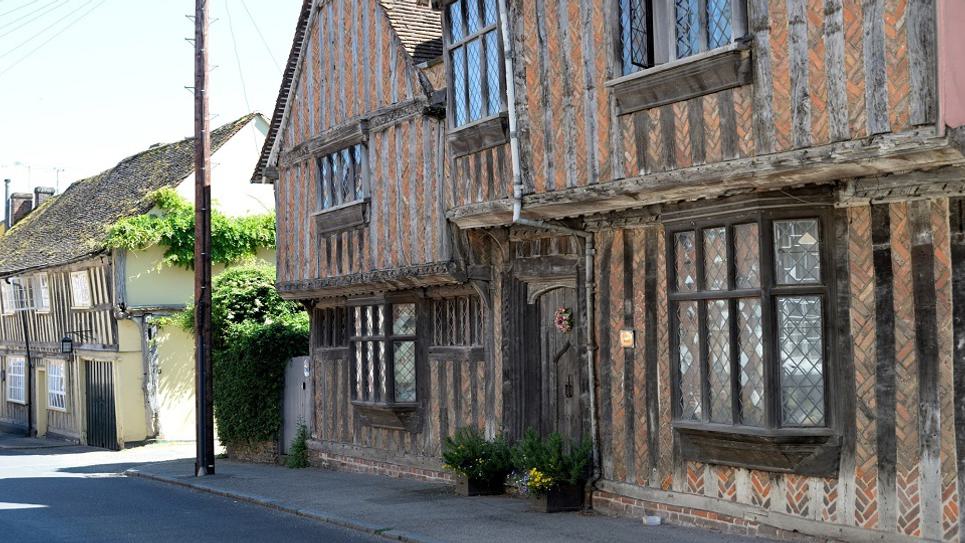 Known as England's best preserved medieval village and one of Suffolk's important wool towns, you can spend hours exploring Lavenham, one of the most picturesque villages in England.

The streets of Lavenham were used as a background for the scenes in Godric's Hollow in the film Harry Potter and the Deathly Hallows Part 1.
De Vere House in Water Street was transformed into Harry Potter's parents' derelict house and in the film, Harry visits his parents' graves and their house in Godric's Hollow. There was a plan to introduce fake snow but luckily for the filmmakers, they didn't need to bother faking it, as it snowed anyway! Shots of Lavenham Guildhall were also used to create Godric's Hollow.

The buildings were filmed and then had their appearance altered using CGI (Computer-Generated Imagery) so the actors could be shot separately in a studio and then superimposed onto the background.

Visit the Church of St Peter and St Paul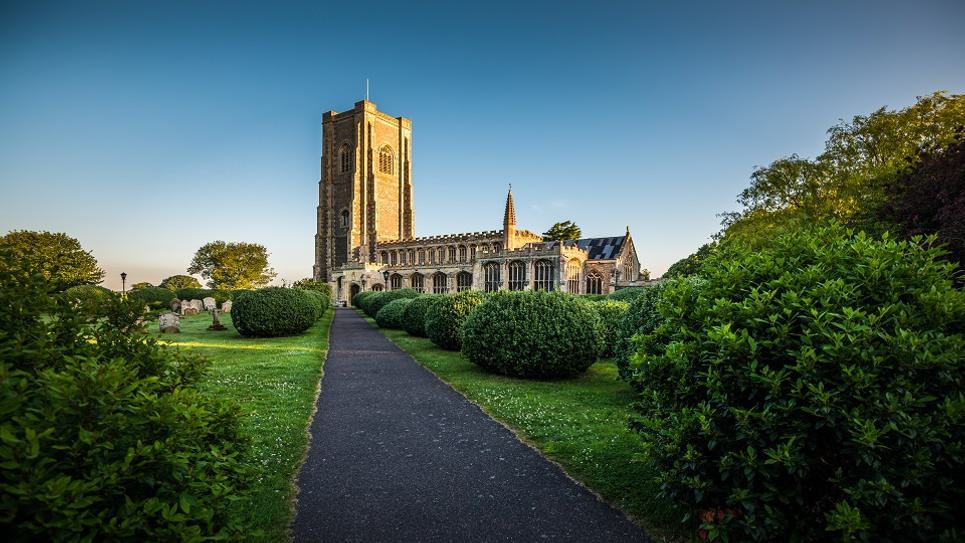 The parish church of St Peter and St Paul at Lavenham is one of the last great Suffolk wool churches to be built before the Reformation. Look out for the fantastic intricate wood carvings.

A outstanding example of late medieval architecture and the riches of the 15th century cloth trade are reflected in this cathedral-like building.

Uncover the Stories of the People Who Lived at Lavenham Guildhall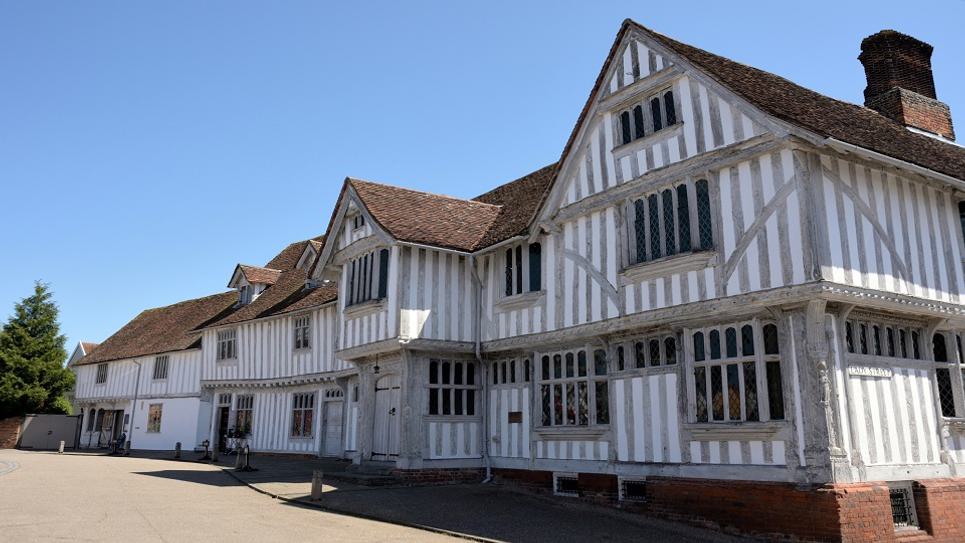 Visit the impressive white timber framed Lavenham Guildhall to discover over five centuries of history; seen through the eyes of the people who lived and worked there.
Originally built as a religious meeting place for wealthy Catholic merchants, the Guildhall has also been used as a prison, a workhouse, a pub, a chapel and a social club for US troops stationed nearby during the Second World War.

See Living History at the Historic Airmen's Bar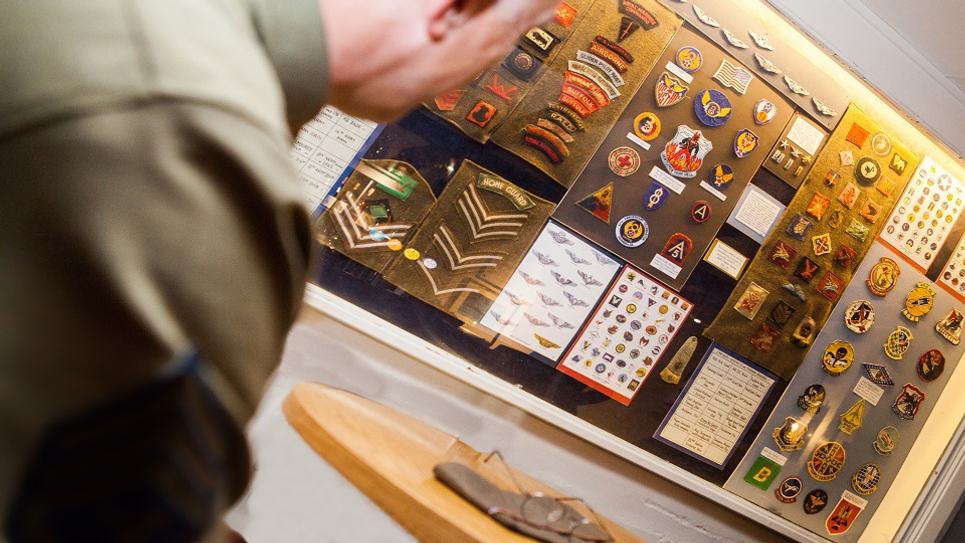 The Airmen's Bar
Having a drink at the Airmen's Bar at The Swan at Lavenham Hotel & Spa is like taking a trip back to the 1940s. Lavenham airbase was famous for being the home of the 487th Bombardment Group of the 8th US Army Air Force, 'The Mighty Eighth'.
The 487th flew 185 missions and more than 6,000 sorties whilst stationed at Lavenham during the Second World War.
A fascinating collection of signatures and mementos adorn the walls, turning the bar into a living piece of history.

Explore Britain's Best Preserved Medieval Village on Foot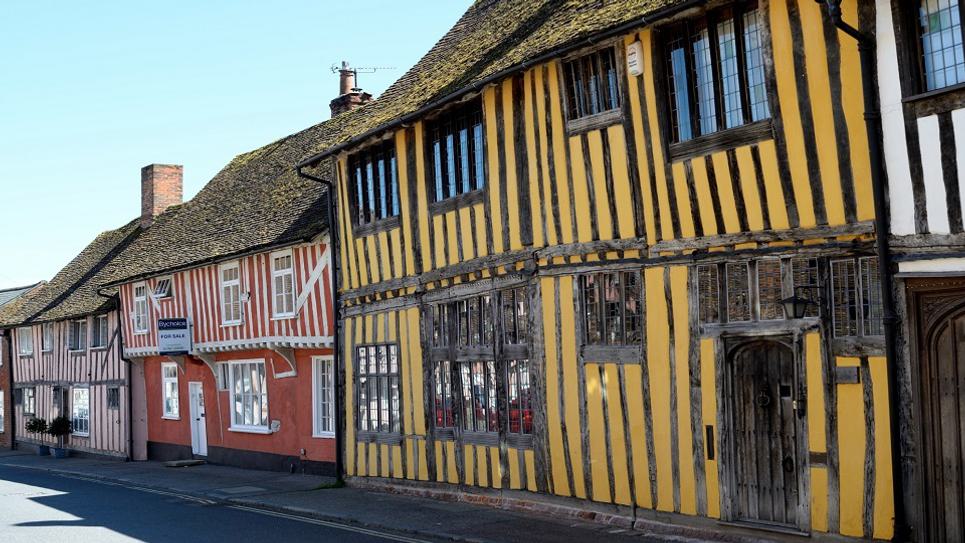 Enjoy a walk around this beautiful village which which is home to hundreds of beautiful listed buildings and whole streets of Tudor timber framed houses.

Lavenham is one of the best-preserved medieval villages in England and has a whopping 321 listed buildings, including the village phone box. The phone box is now a WiFi hub for visitors.
Visit the Home of the The Gayer-Anderson twins at Little Hall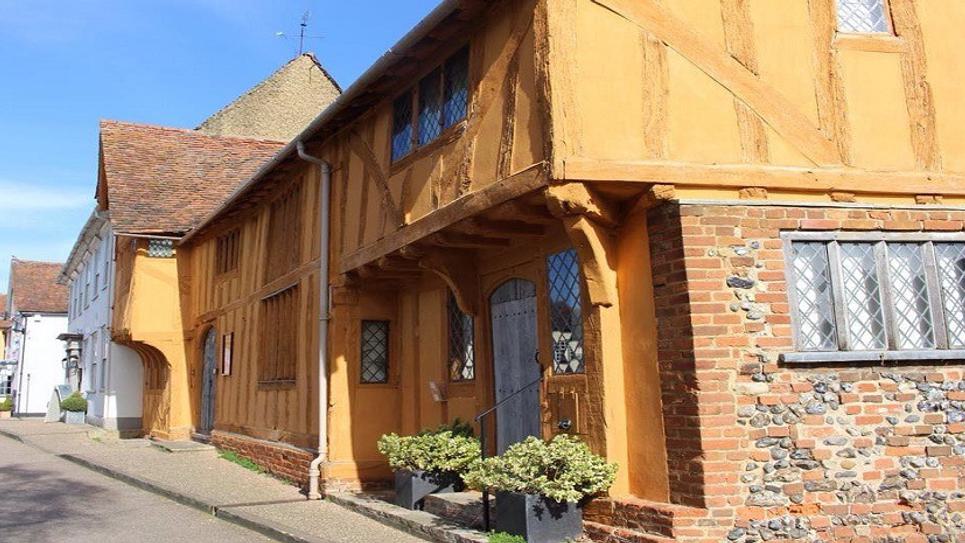 See an eclectic mix of antiques, books, china and art in the historic Little Hall.
A museum that mirrors the history of Lavenham over the centuries, it was first built in the 1390s as a family house and workplace, in the 1920s it was restored by The Gayer-Anderson twin brothers, soldiers with an interest in art and collecting. It is a fascinating glimpse into their home.

Shop at the Many Independent and Unique Boutiques and Have Tea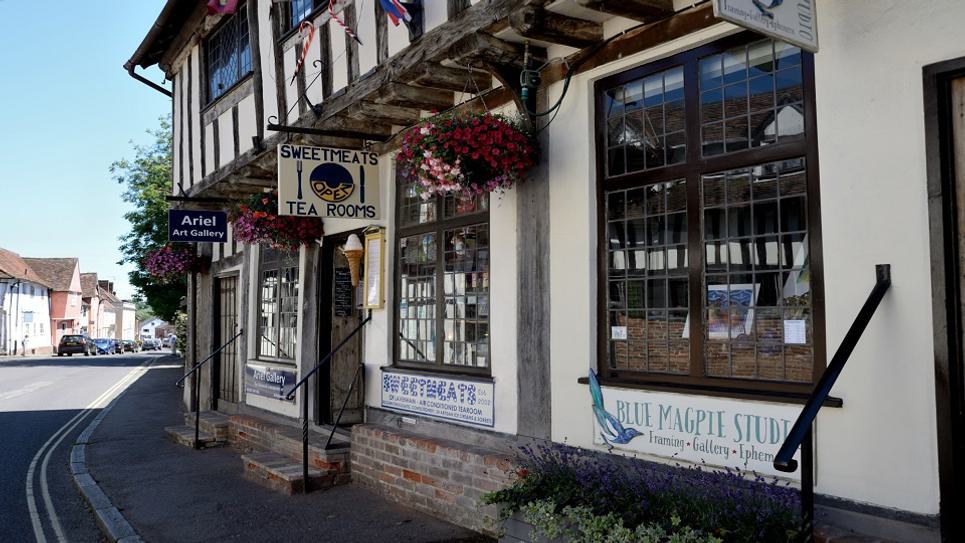 You can while away a morning or afternoon in Lavenham's many shops and boutiques, especially along Merchants' Row.
With art galleries, a deli, gift, clothing, accessories, and antique shops visitors will find unique souvenirs and presents to take home. Why not visit one of the many cafes and tea shops or even the village's ice cream parlour for refreshment?

Tempt Your Tastebuds with Stylish Country Dining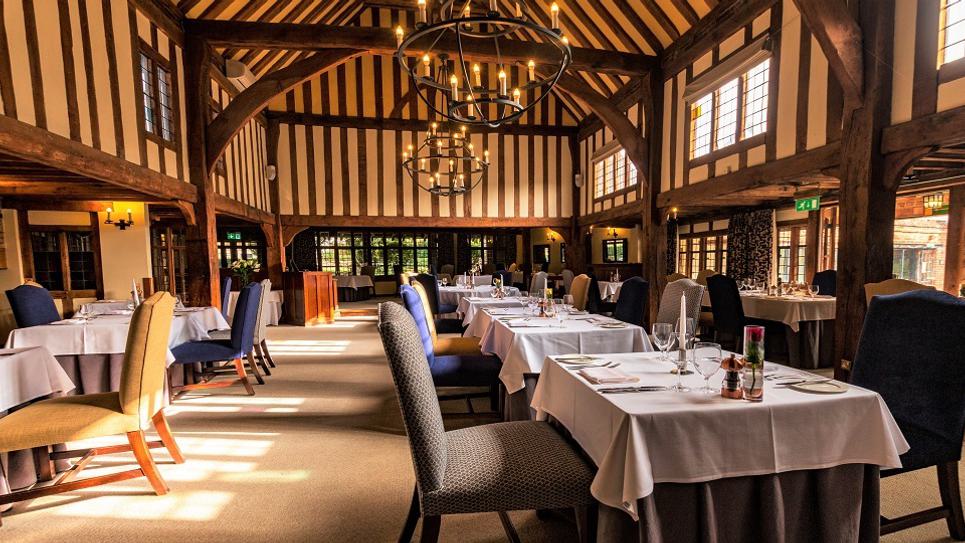 With a selection of fine dining restaurants including The Swan at Lavenham Hotel & Spa and The Great House, to traditional pubs and cafes to tea rooms there are plenty of foodie options in Lavenham.

Celebrating fine, classic British favourites in Historic Lavenham. Settle down in The Gallery or Mess Call 487 at The Swan to enjoy the best of Suffolk every day. The Gallery Restaurant in the heart of The Swan, offers the options of smaller and main plates to enhance your experience. While in the Mess Call 487 brasserie restaurant you can relish in delicious new dishes created perfectly by their experienced Chefs. Experience award-winning French cuisine in an English country house at The Great House Restaurant. The Great House offers an exquisite dining experience, deep in the atmospheric Suffolk countryside.
While Away an Afternoon Visiting Art Galleries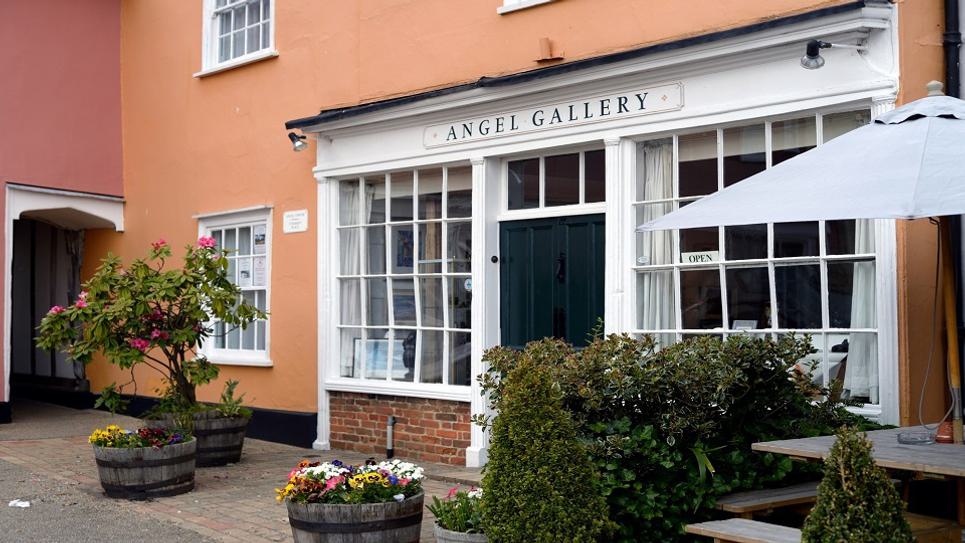 Lavenham is host to a fantastic number of wonderful art galleries.
Visitors can find unique examples of local and international paintings, drawings, glass and sculpture. Many of the galleries are owned by the local artists themselves.

Pamper Yourself and Relax at Weaver's House Spa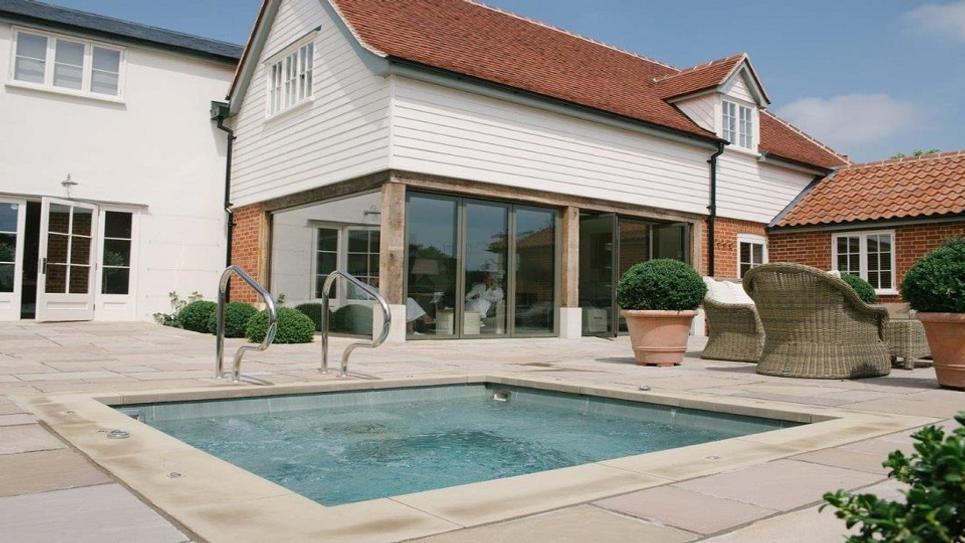 A haven of tranquillity, the Weaver's House Spa at The Swan at Lavenham Hotel & Spa is a luxurious getaway.
You are greeted with a berry smoothie and warm towel and post-treatment, awakened to zesty lemon sorbet and a delectable macaron, along with your choice of three bespoke teas, blended by Camelia's Tea House especially for Weavers' House Spa.
Try the Weaver's House Hug, their signature treatment. A truly out-of-this-world face, scalp, hands, feet and body experience that combines unique and exclusive 'weaving massage' techniques. Nowhere else can you experience this truly exceptional two-hour vacation for the senses. You will be treated to their unique facial and your weary body drizzled with warm oil. Then relax with a stress releasing massage on the back of the body and nurturing body rocking that will take you to a place of complete peacefulness. Hot stones and stretching complete the experience and leave your soul embraced with a huge Weavers' Spa hug. You'll feel comforted, tranquil and restored.