Back to Blogs
Discover
Walking the St Edmund Way
---
Walking the St Edmund Way, or part of it, is a fantastic way to get outside and make the most of the Suffolk countryside!
The St Edmund Way Honours Saint Edmund, England's Original Patron Saint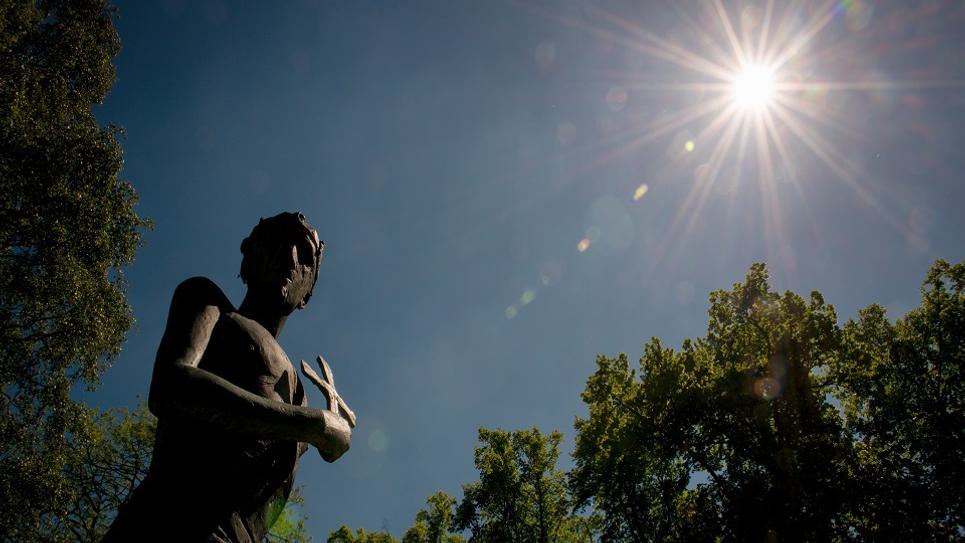 Photo: Tom Soper
The St Edmund Way is a long distance path connecting Manningtree to Brandon following parts of the Stour Valley Path, crossing much of Suffolk.
It honours St Edmund, England's original patron saint (before George), covering 80 miles. You can do this over several days or walk part of it during your stay in Bury St Edmunds.
A map can be found here: the GPS Routes website.

These are some of our highlights of the route from Manningtree to Brandon:

Flatford Mill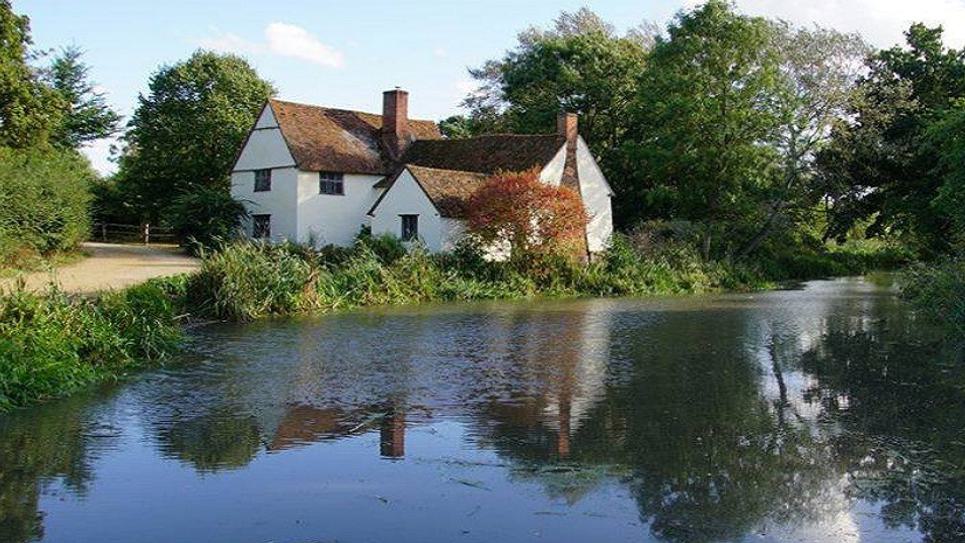 Flatford Mill is a Grade I listed watermill on the River Stour at Flatford. According to the date-stone the mill was built in 1733, but some of the structure may be earlier. Attached to the mill is a 17th-century miller's cottage.
Probably one of the most compelling reasons to visit Flatford is to discover the views that made iconic painter John Constable famous. A year before his birth the Constable family moved from a house next door to Flatford Mill to a mansion in East Bergholt.

Dedham Vale Area of Outstanding Natural Beauty
Dedham Vale, England by Drone
The wildflower meadows of the Dedham Vale Area of Outstanding Natural Beauty are among some of England's most famous worldwide thanks to iconic artists Constable and Gainsborough.
The designated area of the area is just 90 kilometres square and stretches upstream from Manningtree to within one mile of Bures.
Sudbury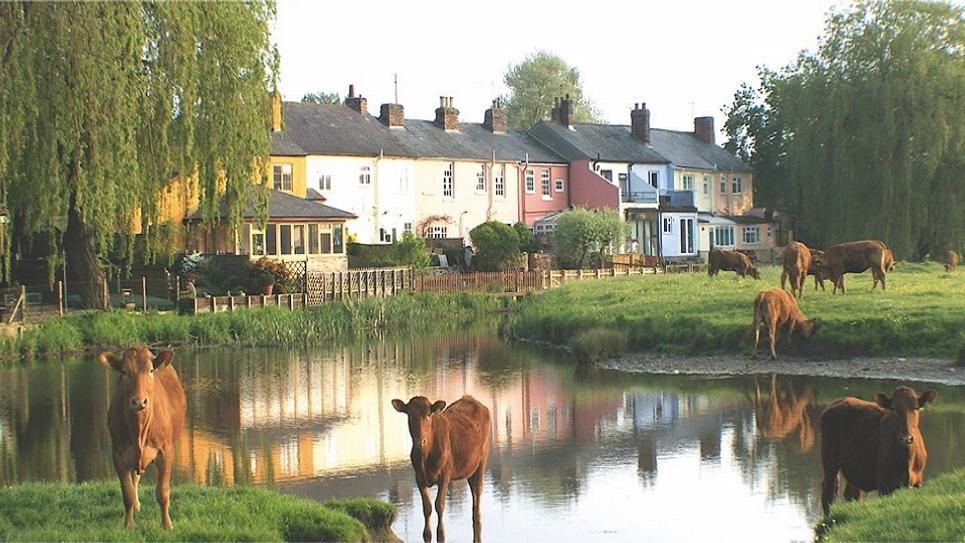 Photo: Robin Drury & courtesy of Sudbury Town Council
Situated on the beautiful River Stour, Sudbury's history dates back to Anglo-Saxon times and the town is associated with several famous 18th century local artists, including Thomas Gainsborough and John Constable.
A great place to begin exploring the history of the town is at the Sudbury Heritage Centre and Museum where you can discover the town's story from ancient times through to modern day.

Long Melford
A bird's eye view of Long Melford
You cannot miss the beautiful Medieval Holy Trinity Church in Long Melford, one of the great Suffolk wool churches and built almost entirely in the 15th century at a time of growing prosperity among the local cloth merchants and stands at the top of the great green.

A romantic, moated Tudor mansion in a tranquil parkland setting, Kentwell Hall is known for its unique recreations of everyday life in Tudor times but has so much more to offer.
At the National Trust's Melford Hall, just down the road, you can explore the mansion once visited by Queen Elizabeth I and discover the connections to children's author Beatrix Potter, who was a cousin of the family who own the Hall and a frequent visitor.
Lavenham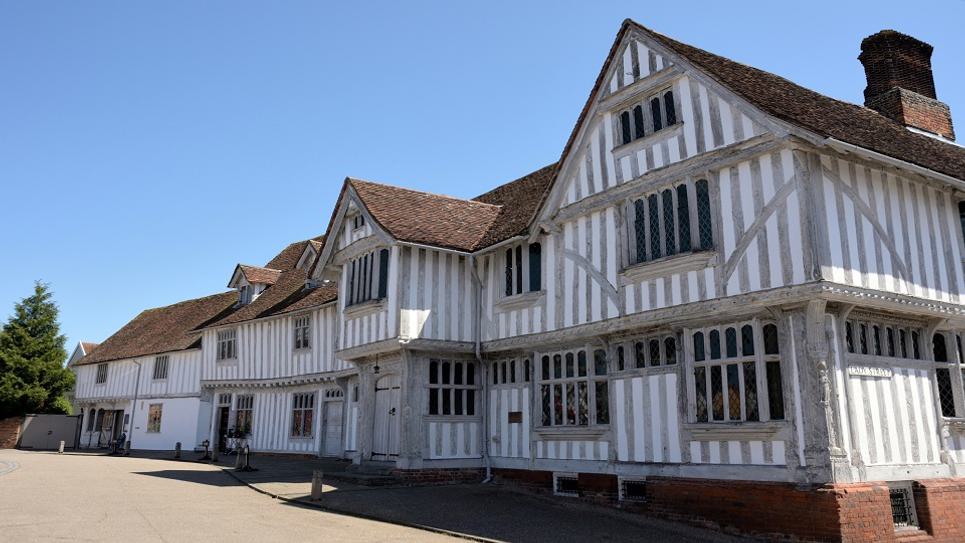 National Trust Lavenham Guildhall. Photo: Rebecca Austin
With its Tudor houses, crooked, half-timbered cottages and 15th Century Wool church, it's easy to understand why the streets of Lavenham have been used as background for TV and films including Lovejoy and Harry Potter and the Deathly Hallows Part 1.
Known as England's best preserved medieval village and one of Suffolk's important wool towns, you can spend hours exploring one of the most picturesque villages in England.

Nowton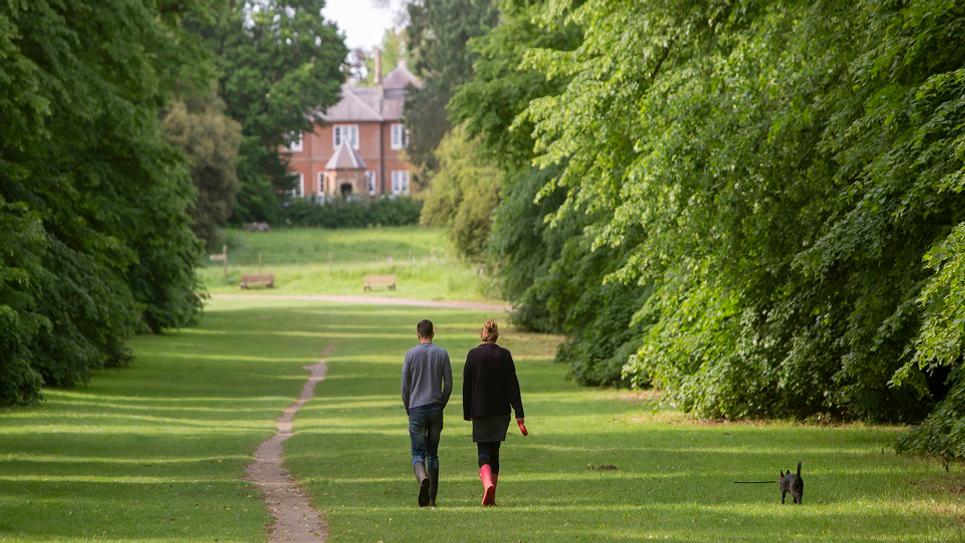 Nowton Park. Photo: Phil Morley.
There are 200 acres of landscaped Suffolk countryside to explore at Nowton Park.
Look out for the arboretum which is home to trees from around the world, bird feeding station on the edge of the wood, the lime avenue - one of the finest examples in the UK and planted around 1880 to give the estate a sense of grandeur, plus a maze in the shape of a stylised oak tree. There's also a cafe here for refreshments.

Bury St Edmunds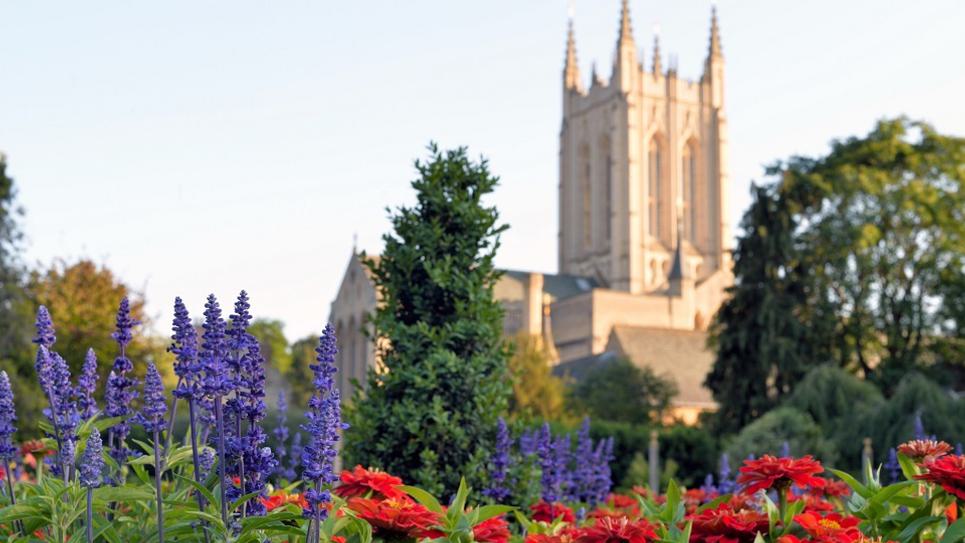 The Abbey gardens. Photo: Rebecca Austin
Visit the magnificent St Edmundsbury Cathedral and stand among the ruins of the Abbey of St Edmund in the stunning Abbey Gardens, once the most famous and wealthy pilgrimage location in England where people came from all over Europe to visit the Shrine of St Edmund.
With the beautiful medieval wool towns on our doorstep, Bury St Edmunds is truly 'a jewel in the crown of Suffolk'.

West Stow Country Park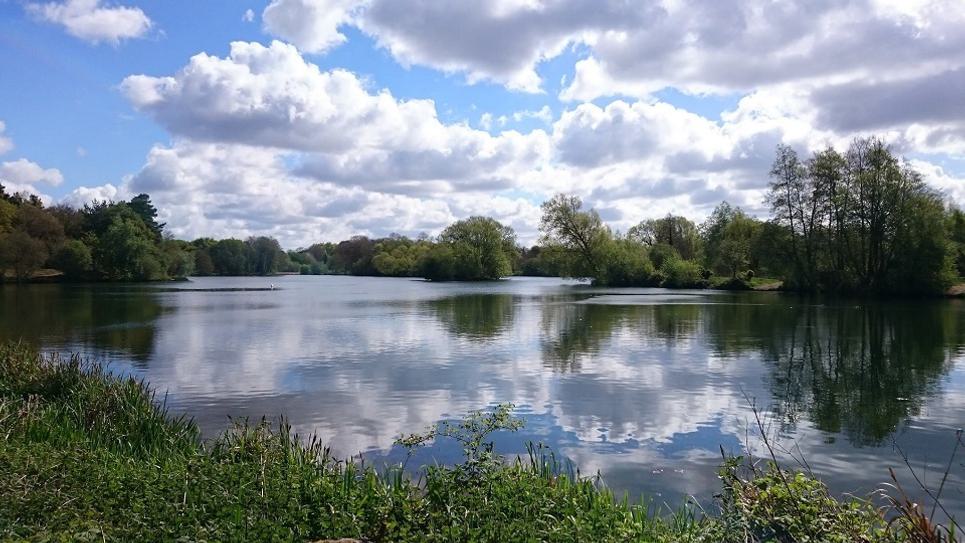 West Stow Country Park. Photo: Phil Morley
Surrounding the West Stow Anglo Saxon Village and with 125 acres of unspoilt countryside, trails, heath and woodland walks, there is plenty to explore at West Stow Country Park.
For wildlife enthusiasts there are two bird hides and a bird feeding area as well as a lake and the River Lark with all the life that this attracts.
Perfect for picnics on sunny days or energetic winter walks and with an adventure playground for children, this is an ideal family destination.
Families can also enjoy the Beowulf and Grendel Adventure Trail.

Lackford Lakes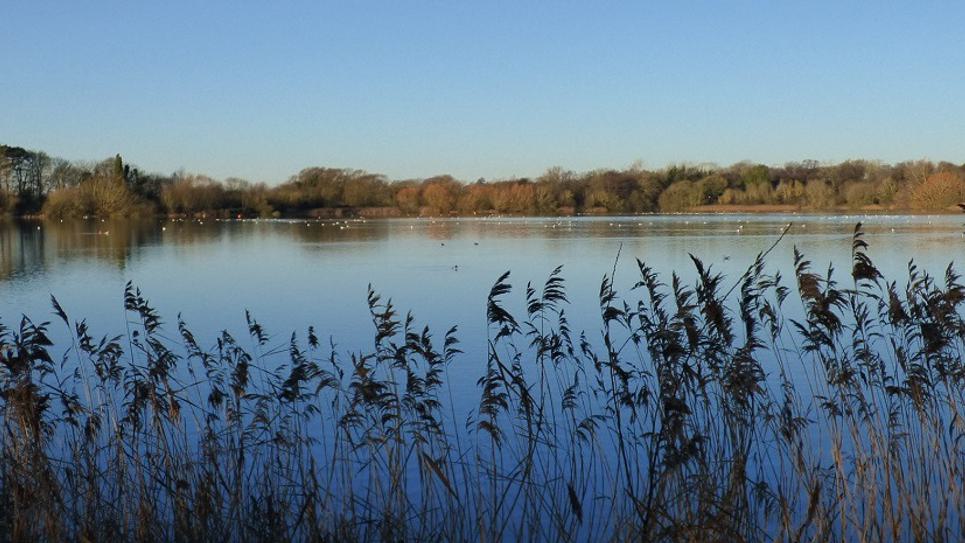 Lackford Lakes is a wildlife oasis with a landscape of lakes, reeds, meadow and woodland. There is wildlife in close-up all year round with iridescent kingfisher, dazzling dragonflies and colourful ducks.

Thetford Forest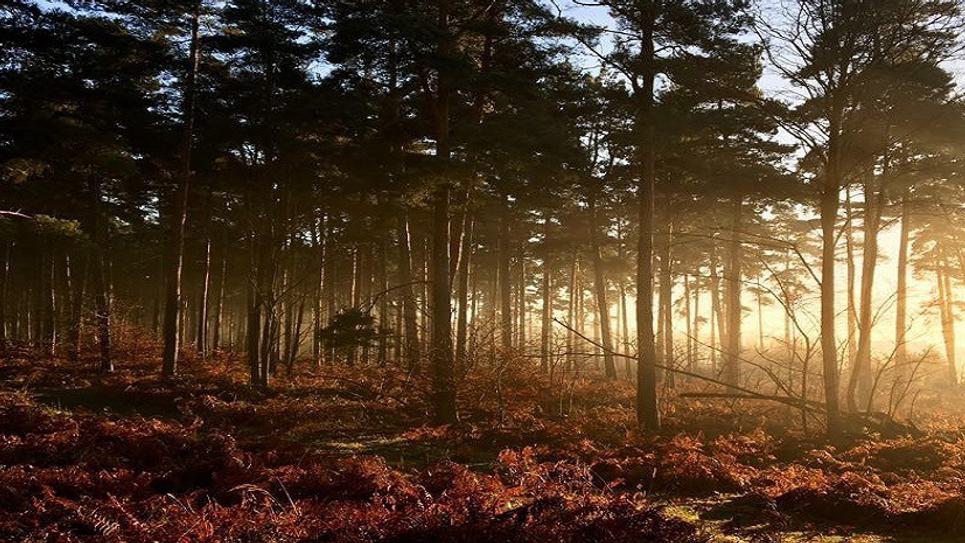 With 18,730 hectares to explore, come and discover the UK's largest man made lowland forest, Thetford Forest.
A patchwork of pines, heathland and broadleaves provide the ideal setting for a great day out, and a welcome refuge for a rich variety of animal and plant life.
The forest covers a huge area with many different places to visit offering a range attractions from the exciting outdoor play facilities at High Lodge, the history and heritage of Mildenhall Warren and Lynford Arboretum and the peace and tranquillity of the walks around St Helen's.

Brandon Country Park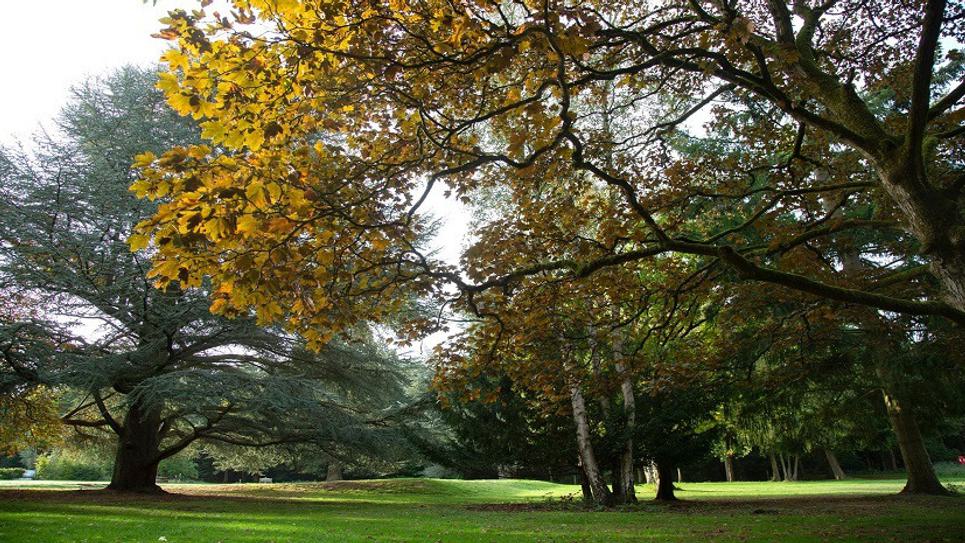 With over 30 acres of parkland, there's lots to see at Brandon Country Park. Located in the vast Thetford Forest, Brandon Country Park lies in the very heart of The Brecks: a wild landscape of dark forests, open heathlands, sandy soils and iconic belts of pine trees that straddles the Suffolk and Norfolk border.

There's a arboretum, a 'haunted' mausoleum, lawns and a lake, a historic walled garden, play areas and a café. There are also miles of nature trails and cycling routes to enjoy.